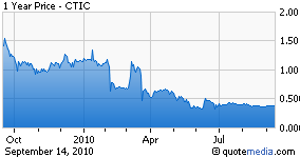 Recently, Cell Therapeutics Inc. (CTIC) announced that it will appeal against the decision of the US Food and Drug Administration (FDA) to deny approval to the company's lead candidate, pixantrone. The candidate is being developed for the treatment of relapsed or refractory aggressive non-Hodgkin's lymphoma (NHL) in patients who have not responded to other treatment options.
In April 2010, the FDA denied approval to pixantrone, and issued a complete response letter (CRL) based on issues related to the study design. The FDA asked Cell Therapeutics to conduct an additional trial to determine the safety and efficacy of pixantrone.
The company intends to file an appeal against the decision under the FDA's formal dispute resolution process. The decision was based on the fact that management believes there are no approved or effective therapies for patients suffering from relapsed or refractory aggressive NHL beyond second relapse.
Moreover, management believes that the study conducted by it was the first and only randomized trial in this patient population, which demonstrated significant improvement in clinically relevant endpoints such as complete response rate, overall response rate and progression free survival. Additionally, the candidate was found to be a safe and effective therapy for the indication. A response from the regulatory body is expected by year's end.
The formal dispute resolution procedure allows for a review of any decision made by the FDA. The procedure encourages the swift resolution of scientific and procedural disputes that may arise during the drug development and regulatory process.
Meanwhile, last month the European Medicines Agency (EMEA) validated the expanded Pediatric Investigation Plan (PIP) filed by the company in July this year for pixantrone. The PIP provides the outline of the process that the company intends to follow to study the drug in children.
The validation of the PIP is an important step toward the submission of a Marketing Authorization Application (MAA) and the subsequent approval of pixantrone. The MAA is expected to be filed by year-end.
Our Recommendation
Cell Therapeutics is a Zacks #4 Rank (Sell) company, which indicates that the stock is expected to Underperform the overall US equity market for the next 1–3 months. The near-term pressure arises from the uncertainty regarding pixantrone approval. However, we are Neutral on the stock in the long-term. Our Neutral stance indicates that the stock is expected to perform in line with the broader market over 6+ months.
Disclosure: No position