By Dean Popplewell
It's no surprise to see capital markets beginning to trade tight ahead of this week's main events – the ECB's supposedly telegraphed solution to their low inflation problem and the US' grandfather of economic releases, non-farm payrolls. A move is expected by the ECB tomorrow, but how aggressive is anyone's guess. Euro policy makers have a decent track record in disappointing the market, making it a market prerequisite to consistently price that as well. No matter what, euro policy makers are required to be firm and must walk away giving the market a perception that they are not done, that any interest-rate cut this week will not necessarily be the final one. Otherwise, and very quickly, the ECB will have will lose a fair bit of street credibility. Thus far, the market's assumption is that Draghi will probably reiterate his commitment to keeping borrowing costs at present or lower levels. Not helping would be a surprise NFP report on Friday – it could easily muddy the waters for euro policy makers.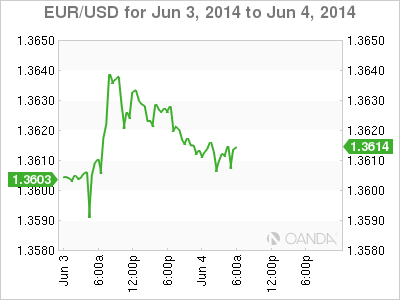 The ECB is battling a prolonged period of low inflation that threatens to derail the euro area's promising economic recovery. So far, euro policy makers have held out the possibility of a package of measures that could also include liquidity injections conditional on increased credit supply to SMEs. Currently, it's wagered that euro policy makers are debating a cut of -10 or -15 basis points in both the benchmark and deposit rates. However, "unconventional problems do not necessarily have an unconventional solution." Not many have tabled an established solution, like forex intervention to the euro's problem of low inflation. Making use of the "traditional" intervention technique would be far more direct in tackling the euro's worries of deflation or low inflation without the potential complications of negative deposit rates (first time). According to the fixed income traders, negative rates will only provide a short-term solution.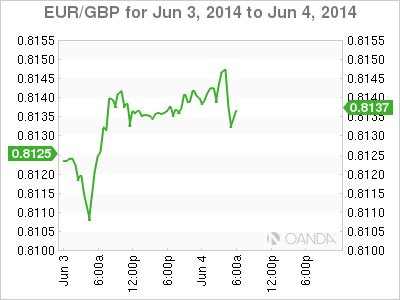 The EUR's contained range, especially after yesterday's weak price data supporting an ECB move, would suggest that the market's speculators, who have toyed with short EUR trades, have not committed to large positions. Otherwise we would have witnessed more intraday volatility. A market that is not very short cannot be squeezed too far. The ECB has the uncanny ability to disappoint markets and a repeat on Thursday cannot be ruled out, a minimal move is a possibility. Cuts to the refi and deposit rates are already priced in – the Euribor, the Eonia curve, and EUR are little changed. But if the single currency happens to rally it will not take much to unwind the "net" short positions. The most pain would be felt if Draghi and company disappoint and leave the door open for a depo rate cut later in the year. The market would aggressively sell off in Euribor and the Eonia curve and buy EURs.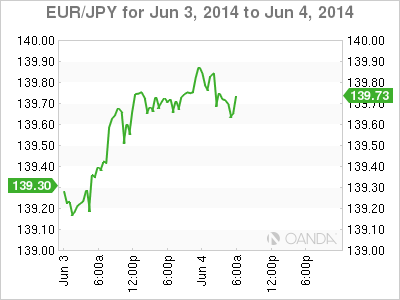 It's all down to Draghi's press coverage tone – will he be able to push the EUR that much lower or will it be time to book some profit from the remaining short-EUR positions against most G7 trades? Draghi will be required to describe the rationale behind the supposed rate moves. Investors will want to know if euro policy makers will support credit via another LTRO program. The market has been speculating that the ECB would borrow BoE's "funding for lending" scheme to support credit. A supposed four-year LTRO of around €40billion has been suggested and would be used for SME lending. If so, and for this to work more effectively than the first LTRO program, banks must be "made" to lend credit, rather than have the opportunity to enter numerous "carry" trades. What about QE? It's most likely a non-starter due to the fact that the euro ABS and corporate markets are currently too small and illiquid to make much of a difference. However, Draghi may make a commitment to revive the ABS market and this will be seen as a precursor to QE further down the line.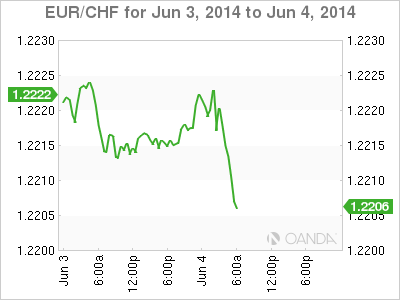 Do not be surprised to see some of the nervous short EURs lighten their positions ahead of Thursday's rate decisions. A EUR break below €1.3560 will provide the market's next bearish trigger (€1.3475). But, does the EUR have the momentum? Resistance now appears topside at the 200-DMA at €1.3645. Even today's disappointing euro PMI Services data (53.2) has caused minimal market reaction. With euro business activity having slowed more sharply in May than first estimated, and seen as a sign that weak prices were undermining the area's recovery from its debt crisis, the ECB cannot afford to mess about tomorrow. Currently, the EUR/USD remains just above its 3-month low registered last week (€1.3584), and Fed tapering added to anything the ECB does should strengthen the sell EUR rally cry.