Over the course of last year, I have valued Apple's (NASDAQ:AAPL) stock several times and tried to discover the key drivers which historically have influenced its share price. Readers weren't receptive to my stance on management chasing financial engineering tactics to drive up the share prices. My fair value estimate for the company hasn't changed since my last valuation as no material changes happened to the business except for buyout of Beats studios and upgrade of iOS announced yesterday at WWDC. Characterizing events as they unfold and linking them to key business drivers help in deciphering the real influence of these drivers on the stock price.
Historically, combination of fundamental business drivers explained the appreciation in Apple's share price. Lately, this dynamic has diverged from this historical relationship leaning more towards financial engineering drivers, coming into play after Apple started its shareholder capital return program in March 2012. After a spectacular run, Apple became the most valuable company in history in 2012, reflecting investor's expectations that company will continue to grow revenues at levels mirroring those achieved over the past decade. Extreme optimism was followed by extreme pessimism, when the share price broke below $400 in last June. Attractive valuation level, huge pile of cash and ability to launch market disrupting category attracted bargain hunters in the stock, reversing its steep decline. However, last fall marked a turning point in company's history when billionaire investor Carl Icahn announced a large stake in the company, catapulting the stock by 4.75 percent. After suffering huge losses and disappointment from missing new product category, investors took shelter under the prospects of capital return program expansion. To investors, increasing share buyback and raising dividend opened a road to faster profits, overlooking balance sheet manipulations and tax based transactions. Disappointing future outlook sent the share tumbling earlier this year, forcing the management to accelerate its buyback, presenting investors with sugar coated price levels. This action undoubtedly overshadowed the miss in iPhone sales from expected levels which triggered this sell off to begin with. However, shares reacted favorably to iPhone sales number for Q2 FY14 despite a 20 percent miss for iPad sales, incentivizing financial community to revise its expectations. Rather, many opined on the size of buyback to be the enough reason for the stock to uphold its upward trajectory. Forty percent appreciation in share price since last summer amid the backdrop of declining margins, missing new product category is purely an outcome of financial engineering tactics employed. I have argued that over shorter-time periods, boosting earnings per share through buybacks can produce positive returns but over the long term, fundamental business drivers take precedence it works contrary to commonly held wisdom.
Company management has always been cagey about future product plans but continues to confirm upon the new product categories in work for the end of 2014. Recent buyout of Beats Studio unquestionably kills two birds with one stone for Apple's management. First and foremost, it rekindles investor's anxiety over new product category- continuing to sit on the sidelines frustrated over Apple's strategy. Second, it shows management's prudence towards investing in value creating opportunities- by pushing reinvestment rate higher. Outlook for a new product has modestly elevated the expectations of growth in operating income and free cash flow - driving investors to pay up for higher future cash flows. Charts below highlight the historical relationship between Apple's earnings multiple, expected growth rate, reinvestment rate and the return on equity. Second chart displays the elevation in growth expectations since the beginning of this year and compares it with expectations built in the stock price during the same period last year.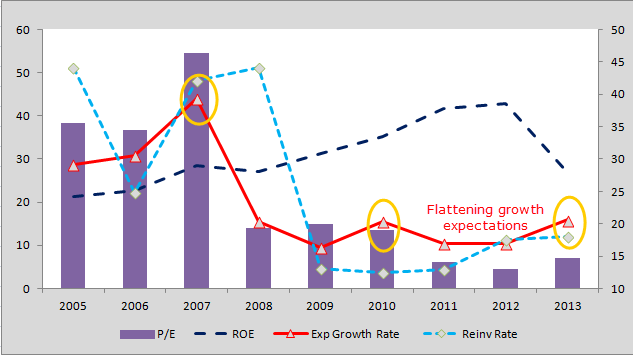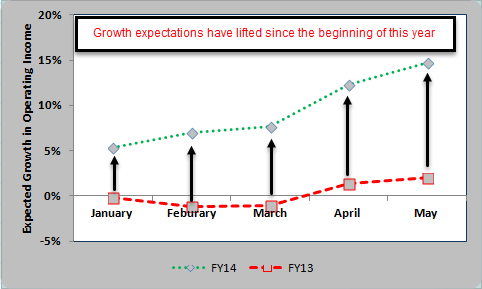 (Source : 10-k & Morningstar)
Upward revisions to growth expectations have in fact narrowed the enormous valuation gap, which prompted the management to expand its stock buyback program. Recent statements by Apple executives such as "most impressive product lineup in 25 years" have indeed added more fuel to the fire, providing more evidence to management's take on at steering the growth expectations. However, shifting market expectations are also redefining the risks associated with the stock. Earlier this year, I noted high short volatility exposure among market participants restricting Apple's earning multiple from expanding. Concentrated short Vega exposure signaled a potential volatility squeeze in Apple before the earnings. One of the most spectacular developments after the earnings release has been the re-pricing of this risk - suggesting this price behavior at last has enough momentum to carry it through another patch of product release news.
Disclosure: I am long AAPL. I wrote this article myself, and it expresses my own opinions. I am not receiving compensation for it (other than from Seeking Alpha). I have no business relationship with any company whose stock is mentioned in this article.
Additional disclosure: Long via option spreads.