Berwyn, Pennsylvania-based Triumph Group (NYSE:TGI), a company that serves a broad spectrum of the aviation industry including original equipment manufacturers ("OEMs") of aircraft and aircraft components, has seen its stock price rise almost fivefold (adjusted for a stock split) over the past five years. While it's true that TGI, along with the commercial aviation industry, has modest room for growth over the longer term, I believe that a significant part of that growth is already priced in.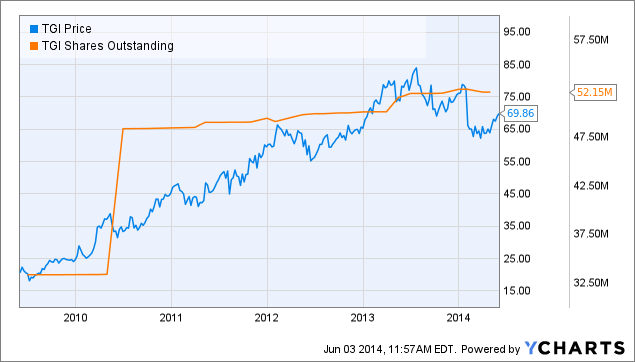 Triumph announced in February this year that its Board of Directors authorized a five million share repurchase program, subject to market conditions. This, coupled with 500,200 shares remaining on its prior February 2008 authorization, brings the total number of authorized repurchases to 5,500,200 shares. Given that the company currently has 52.15 million shares outstanding, the number of authorized repurchases constitutes ~10% of its available shares. Despite previous repurchases, its number of shares outstanding climbed due to a two-for-one stock split in 2011.
Repurchase Program: Is It the Right Time?
Although TGI is performing well, I don't think its share price is cheap. The probability is high that TGI would end up paying too high a price for the repurchased shares. The repurchase program, under which TGI might buy back shares for cash in open market transactions or by other means, has the potential to act to the disadvantage of its shareholders since the extra capital for buying back shares could be put to other uses. With 500,200 shares remaining to purchase from its previous buyback program, I feel that such a program has very little chance to succeed for boosting shareholder value. Share repurchases are good when a company is priced attractively.
I don't think that TGI is attractive enough that justifies a share repurchase program unless the stock falls below $50. If the company behaves opportunistically to buy back shares during deep corrections in the stock instead of at the current price, I doubt that shareholders would welcome such move.
Why TGI is Overvalued?
I believe that TGI is overvalued because of the following two reasons:
TGI is trading with a P/E ratio that is relatively high among its competitors despite its EPS contracting (see below).
Its FCF (free cash flow) remains negative. While it's true that a negative FCF is not bad in itself, particularly if a company makes large investments that are capable of earning high returns, in TGI's case its investments aren't earning high returns anymore (again with a contracting EPS).
Capacity expansion of airliners in Asia and the Middle East is fueling the build rate of commercial aircraft, and the trend is expected to continue. The growth of low-cost carriers and commercial rotorcraft coupled with improvement in the business jet market is expected to further boost the build rate. Triumph's growth prospect could be modest in this scenario, but that is already in the price of its stock.
While valuing Triumph, investors need to analyze the company's EBITDA and FCF growth carefully, because the valuation of a capital intensive company like TGI predominantly depends on its potential to convert EBITDA to FCF. Over the last five years, however, the company's EBITDA and FCF growth recorded a negative divergence. While EBITDA grew almost 200% in absolute terms, FCF continued to de-grow that became more pronounced over the last four quarters.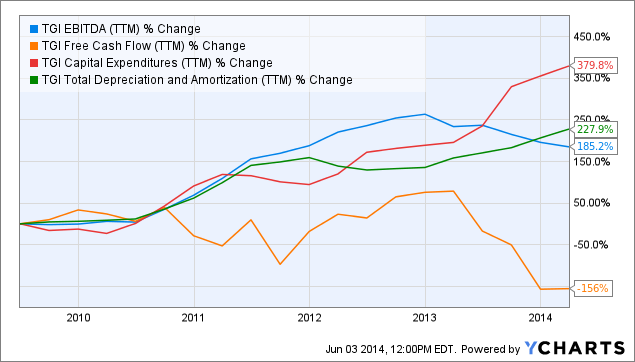 TGI EBITDA (TTM) data by YCharts
The above chart shows that Triumph's growing CAPEX and D&A (depreciation and amortization) expenses are more than offsetting its EBITDA growth, resulting in negative FCF growth. For the long run, a company's FCF is more relevant measure than EBITDA in estimating its future earnings potential. Considering EBITDA as a proxy of future cash flow is completely erroneous, because future CAPEX will continue to consume cash. CAPEX is a continuous operational cash outflow that must be considered. Moreover, one needs to take D&A into account also. Although D&A are non-cash charges without any bearing on the operational strength of a company in a given year, leaving room for D&A is essential for the long run. For taking CAPEX and D&A into consideration, FCF is the most appropriate measure.
Triumph acquired Vought Aircraft, Embee, Goodrich Pump and Engine Control Systems, and Primus Composites in recent years, which propelled its revenues into a significantly higher orbit. Among its acquisitions, Vought in 2010 remained most EPS accretive, although the company assumed $455 million in debt with the acquisition. However, EPS started to nosedive since 2013 as a result of rising debt load, in addition to CAPEX and D&A.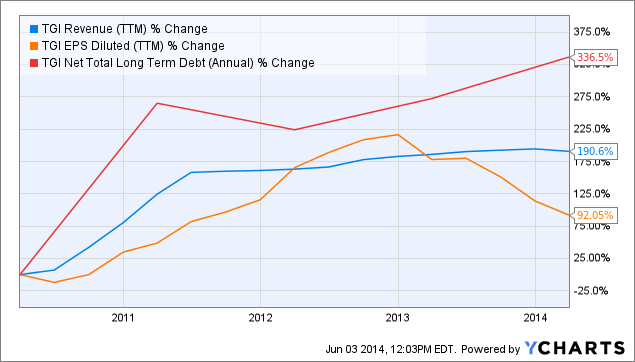 TGI Revenue (TTM) data by YCharts
This reminds me that many of the leveraged buyouts in the 1980s failed because they erroneously thought they could replace CAPEX and D&A with interest. However, the interest payments became so large that their FCF started to contract and the acquired companies went bankrupt. I am not comparing TGI's acquisitions with those LBOs, but I strongly believe that TGI's earnings will miss analysts' estimates by significant margins in the years to come due to the following three reasons:
Rising interest burden (as seen in the company's income statement)
Rising CAPEX (as seen in the company's cash flow statement)
Rising D&A (as seen in the following

chart

)

Source: FY 2013 Annual Report
Triumph competes with Northrop Grumman (NYSE:NOC), General Dynamics (NYSE:GD), Spirit AeroSystems (NYSE:SPR) and BAE Systems (OTCPK:BAESY) in the listed space and Aircelle S.A., Alenia Aeronautica, GKN Aerospace, Groupe Latécoère, Nexcelle and Premium AEROTEC GmbH in the unlisted space. In the listed space, TGI is trading at a relatively high P/E ratio compared to its competitors.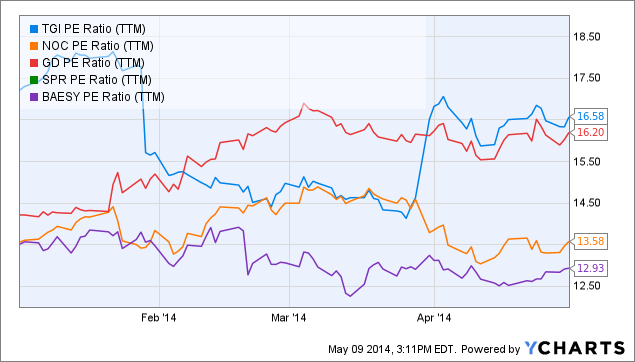 TGI PE Ratio (TTM) data by YCharts
Moreover, TGI's FCF picture is most gloomy among its competitors, which coupled with a relatively high P/E ratio makes me conclude that TGI is overvalued. The company's EPS on trailing twelve months basis is $3.91, and I would be comfortable with a P/E ratio of 13x on it, which leads to its stock price of $50.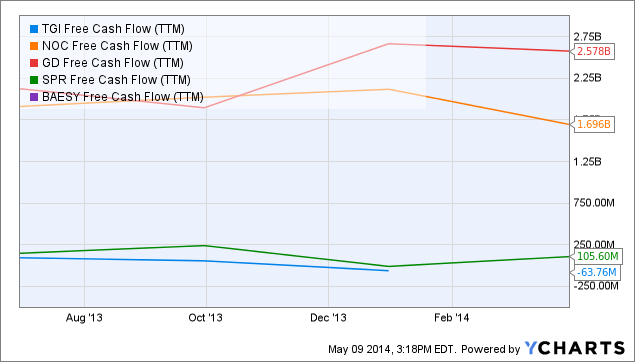 TGI Free Cash Flow (TTM) data by YCharts
Competition and Defense Business Remaining Headwinds
I am a bit wary about Triumph's operational efficiency particularly vis-à-vis competitors. The company is seeking opportunities to expand its market presence by establishing facilities near aircraft service locations throughout the globe, which would allow the company to position its $35 million inventory of rotables and spares (not its entire inventory though) closer to the point of use. This implies that the company doesn't want to depend on third parties for maintenance, repair and overhaul ("MRO") services. While competitors are increasingly focusing on assembly and integration activities while outsourcing MRO services to third parties, Triumph's strategy of performing MRO services on its own is expected to decrease its competitive advantage because for mobilizing inventory it requires spending cash that could be put to other uses.
TGI's eroding defense business is another cause of worry. Apart from commercial aviation, almost a third of TGI's revenues come from its defense business, which is expected to see a potential downturn due to sequester spending cuts.
Conclusion
I would recommend avoiding the stock above $50. Aggressive investors who are willing to invest in the commercial aviation space via TGI should wait for a deep correction below $50.
Disclosure: I have no positions in any stocks mentioned, and no plans to initiate any positions within the next 72 hours. I wrote this article myself, and it expresses my own opinions. I am not receiving compensation for it (other than from Seeking Alpha). I have no business relationship with any company whose stock is mentioned in this article.