After the stagnant growth of digital downloads, music streaming companies are in the spotlight. The announcement that Spotify had 10 million paid subscribers and the recent $3 billion acquisition of Beats Electronics by Apple, Inc. (NASDAQ:AAPL), may have solidified music streaming's status as the next growth industry. Meanwhile, in 2013 Google, Inc. (NASDAQ:GOOG) (NASDAQ:GOOGL) entered the industry through its Google Music, and Amazon, Inc. (NASDAQ:AMZN) is planning on offering music streaming to customers of Amazon Prime - its video streaming service. However, the question remains, "Is music streaming a viable business?" If you analyze Pandora Media's (NYSE:P) historical financial performance, the answer is "No."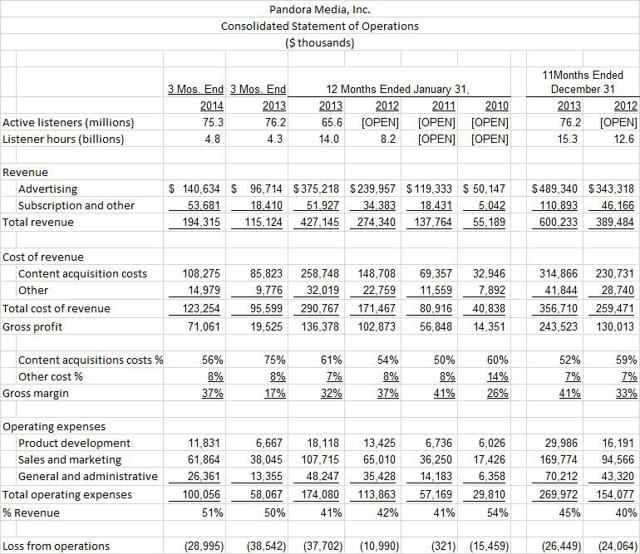 Pandora is the leader in Internet radio in the United States, offering a personalized experience to listeners. Through algorithms, the company predicts listener preferences and updates its playlists based on the listeners choices in real time. At Q1 2014 the company had approximately 75 million active users.
Impressive Revenue Growth
The company has two revenue streams:
Free Service - Advertiser supported and allows listeners access to personalized playlists.
Pandora One - Provided to paying subscribers without external advertising. The cost is about $4.99 per month.
Revenue has grown from $50.2 million in 12 months ended January 2010 to $600.2 million through 11 months ended December 31, 2013. Based on Q1 2014 revenue of $194.3 million, Pandora's run-rate is about $780 million. Just as impressive is that paid subscribers represented 38% of revenue in Q1 2014, up from 16% in Q1 2013; this makes the company less dependent upon advertising revenue and makes it more competitive with Spotify.
Content Acquisition Cost Superior to Spotify's
The lion's share of music streaming's cost is royalty fees paid to record labels, artists or performing rights organizations for access to music content. Spotify is rumored to pay as much as 70 cents on each dollar of revenue for royalties. Meanwhile, Apple has the necessary leverage to squeeze artists in order to lower Beats' royalty payments post-transaction. For Pandora, such royalties declined to 56% of revenue in Q1 2014 from 75% in Q1 2013.
Pandora Still Unprofitable
Pandora has not turned a profit in its existence. One would think that an impressive growth in revenue, a successful campaign to attract paid subscribers, and declining royalty payouts would generate profits, right? Think again. The company generated an operating loss of $29.0 million and $38.5 million in Q1 2014 and Q1 2013, respectively. As revenue has grown, its operating expenses as a percentage of revenue has crept up, implying that the company has little to no operating leverage.
Despite higher revenues, operating expenses as a percentage of revenue was 45% and 40% for the 12 months ended 2013 and 2012, respectively. The same pattern occurred during the first quarter as operating expenses as a percentage of revenue in Q1 2014 (51%) was slightly higher than Q1 2013 (50%), despite a 69% growth in revenue over that same period.
Stagnant Growth in Active Listeners
The company's active listeners were 75.3 million and 76.2 million at Q1 2014 and Q1 2013, respectively. Active listeners drive listener hours, which in turn drive advertising revenue. Assuming advertising rates and listener behavior are consistent year over year, the company's flat growth in active listeners implies it may be as good as it gets for Pandora's top line growth.
Conclusion
Pandora seems to be firing on all cylinders pursuant to revenue growth. It has also lowered its content acquisition costs in Q1 2014 versus the same period last year, yet has still been unable to turn a profit. With stagnant growth in active listeners and new entrants into music streaming, this may be as good as it gets for Pandora. I advise investors to avoid the stock.
Disclosure: I am short P. I wrote this article myself, and it expresses my own opinions. I am not receiving compensation for it (other than from Seeking Alpha). I have no business relationship with any company whose stock is mentioned in this article. I have straddled Pandora with both puts and calls