Not too long ago E&P companies realized they could drill for oil and natural gas more quickly and cheaply if they drilled multiple wells from one flattened out drilling area or pad. Of course, they didn't want all of these wells to be right next to each other, so they had to flatten out a large area. Then drilling equipment and supplies such as the tubing could be moved around the site relatively easily. Simultaneously, or not long after that, the industry realized that "walking" rigs could save a lot of time and money on pad drilling sites. Instead of having to be disassembled, moved, and re-assembled, these new drilling rigs can "walk" from one drilling location on a PAD to another drilling location in a matter of hours. For some, this saves almost $1 million for each move. These same walking rigs have also been automated and improved in many other ways. This means they generally require fewer drilling personnel during the whole process, and they drill more quickly with more advanced technology.
As of January 2014, these mobile rigs numbered 650 against the 500 conventional rigs. Shale oil producers have been able to boost their output 600% for every one of these rigs they use, according to EIA. That's impressive, and it clearly saves both time and money. Oil field service companies that can do that for their customers are going to profit. The big four oil field service companies are also big suppliers of these rigs. These four companies are: Baker Hughes (NYSE:BHI), Schlumberger (NYSE:SLB), Halliburton (NYSE:HAL), and Weatherford International (NYSE:WFT). These companies are so big and diverse it is usually too much effort to look into all of their activities. It is usually more practical to examine their financial activities and growth forecasts. The table below provides some interesting comparison data.
| | | | | |
| --- | --- | --- | --- | --- |
| Stock | BHI | SLB | HAL | WFT |
| Price | $70.60 | $103.85 | $65.57 | $21.68 |
| Analysts' 1 year Price Target | $78.31 | $118.38 | $74.29 | $23.44 |
| Next 5 years EPS Growth Estimate per annum | 23.35% | 18.65% | 22.89% | 43.39% |
| PE | 27.03 | 19.52 | 20.99 | -- |
| FPE | 13.20 | 15.32 | 12.88 | 13.17 |
| Dividend | 0.96% | 1.54% | 0.92% | N/A |
| Beta | 1.7 | 1.77 | 1.85 | 2.3 |
| Average Analysts' Recommendation | 2.2 | 1.7 | 1.8 | 2.4 |
| CAPS Rating | 4 stars (a buy) | 5 stars (a strong buy) | 5 stars (a strong buy) | 5 stars (a strong buy) |
| Meets and/or Beats In the last 4 quarters | 3 | 4 | 4 | 4 |
| Market Cap | $30.74B | $135.23B | $55.38B | $16.90B |
| Enterprise Value | $34.04B | $140.89B | $60.04B | $25.72B |
| Short Interest | 1.56% | 1.12% | 1.70% | 1.08% |
| Total Debt/Total Capital (mrq) | 20.01% | 23.71% | 36.24% | 53.93% |
| Quick Ratio (mrq) | 1.61x | 1.73x | 2.04x | 0.94x |
| Interest Coverage (mrq) | 9.68x | 24.08x | 10.43x | 2.14x |
| Return on Equity (TTM) | 6.61% | 19.01% | 18.63% | -4.92% |
| EPS Growth (mrq) | 23.06% | 34.71% | 5,331.81% | -285.66% |
| EPS Growth | -3.96% | 38.90% | 50.06% | 54.11% |
| Revenue Growth (mrq) | 9.58% | 6.72% | 5.36% | -6.28% |
| Revenue Growth | 7.67% | 10.60% | 4.08% | -2.84% |
| Gross Profit Margin | 17.14% | 24.24% | 15.25% | 19.22% |
| Operating Profit Margin | 8.95% | 20.24% | 14.13% | 2.49% |
| Net Profit Margin | 5.12% | 15.35% | 9.22% | -2.50% |
| Price/Book (mrq) | 1.73x | 3.38x | 4.03x | 2.12x |
There are a few points that stick out in the above table of fundamental fiscal data. First three of the companies have strong fiscal positions; BHI, SLB, and HAL. WFT has a much higher total debt to total capital ratio at nearly 54%. It has a Quick Ratio below 1.0. WFT has a negative return on equity of -4.92%. It had negative EPS growth in the most recent quarter at -285.66%; and it has negative revenue growth for both the most recent quarter and the past year. It had a net profit margin of -2.50% in the trailing twelve months. It also doesn't have a PE currently. In other words, it has not been profitable over the last year. Still, WFT is a company most people would consider sound. It just doesn't compare well to the financial soundness of the other three companies above. On the plus side, it does have the highest next five years EPS growth estimate per annum of the four at 43.39%. This is almost double the growth level of any of the others.
HAL and SLB appear to be the strongest companies. Both have good net profit margins. SLB has the top gross profit margin over the trailing twelve month period at 24.24%. However, HAL has the smallest drop in profit margin from Gross to Net. This is usually a sign of good management. Both companies have high return on equity statistics. Both have high EPS growth statistics. Both are rated strong buys by CAPS.
In a possibly troubled market, one bad thing about all four stocks is that they all have Betas of 1.7 or more. This means they will fall faster than the market in a downturn. Of course, if you believe the market has a lot of upside to go, the above stocks should outperform that market.
The recent rig count data is also positive for all of the above stocks. The US rig count is +95 above its May 30, 2013 figure; and it is up +9 week over week. The Canadian rig count is +53 year over year and +44 week over week. The international rig count is +48 year over year and +4 week over week. These are all strong trends that should lead to more profits for above four companies. When you consider that the above four should have the added advantage of being able to supply the most advanced equipment (walking and more fully automated rigs), the above four companies should really do well.
On top of the above, natural gas prices have rebounded considerably from their lows of 2012. NYMEX natural gas futures closed at $4.620/mmbtu on June 3, 2014. This is more than double the approximate 2012 low of $1.90/mmbtu. The trend has been clearly upward. The article, "U.S. Natural Gas Stores Are Dangerously Low, That's Good For Pipeline And Storage Companies", contains strong rationale for a continued trend upward in natural gas prices. One of the bigger factors in that will be the expected increases in demand due to LNG (liquefied natural gas) exports that are scheduled to begin in late 2015, when the first US LNG factory is scheduled to come online. The LNG exports, along with the many other sources of increased natural gas demand, should necessitate an increase in drilling for natural gas in the years to come. This should provide a secular uptrend in natural gas rig use over the coming years. Many think we are currently at or near a bottom in natural gas rig use in the US. When you add a secular natural gas trend to the secular oil rig use uptrend, the future looks very bright for the leaders in the oil well services group. Many analysts expect all of the above companies to do well.
The two-year charts below provide some direction for trades in these stocks.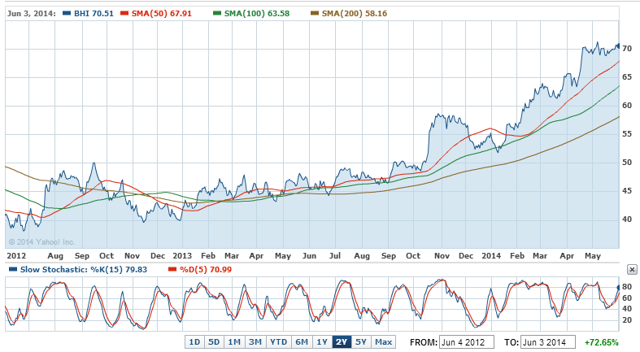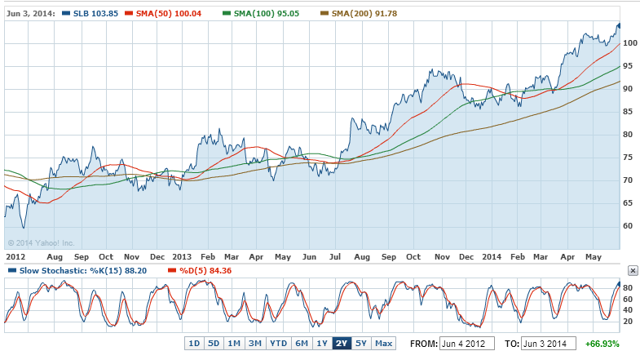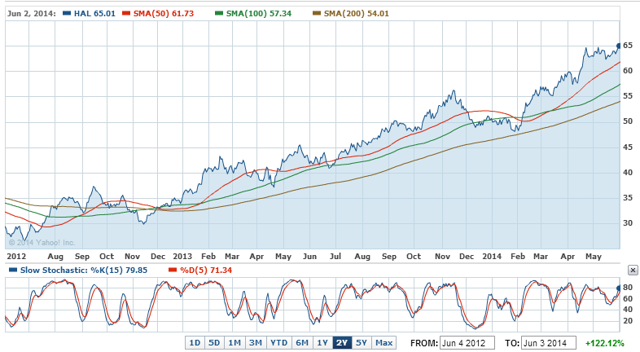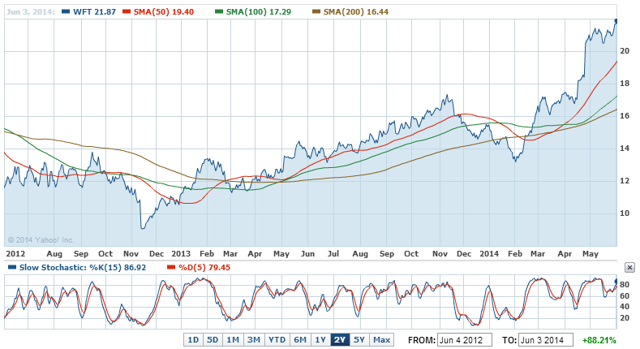 Basically all of these charts are very similar, although WFT's has been the most erratic. All are at or near overbought levels on their respective slow stochastic sub charts. All are in strong uptrends on their main charts. All can still be considered buys. As readers saw above, CAPS rated SLB, HAL, and WFT strong buys. The only real question is when you want to get in. I would wait for at least a slight pullback. However, anxious investors could consider averaging in.
The real worry with these stocks is that there may be a significant downturn in the overall market within the next year or so. This would likely move these stocks with Betas of 1.7+ down sharply. If you choose to buy in now, you may want to set tight stops. It might be best to get stopped out quickly in a downturn. Then you could get back in at a lower price later.
NOTE: Some of the above fundamental financial information is from Yahoo Finance and TD Ameritrade.
Good Luck Trading.
Disclosure: I have no positions in any stocks mentioned, but may initiate a long position in SLB, HAL over the next 72 hours. I wrote this article myself, and it expresses my own opinions. I am not receiving compensation for it (other than from Seeking Alpha). I have no business relationship with any company whose stock is mentioned in this article.