There has been a lot of focus lately in the news about General Electric's (NYSE:GE) pursuit of Alstom (OTCPK:ALSMY). All this is simply a distraction. Mr. Immelt has already summarized the company's position regardless of the Alstom acquisition or any other specific endeavor by this multi-sector powerhouse with an unstoppable growth inertia. His 2013 Annual Report letter to shareholders opens by proclaiming;
GE has stayed competitive for more than a century-not because we are perfect-but because we make progress. Progress is about getting better, being better, doing better; this is why GE people get up every day.
Thus, the boosters and critics of the Alstom deal on both sides have already been answered. It just doesn't matter in the complete picture. The company is simply too large and diverse to become bogged down even if it does stumble in overpaying or slow integration from a particular acquisition target. They have over 114 years of history to verify this.
General Electric - An Overview:
Today and every day, chances are that General Electric is an important part of your life for every waking moment. The company is a leading player in a broad spectrum, from consumer products in the home, to auto components, aircraft equipment, electrical generation machinery, mining equipment, software and computer products, development, production, oil and gas exploration and distribution tools, medicine and medical devices, commercial and consumer financing, transportation system components, and infrastructure solutions. General Electric helps define each of these fields that shape your life, lifestyle, and the world you live in. Its customers scale in size from individuals to sovereign governments, and to regional coalitions of nations. It is difficult to find any other company involved in so many key arenas and at so many levels.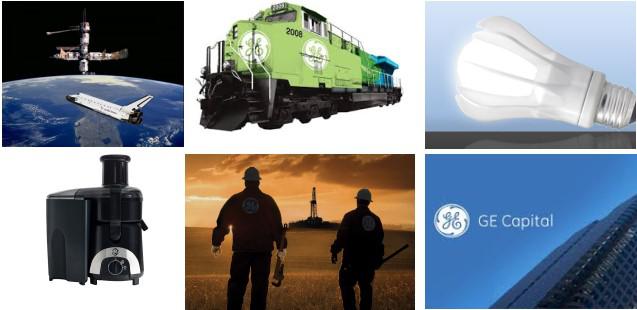 Founded by Thomas Edison, a man often said to be the greatest inventor of all time, the company carries on the tradition of finding needs and filling them. It does so by adapting to meet the demands of a dynamic world and helping create the world of tomorrow through innovation and creativity. General Electric is much different than the company Edison created in 1878 but its essence as an innovator in applying technology in anticipation of the demands of a changing world is the constant that keeps it successful year after year and decade after decade.
An important investment component in many sectors, including Industrial, Technology, Energy, Infrastructure, Financial, Consumer Products, Medical, and Defense contractor, General Electric belongs in every investor's portfolio. Accumulating at the right value priced entry points is the only question in how and when to establish your position.
Value Pricing Analysis:
The 2013 Annual Letter to Shareholders combined with historical trend analysis of a few key metrics provides all the guidance we need to make an informed estimate of where Mr. Immelt believes dividends and share prices will be in 2014, 2015 and 2016.
So, let's break down a few simple numbers and see where the foremost expert, Immelt himself, indicates the company will be in the next few years. I begin with the very specific guidance provided in the Shareholder Letter:
We expect to generate more than $90 billion of cash to allocate, returning the majority of that to you in dividends and buyback. And, we plan to grow EPS each year.
That is not $90 billion per year, it is $90 billion for the total of the 3-year period discussed, an average of $30 Billion per year. How does this compare to current CFOA (Cash From Operating Activities)? The 2013 Annual Report Supplemental Information reveals that 2013 industrial CFOA was $17.439 Billion. Adding back in the CFOA paid to the parent from the financial business of $5.985 Billion, we find a total of $23.424 Billion in total annual CFOA. A total of $18.02 Billion was returned to shareholders in 2013. With the announced discontinuance of consumer finance activity and commensurate decline in its CFOA for years 2014 and 2015, the near $6 billion will shrink noticeably before beginning to grow again from a more focused commercial finance portfolio. Overall, the $90 billion CFOA available to shareholders over 3 years seems realistic in light of these 2013 performance results.
In very broad extrapolation, given that growth takes time and trend acceleration will need to intensify over the 3-year period, a $25 Billion CFOA can be expected in 2014, $30 Billion in 2015 and $35 Billion for 2016 to provide the $90 Billion suggested by the Immelt guidance. First quarter 2014 numbers are in line with these projections.
Historically, and in line with the Shareholder Letter guidance, about 52% of Cash Flow is returned to shareholders. This means we can expect $13 Billion for 2014, $15.6 Billion for 2015, and $18.2 Billion for 2016. This compares to the $18.02 Billion returned in 2013. Boiled down to its essence, Mr. Immelt's guidance to shareholders is to expect little change in total return. This coupled with the forecast 10% share buyback suggests modest dividend increases per outstanding share over this period. Allowing for share buyback plans to allocate approximately one third of cash returned to shareholders, we arrive at 0.66 X $18.02 Billion = $11.89 Billion available for dividends in 2016. The 2016 share float is expected to be about 9 billion units after all current projected buybacks. Therefore, the $11.89B/9B = $1.32/share is available as dividends in 2016. This is a 50% increase over current $0.88 annual dividend distribution rates.
There are many ways to examine and establish value to a company, including fundamental metrics such as Price/Earnings ratio, Price/Book ratio, present value of future discounted cash flow, company asset breakup value, enterprise value, yield for income based on dividend distributions, and several other more esoteric approaches.
Because General Electric is a popular solid dividend producer, investors value for a reliable and growing dividend income stream. Its best valuation metric is yield rate.
In the dividend income equity market, the company sets the dividend distribution, and overall market forces of risk adjusted yield allow investors to bid share price up and down to a price that creates a yield reflecting investor consensus on the risk adjusted value share price to create a competitive yield vis-a-vis similar risk weighted dividend income alternatives. I have developed the YDP chart as a quick tool for assessing value on income equities based on short and long-term patterns of effective yield rate. For those not familiar yet with YDP charts, I refer you to my introductory article on YDP chart analysis and its precursor article with several YDP chart interpretation examples. Further examples of analysis and application can be found in each of the articles 4 through 19 of my recent Tortoise Series.
A look at the YDP chart for General Electric shows a steady trend of 3.3% yield rate as investors have kept pace by bidding up share price consistent with rising distributions so as to keep the net effective yield at that near constant figure. A $0.03 quarterly dividend hike ($0.12 annually) is likely in the final quarter of this year and suggests a 2014 year end target of $30.30 per share.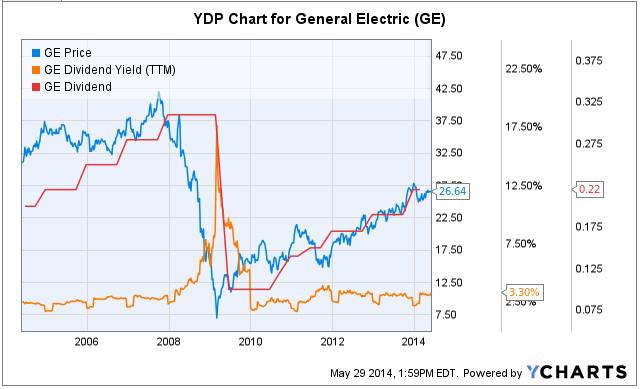 The 3.3% yield on the projected $1.32 dividend distribution suggests a market target price for shares at $40.00 for year 2016, 49% growth over the next 3 years. With average annual growth of 16.7% for the period driven by growth of CFOA achieved from targeted programs of re-focus into greater emphasis on industrial sector operations, reasonably achievable greater operational efficiencies and operating margins, along with modest revenue growth, these numbers are likely to be obtained. With a payout ratio of 67% and a cash payout ratio of under 53%, the dividend is safe and has flexibility to grow even over rough spots.
Two potential macroeconomic headwinds could upset the anticipated growth momentum mapped out by Immelt for the next 3 years. Any rapid adverse shifts in interest rate spreads could materially adversely impact both the demand for and profitability of the company's Financial Services segment. This alone is a very significant portion of the overall CFOA generated. Follow-on suppression of demand for infrastructure construction and maintenance due to tighter financing constraints could further impact top and bottom line results. More broadly, the possible deterioration of financial abilities of public and corporate entities to sustain spending on infrastructure projects in the event of a counter cyclic economic downturn would create an environment unlikely to provide the growth opportunities needed to achieve Immelt's 3-year growth goals.
Covered option writing to boost yield and lower market risk:
As usual, I will take an opportunity in this dividend income equity analysis to evaluate the use of covered options to boost yield and lower market risk. Discussion of this strategy and many examples are available in my Tortoise series and the continuing GODs series of articles. These option boost strategies are most relevant to income investors who stress cash income and yield rates more than potential future share price growth potential.
As shown earlier in the YDP chart analysis, the current share price of $26.80 is at full value historical and expected 3.3% yield. The expected distribution hike in the final quarter raises the target to $30.30 by year end. With this fair value target range in mind, we will take a brief look at technical chart trading trends.
The shares have been in a steadily rising channel since the end of this past January with trading restricted to a $1.30 range and rising about $0.50 per month. Since mid-April, the trend has flattened and is repeatedly meeting resistance at $27.00. Support at the rising channel base is currently at about $26.20 with a stronger long-term support at $25.00 repeatedly tested since mid January. With these technical points in mind along with the year end value target of $30.30, we will examine the option chains for potential entry points at $25.00 to $26.00 currently, allowing a target rise of about $0.25 per month (both to stay within the rising trend and in expectation of the year end target tied to the expected dividend hike).
(click to enlarge) (source: yahoo.com)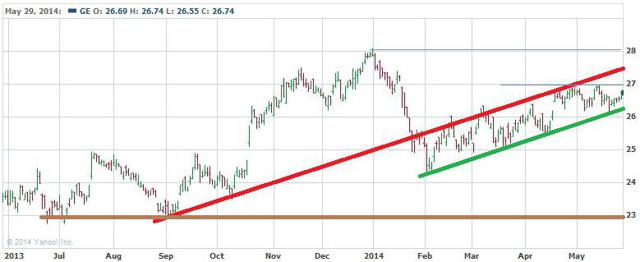 Call Spread:
Strong long-term support is present at $23.00, intermediate support since mid-January is moderately firm at $25.00 and rising channel support is at $26.20 with about a $0.30 monthly rise conservatively allowed on this baseline projection.
No simple buy shares at market and concurrent write a covered call above the anticipated trend price forecast suggests itself at this time. However, a slightly more complex strategy is available to achieve an effective entry point of $26.26. Buy the 8/16/2014 $23.00 call for $3.50 or better and concurrently selling the 1/25/2015 $30.00 call for $0.24 or better. This allows you to enter by exercising the $23.00 call by mid August for $23.00 + $3.50 - $0.24 = $26.26 net basis. This is a $0.54 discount from current fair value retail market price at $26.80 today (a 2.06% discount from current retail share price). You have the choice of exercising early before the July dividend to capture that and subsequent dividends or to wait and forego the July or later dividends. You will need to exercise by 8/16/2014 (thus converting the January $30.00 call you are short into a covered call) or close out the 1/25/2015 call by that date so as to avoid holding a naked $30.00 call short after 8/16. This in no way detracts from the market risk lowering strategy with discounted entry price if you would otherwise be a willing buyer at today's fair value $26.80 price.
If the shares are subsequently called away from you in January for the $30.00 call you have written, your profit is $30.00 - $26.26 effective net basis cost = $3.74 intrinsic profit plus up to 3 dividends of $0.22 each = $3.74 + 0.66 = $4.40. This represents a 16.76% net absolute gain on the 233 days until January call-away (annualized return rate of 26.25%). If not called away at the $30.00 January strike, you continue to hold shares you obtained at a discount of 2.06% from the retail alternative of investing today by market purchase.
(click to enlarge) (source: schwab.com)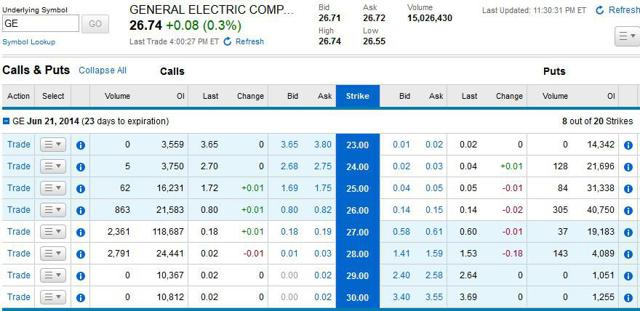 Cash Covered Puts:
The 6/21/14 $27.00 cash covered put @ $0.60 represents an intrinsic discount from current $26.80 share price of $0.40 to an effective basis of $26.40 if the shares are presented. This is a slight 1.5% discount from today's retail share price. If the shares are not presented, the $0.60 premium is a 2.22% absolute return (35.23% annualized yield rate) on your covering cash for the 23-day contract.
Other cash covered Put strategies for longer contracts still focused on a $27.00 Strike offer some interesting opportunities also, generally having the effect to double the dividend yield rates via the option premiums. For example, the 1/17/2015 $27.00 Put with premium @ $1.87 for the 233-day contract represents an intrinsic premium of $1.67 after adjusting for the $0.20 additional cost of the $27.00 Strike versus today's current $26.80 share price, an absolute cash payment to you of $1.47 over the today's $26.80 share price compared to the three $0.22 (total $0.66) dividends you would expect at the current distribution rate and timing for the shares. For dividend income equity investors, this represents an absolute return for the 233 days of 5.44% (8.53% annualized yield rate) as opposed to the 2.10% yield for 233 days (3.3% annualized yield) of the dividend itself. If the shares are not presented, you do even better, adding the other $0.20 into your net cash and yield, both absolute and annualized rate. $1.87 for 233 days is an absolute return rate of 7.44% (annualized yield rate of 11.66%) earned on your net $25.13 covering cash.
Conclusions & Recommendations:
General Electric is a high quality dividend income equity, offering a superior yield rate while often underperforming the market in share price growth and total return.
Investors historically value the dividend distributions to a 3.3% effective yield rate. The current $26.80 is at this rate and represents full value at present.
Dividend growth based on historic trends and Jeff Immelt's guidance to shareholders suggests a year end target of $30.30 and $40.00 by mid 2016.
While currently at full fair value based on dividend yield, option strategies presented can provide very attractive absolute returns and annualized yields.
Use a simple call spread to buy the August $27.00 call and sell the January $30.00 call to generate $4.40 in income over 233 days (16.67% absolute gain, a 26.25 annualized yield rate).
An alternative for income focused investors is to sell the 1/17/2015 $27.00 Cash Covered Put @ $1.87 premium for immediate net intrinsic cash income more than 2.5X the dividend yield for the same 233 period and over 3X the annualized yield rate for the present dividend distribution. This is after deducting $0.20 of the premium to adjust the $27.00 to the present $26.80 share price.
Option writing is always most efficient when done inside tax preference accounts such as IRA, ROTH, SIMPLE, etc. Covered options are recognized by the tax code as safe strategy for boosting yield and reducing market risk. They are the only type of options allowed by the US tax code to be traded inside a tax preference account.
Always be aware of ex-dividend dates and the potential for call, dividend capture, and Strike price adjustments by the option clearing house when writing contracts across dividend months.
I hope you will have an interest in my recent series and current new series where I detail the use of covered option writing to boost yields on quality dividend income equities. Simply click on the bold link labeled FOLLOW above the title at the top of this article to get an email notice of my new articles when they are published. You will need to be sure that in your account SETTINGS/EMAIL ALERTS/DAILY EMAILS that you have checked the AUTHOR ALERTS box. Click here for a link to the index of my past and future articles.
I am not a licensed securities dealer or advisor. The views here are solely my own and should not be considered or used for investment advice. As always, individuals should determine the suitability for their own situation and perform their own due diligence before making any investment.
Disclosure: I have no positions in any stocks mentioned, and no plans to initiate any positions within the next 72 hours. I wrote this article myself, and it expresses my own opinions. I am not receiving compensation for it (other than from Seeking Alpha). I have no business relationship with any company whose stock is mentioned in this article.
Editor's Note: This article discusses one or more securities that do not trade on a major U.S. exchange. Please be aware of the risks associated with these stocks.