The SEC-enforced 25-day quiet period on underwriter research initiated with SunEdison Semiconductor Ltd. (NASDAQ:SEMI)'s May 21 IPO will conclude on June 16, allowing the firm's IPO underwriters to distribute research reports on the manufacturer of silicon wafers for the semiconductor industry.
The publishing of the underwriters' reports will likely lead to a temporary increase in the price of SEMI shares.
Semi-Strong Market Performance Thus Far
SEMI's IPO priced at the low end of its expected range at $13 per share, but saw a strong 15.4% first-day return. The price has since held steady between $15.10 and $15.60 per share; SEMI closed at $15.47 per share on June 3rd.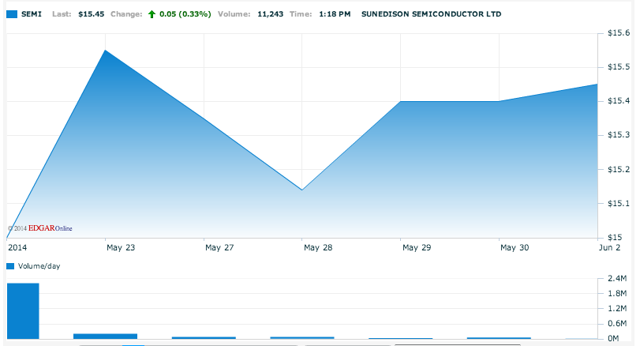 (Nasdaq.com)
Underwriting
SEMI's IPO underwriters, including Deutsche Bank Securities Inc.; Wells Fargo Securities, LLC; Goldman, Sachs & Co.; Citigroup Global Markets Inc.; and Macquarie Capital (NYSE:USA) Inc., will attempt to coax SEMI share prices into an upward trend with the release of the positive reports with the end of the quiet period.
Evidence That Quiet Period Expirations Can Open Buying Opportunities
The correlation between the visibility and quantity of IPO underwriters and an increase in the price of shares at the conclusion of the quiet period has been empirically established, both by the results of academic studies and by the data generated through our past three years of research.
The Journal of Finance (Vol. LVIII, No. 1; 2003) describes how an increase in share price typically emerges several days ahead of the quiet period expiration as experienced investors anticipate positive reports and begin to buy up shares, realizing that the underwriters will scarcely publish negative information about a recently underwritten firm. The early purchases generate the perception of rising demand, and cause share prices to rise before the expiration of the quiet period.
Lead author Dan Bradley, Ph.D., CFA, affiliated with the University of South Florida, and colleagues note that analyst coverage is immediately initiated for 76% of firms at the quiet period expiration, nearly always with positive analysis. Abnormal (positive) returns increase significantly when initiated by more than one analyst.
Business Summary
SEMI, a recent spin-off of SunEdison, Inc. (SUNE), is a leading manufacturer and developer of silicon wafers for use in the semiconductor industry. Most semiconductor devices rely on the wafers as base substrates.
SEMI has been in operation under various names for more than half of a century. The firm is renowned for its numerous technological advances in the semiconductor field, including wafers for the silicon-on-insulator technology that enables advanced computing, and its more recent development of substrates like epitaxial wafers, used in devices including light-emitting diodes (NASDAQ:LEDS).
SEMI markets its products to dedicated semiconductor foundries and directly to device manufacturers; major customers in the past year have included Taiwan Semiconductor Manufacturing Company (NYSE:TSM), Samsung (OTC:SSNLF), and STMicroelectronics (NYSE:STM). A division of Samsung purchased approximately 7.1 million shares of SEMI at the IPO price concurrent with the IPO.
For additional information, see our preview of SEMI's IPO here.
A Consolidated "Wafer" Industry
SEMI competes in a semiconductor wafer industry that has become highly consolidated. Semi is one of only five major suppliers currently in operation; the other four are Shin-Etsu Handotai, SUMCO Corporation, Siltronic AG, and LG Siltron. Some of these suppliers may have access to greater financial resources than SEMI.
Management Highlights
President and CEO Dr. Shaker Sadasivam has served in his current positions with SEMI since December 2013. Dr. Sadasivam is also SunEdison's executive vice president and president-Semiconductor Materials; he previously served as senior vice president, Research and Development, and in numerous other roles with SunEdison.
Dr. Sadasivam holds an MBA from Washington University in St. Louis, and a Ph.D. in Chemical Engineering from Clarkson University.
Conclusion
SEMI's performance on the market thus far has been fairly quiet, perhaps reflecting consumer concern over the firm's seeming financial instability.
As an element of SUNE, the firm had seen declining revenues and inconsistent income figures. Some analysts theorize that unexpectedly low demand for SEMI's products led to the spin-off, with SUNE preferring to focus on its booming solar energy segment.
That said, the quiet period expiration will provide SEMI's underwriters with another platform to sell the firm to investors, and as share prices have held steady thus far, investors may well show interest.
We suggest SEMI's quiet period expiration as a short-term buying opportunity for quick investors.
We invite readers wishing to follow the discussion on IPO quiet periods to click the +FOLLOW button above the title of this article and follow @DRDInvestments on twitter.
Disclosure: The author has no positions in any stocks mentioned, and no plans to initiate any positions within the next 72 hours. The author wrote this article themselves, and it expresses their own opinions. The author is not receiving compensation for it (other than from Seeking Alpha). The author has no business relationship with any company whose stock is mentioned in this article.