Introduction
China Finance Online Co. Ltd (NASDAQ:JRJC) is cheap and rapidly growing, which is creating monster potential for investors. The latest reported quarterly revenues rose 400 percent compared to the same period the previous year, and as a result, the company returned to profitability for the first time in 11 quarters. JRJC pre-announced record first-quarter revenues and presently has $1.67 cash per share and no debt, all of which makes the stock a promising investment. 3D Analytics has completed a thorough review of JRJC and determined the stock is grossly undervalued. Consequently, we assign a buy rating with a $13 price target, which is quadruple the stock's current levels.
Background
JRJC is the only Chinese web-based financial information/service company listed on a major U.S. exchange. Both its portal sites, jrj.com and stockstar.com, are highly ranked on alexa.com, making us confident JRJC will sustain and grow revenues.
JRJC has four divisions:
jrj.com - The leading provider of financial data and information in China and one of the world's leading Chinese finance portals.
stockstar.com - China's first stock-market focused website, it also is one of the largest mobile financial information/service providers in China.
Shenzhen Genius - Uses cutting-edge design concepts to develop financial-database and data-terminal products for financial institutions. It is supported by strategic partnerships with well-known universities, government agencies, stock exchanges, financial institutions and other third-party vendors.
iSTAR Finance - Obtained Hong Kong SFC (Securities and Futures Commission) licenses to engage in securities trading, futures trading and securities-advising services. In addition to the Hong Kong market, in order to provide global trading and investment solutions to its clients, iSTAR Finance also will focus on securities and futures contract trading on overseas securities and futures exchanges.
Precious-metal trading business generating significant growth
Beginning in 2013, JRJC started providing precious-metal trading services. This was part of the company's transition to a new business model, which was a reaction to a sluggish Chinese stock market causing JRJC's revenues from its financial-information and investment-advisory businesses to slow down. Since then, the company's revenues have dramatically increased as a result of this new business. JRJC has entered a growth phase, and precious-metal trading has been the driving force behind that.
According to the company's latest conference call, "precious metal trading services and other related financial services have great potential in China and with solid sustainability."

Click to enlarge
Net revenues increased by 400 percent year-over-year in Q4 and 76 percent in full-year 2013
On April 3, 2014, JRJC announced Q4 and fiscal-year 2013 earnings which returned the company to profitability for the first time in 11 quarters. This earnings explosion was a result of the new precious-metal trading business. Here are some of the highlights:
Net revenues for Q4 were $25.8 million, representing a year-over-year increase of 400 percent from $5.2 million for the fourth quarter of 2012 and a quarter-over-quarter increase of 96 percent from $13.2 million for the third quarter of 2013.
Net Q4 income attributable to China Finance Online was $1.6 million, compared to a net loss of $4.9 million for the fourth quarter of 2012 and a net loss of $1.6 million for the third quarter of 2013.
Net revenues for fiscal-year 2013 were $52.1 million, representing an increase of 76 percent from $29.6 million for fiscal year 2012.
JRJC pre-announced record first-quarter revenues
On May 9, 2014, JRJC announced it expects to report net revenues of $21 million for the first quarter of 2014, up 281.8 percent from $5.5 million for the first quarter of 2013. If JRJC can produce more than $20 million in revenues over the next four quarters, 2014 should be a record year.
JRJC has $1.67 cash per share and no debt
JRJC has a market cap of $72 million and $36 million cash, making the stock even more attractive. In addition, JRJC doesn't have any long-term debt.
A peer-group comparison shows JRJC is significantly undervalued and worth about $13 per share
We pride ourselves on finding cheap growth companies with bright futures, and this is one of the most undervalued stocks we have found since we began writing articles for Seeking Alpha. In order to assign a value to JRJC, we used the best comparable companies within China. We found JRJC to be severely undervalued with amazing growth.

By averaging the ratios below, we conclude JRJC should be valued at $13 per share, which is up about 300 percent from current levels - a potential quadruple.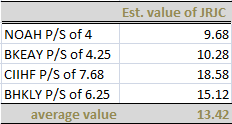 Conclusion
We believe JRJC is undiscovered, which creates a huge opportunity for investors to profit. With a cheap valuation compared to its peers and rapidly growing revenues, JRJC is primed to move significantly higher. Therefore, we assign a buy rating with a $13 price target.
Disclosure: I am long JRJC. I wrote this article myself, and it expresses my own opinions. I am not receiving compensation for it. I have no business relationship with any company whose stock is mentioned in this article.
Editor's Note: This article covers one or more stocks trading at less than $1 per share and/or with less than a $100 million market cap. Please be aware of the risks associated with these stocks.