In my last Starbucks (NASDAQ:SBUX) article, I looked at a 20-year review of how the coffee company has expanded globally and entered into the grocery aisles of many major supermarkets and convenience stores.
In this article, I plan to take a closer look at the most recent 3 years of performance of each segment within the company to drill down to see what sort of contribution they have made to the overall business. These segments are listed below, and are defined into groups that Starbucks' management view their own company internally:
Americas
EMEA (Europe, Middle-East & Africa)
CAP (China & Asia-Pacific)
Channel (Channel Development of Grocery Aisle)
Finally, I will take a closer look at how the market valuation of Starbucks has changed before, during, and after the Great Recession which started in 2008, concluding with what this means for investors today.
Note that all of the following segment and per-store revenue, operating income, and operating margin chart data is sourced from Starbucks Investor Relations.
Americas Revenue Dwarfs Other Segments
An analysis of Starbucks revenue per segment quickly reveals that the company remains a largely American enterprise when it comes to generating revenue, where approximately two-thirds of all revenue come from this region.

Also, it becomes clear that there is a seasonal trend each year, with Q1 providing a notable increase in revenues. This coincides with the winter season, which results in the strongest sales, as more people opt to have a hot beverage during the colder days and longer nights.
By zooming in on the revenues excluding Americas, we can see that this seasonality extends also to Channel revenue and the EMEA region. However, this seasonality is not noticeable in the CAP region.

Americas Operating Income Dwarfs Other Segments
A drill-down into operating income per segment reveals that approximately two-thirds of profits come from the Americas region, with seasonal operating income highest in Q1 of each year.

Channel development operating income is typically highest in Q4 of each year as supermarkets place their orders for inventory in preparation for the winter holiday period.

China & Asia-Pacific Operating Margins Rival Grocery Aisle
Perhaps surprisingly, the most lucrative operating margins within Starbucks come from the CAP and Channel segments. The margins suggest that in the CAP region, labour costs and property costs are lower in relation to overall revenues than is seen in the Americas and EMEA regions.
The higher Channel operating margins reflect the fact that Starbucks does not have to supply property or baristas to supermarkets when they place orders to fill their inventories with products such as frappuccinos and chilled lattes.

China & Asia-Pacific Revenue Per Store Trails West
Although we have seen that the highest operating margins come from the CAP region, it is in fact the Americas, followed by the EMEA region, which have the highest revenue per store when measured in US dollars. This is due to the higher purchasing power of the Western consumer, which typically earns and spends in either US dollars, British pounds, or euros.

EMEA Operating Income Per Store Lagging
The EMEA region remains the weakest segment within Starbucks. Although conditions have improved in the last year or so, the region remains problematic mainly because of sluggish economic conditions in Europe, as well as significant competition from chains such as Costa Coffee and Cafe Nero, which are vying for business in the UK and beyond.

Rich Valuation
Due to the fact that 2013 income was erased by a dispute with Kraft (as covered in my previous Starbucks article), I have not included the price-to-earnings multiple in the chart below. However, by considering Starbucks' price-to-book value and price to sales multiples, it is clear that valuations have now reached the rich levels that were experienced before the Great Recession which began in 2008.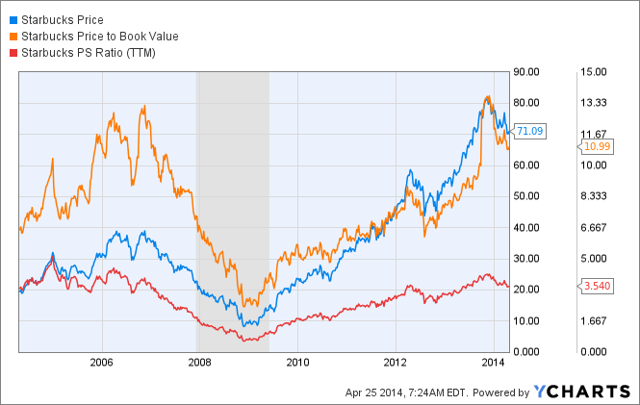 Conclusion
The main takeaway from this analysis is that two-thirds of Starbucks' revenue and operating income are generated by the Americas region. However, the highest operating margins currently come from the CAP region, as well as the Channel development segment, which provides inventory such as frappuccinos and iced lattes for the grocery aisles of supermarkets. The trend is for these two segments to grow over the years to become larger contributors to the top and bottom line. The EMEA region remains the weakest segment, as Europe continues to have a sluggish economy and significant competitors in the coffee space.
While there may be modest room for further multiple expansion, it is likely that Starbucks' market valuation will grow in step with growth in profits over the long term. As per my last article, I would reiterate that while Starbucks is a solid company with great management, the best time for patient investors to buy shares in this company is when it is out of favor, particularly during the depths of an economic recession.
Disclosure: I have no positions in any stocks mentioned, and no plans to initiate any positions within the next 72 hours. I wrote this article myself, and it expresses my own opinions. I am not receiving compensation for it (other than from Seeking Alpha). I have no business relationship with any company whose stock is mentioned in this article.