Here's the headline: Nucor braced for more pain
Here's the source: FT
Here's the message:
...Nucor, the US's biggest steelmaker by sales and the main recycler of scrap steel, ...cautioned that the construction industry remained moribund and that rising scrap costs would damage earnings in the current quarter.
Here's the date: January 26, 2010.
Deja vu?
Tuesday morning, Nucor (NYSE:NUE) announced a similar warning, as reported on Dow Jones Newswire:
DOW JONES NEWSWIRES

Nucor Corp. (NUE:$39.5900,$-1.0700,-2.63%) announced downbeat third-quarter earnings guidance as demand for the steel maker slowed during the summer and it now anticipates to post bigger-than-expected inventory charges.

But the sector continues to struggle as construction activity remains weak. The company said Tuesday that sector still shows "little, if any, strength."

Nucor (NUE:$39.5900,$-1.0700,-2.63%) said Tuesday that third-quarter results will "unfortunately confirm" concerns over the macroeconomics conditions it expressed in July that "there is a general slowdown taking place across all product lines as the overall economy has entered into a new period of uncertainty."
Here's a picture of what happens to a stock when this kind of news hits the tape (from StockCharts.com...take note of yesterday's price action highlighted in yellow on the right hand side of the chart):
click to enlarge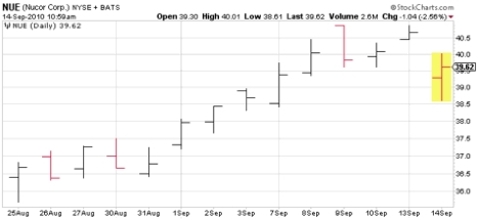 In the coming hours, the analysts who specialize in Nucor and related firms in the industry will likely be coming out with full blown reports on the meaning of Tuesday's announcement in terms of projected earnings and other financial ratios.
Until then, ponder, the following....
On Jan. 26, 2010, when the CEO made the surprise announcement noted above, the stock closed at 43.56, down from the previous day's close of 44.13. And while the stock continued to sell off into mid-February, note the performance heading into the Spring:
From Jan. 26's close of 43.56, after falling initially, NUE rallied into April up to the high 40's, before the May 'flash crash' took the wheels off of most stocks and re-calibrated most expectations of overall economic recovery. Continuing on, NUE found its next 'cliff' to fall off in August, along with most equities as the global economic picture got darker. And finally, September started to look good for NUE, until Tuesday.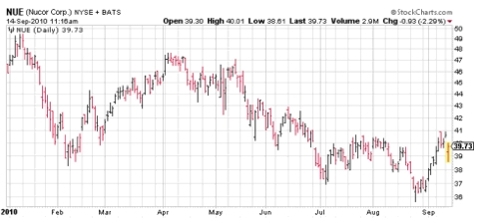 So what should be done now?
Firstly, I'd recommend a read (hopefully, a "re"-read) of an article I wrote recently entitled "Something NUE to Consider". In that piece, I highlighted many of the pros and cons of this stock, and concluded, as i do today, that a big driver of each investor's personal decision as to whether to buy, sell or hold this stock is one's overall economic outlook principally for the US economy, given NUE's heavy US centric business, but also overseas, as NUE has expanding business and potential abroad.
Second, I'd couple that personal outlook on global growth with an assessment of the market's current valuation of NUE relative to other stocks. As a starting point, have a look at how NUE has performed this year-to-date vs the S&P 500 (Chart from Yahoo Finance) : It's clear that this cyclical name has done what cyclicals do at times of economic malaise....underperformed.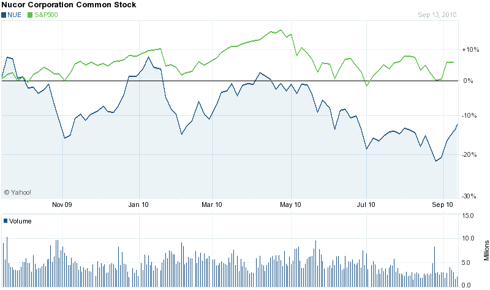 So the ball falls back into each investor's court.
Is the underperformance of NUE vs the S&P an opportunity or an omen?
Does yesterday's announcement put the company's juicy dividend in jeopardy? (I haven't seen any caution on that at this point in time).
Are there other steel companies more worthy of a place in investors' portfolios?
Is China 'dumping' the real threat? And will US Congressional frustration over China's currency help in the battle against the claims of China's steel dumping?
Much to consider. This piece is not in any way meant to be a personal recommendation or investment advice. Its sole purpose is to lay out the issues that investors should throw into the mix of overall investment issues when deciding for themselves what is and isn't appropriate for their own financial profiles.
But one thing is clear, it's time to take a NUE view.
Disclosure: Long NUE, considering getting longer. Long many stocks and ETFs in S&P 500 and Emerging Markets.