Fannie Mae (OTCQB:FNMA) and Freddie Mac (OTCQB:FMCC) have not been the focus of any performance-related news lately. What did capture the attention of investors, though, was yesterday's reporting that Carl Icahn, renowned activist investor with a reputation for taking concentrated investment positions, is now a new member of the Fannie Mae gang.
Billionaire investors piling into Fannie Mae/Freddie Mac
Bruce Berkowitz of Fairholme Capital Management made a commitment to his GSE investment late last year. Credit is also due to Perry Capital which is leading the court battle against the government and seeking to have a court throw out the net sweep agreement that requires Fannie Mae and Freddie Mac to send all of their profits to the U.S. Treasury.
In addition, Bill Ackman of Pershing Square Capital Management bought almost 10% stakes in each of the government sponsored entities throughout October 2013. Most notably, Ackman contributed to popularizing the common stock.
Now, Carl Icahn is also going to be part of the party. Bloomberg reported on June 3, 2014:
Fairholme Capital Management LLC, the mutual-fund company run by Bruce Berkowitz, sold $51 million in the common shares of mortgage financiers Fannie Mae and Freddie Mac to activist investor Carl Icahn, according to a court filing.

Berkowitz sold $28 million in Fannie shares and $23 million in Freddie shares to funds controlled by Icahn on March 11, Fairholme disclosed in last week's filing. After the sale, Fairholme still held about $141 million in the common shares of the two firms as of March 31, a separate filing with the U.S. Securities and Exchange Commission shows, and more than $1.4 billion in their preferred shares.
The trade itself does not have large ramifications for Bruce Berkowitz and he still holds a large position of common shares after the sale to Icahn.
It is way more important to realize that quite a number of highly acclaimed investors with respectable track records see substantial value in Fannie Mae and Freddie Mac, and, more importantly, in the common stock.
Almost no short-term catalysts
Though I hold a position in Fannie Mae's common stock, the investment thesis is driven by a remarkable absence of any meaningful short-term solutions to the most pressing problem of all: Getting rid of the net worth sweep. This issue will only play out in the courts and will likely take years to resolve. I do not expect any short-term catalysts from Fannie Mae's or Freddie Mac's business side as long as the net sweep is in effect.
Regulatory policies strengthening Fannie Mae's market position
As we have seen over the last couple of months, Fannie Mae and Freddie Mac are increasing their role in the U.S. mortgage finance market. Republican senators eagerly tried to reduce the role of the government-sponsored enterprises and, therefore, make it easier for them to wind them down. Melvin L. Watt, Federal Housing Finance Agency director, recently announced that he intends to increase the role of Fannie Mae and Freddie Mac in the U.S. housing market by not reducing loan limits and easing rules on loan putbacks. As a consequence, these rules will strengthen Fannie Mae's market position and will only signal to lawmakers that the GSEs are not replaceable.
For the time being, it looks as if Fannie Mae and Freddie Mac get a headstart in proving to the public how important they are in assuring credit and liquidity in the U.S. mortgage finance market and no valid alternatives to them are even in sight.
Chart situation
From a technical point of view, Fannie Mae's chart supports the bullish thesis. After extreme volatility around key events such as the Senate Panel vote on GSE reform, the stock price of Fannie Mae has shown extraordinary resilience.
Shortly after anti-shareholder legislation was circulated in March 2014 and shares of Fannie Mae and Freddie Mac lost up to 40% in a single trading session as a result, I have strongly advocated for a Long position on March 12, 2014 as investors were clearly freaking out about a possible winddown of the two GSEs.
I have recommended Fannie Mae after the sell-off at around $4 per share. Since then, shares have increased approximately 15% and closed at $4.65 in yesterday's trading session. Panic is rarely a good adviser.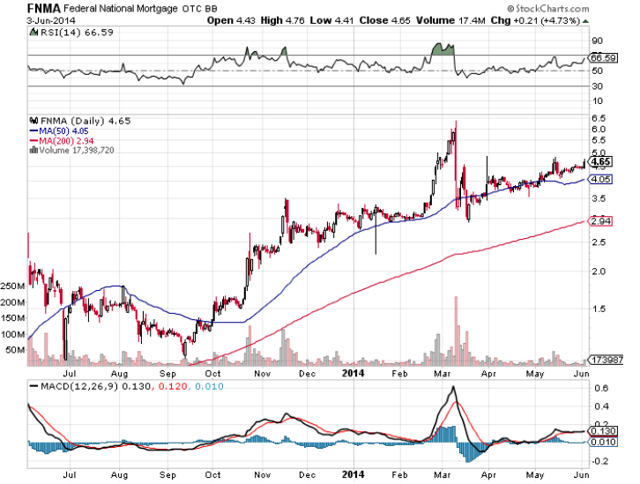 Click to enlarge
(Source: StockCharts.com)
Conclusion
Fannie Mae's stock displayed a high level of resilience after extreme volatility evaporated in March and the stock consistently edged higher ever since. With limited selling pressure and renewed buyer interest over the last two months, new high profile investors eager to get on board to ride the Fannie Mae story, I continue to rate Fannie Mae's common stock a Strong Buy for patient, risk-seeking investors.
However, investors who want to invest in either Fannie Mae or Freddie Mac shouldn't bet on a quick solution to the net worth sweep issue. This battle will be solely fought in court and will likely take years to play out.
Disclosure: I am long FNMA. I wrote this article myself, and it expresses my own opinions. I am not receiving compensation for it (other than from Seeking Alpha). I have no business relationship with any company whose stock is mentioned in this article.