Molycorp Inc's (MCP) stock hit a 52-week low of $2.45/share yesterday. The stock closed at $2.50/share, representing a one-day decline of 7.1%. Some may have attributed the sell off to the article, Molycorp: $560MM Intangibles Are Worthless, which questioned the value of the company's intangible assets amid consistent operating losses:
Molycorp's consistent operating losses call into question the carrying value of its $559.6 million intangible assets. The fact that the company will most likely need to raise additional capital to avoid bankruptcy implies that it and its operating segments are impaired. I advise investors to avoid the stock based on future goodwill impairment charges and another dilutive event.
At a minimum, the article highlighted the fact that Molycorp's operations have been impaired. One commenter on the article was even more sanguine:
I've been an on the sidelines spectator on this name for years, and I think you're largely right. Your antagonists are foolish to think this company can pay down the massive debt they've taken on without a hugely dilutive secondary, or in a worst case, an outright restructuring.
Secondly, as we all know (but most will not admit) any former large cap that breaks $5 rarely comes back. On that basis alone, without even looking at the merits of the company, there is an overwhelming statistical probability the company's stock price goes to zero.
Below are the company's historical operating results: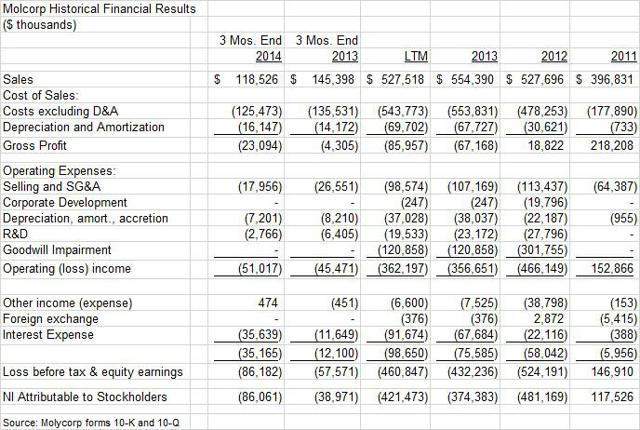 My interpretation as to why Molycorp has reached a 52-week low is as follows:
Decline in Pricing Power
Prices of rare earths have declined dramatically over the past year. Molycorp's average sales price for rare earths declined 26% from $36.60 in 1Q 2013 to $27.01 in 1Q 2014. Amid declining pricing power, the stock prices of other light rare earth providers have also worsened. Year-to-date, the stock prices of Lynas Corporation (OTCPK:LYSDY), Avalon Rare Metals (NYSEMKT:AVL), Rare Element Resources (NYSEMKT:REE), Arafura Resources (OTCPK:ARAFF), Quest Rare Metals (NYSEMKT:QRM), Frontier Rare Earths (OTC:FREFF), and Tasman Metals (NYSEMKT:TAS) have fallen 41%, 16%, 23%, 14%, 16%, 20%, 1%, respectively. That said, since 2013 Molycorp's average selling price has been so low that it has been unable to cover the cost to manufacture rare earths.
2Q 2014 Earnings A Disaster?
Investors are resigned to the fact that in 2Q 2014 the company will report another operating loss. Moreover, given the potential for goodwill impairment charge of up to $560 million, 2Q 2014 could be the worst operating loss in the company's history. Such headline risk is not conducive to holding the stock in the short term.
Going Concern Value in Question?
With run-rate cash outflows of $78 million and cash on hand of $236 million, Molycorp will potentially run out of cash in less than a year. That said, the company will have to raise additional capital in order to stay afloat. A third capital raise in less than two years calls into question the company's going concern value. In March 2014 rare earth industry expert, Jack Lifton, suggested that Molycorp and Lynas seek bankruptcy protection.
The Australian press this morning is predicting the doom of Lynas ... Their cost is quite obviously much more than the selling price of their majority product, so they have a dilemma. And they don't have anywhere near as good public relations as Molycorp, which with the exact same situation the analysts are saying in the newspaper and the media that, "They're coming back." ... I've come to the conclusion that the best thing that could happen in the rare earth market today would be for Lynas and Molycorp to go bankrupt ... I've been saying this for years. Now the market is backing me up.
Conclusion
Molycorp's share price has hit 52-week lows as declining rare earth prices have rendered the company unable to turn a profit. With a dismal Q2 2014 report and another dilutive event looming, I recommend that investors avoid the stock.
Disclosure: I am short MCP. I wrote this article myself, and it expresses my own opinions. I am not receiving compensation for it (other than from Seeking Alpha). I have no business relationship with any company whose stock is mentioned in this article. I own June puts on Molycorp