Bank of America (NYSE:BAC) holders may be concerned today about the just reported weekly decline in mortgage applications. Rest easy, though, as I suggest there is absolutely nothing to worry about from within today's data. In fact, I suggest there is much to be enthused about near-term.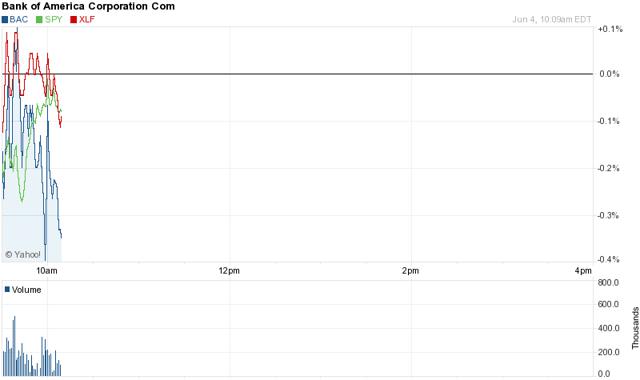 Click to enlarge
The early morning chart action for Bank of America , the SPDR S&P 500 (NYSEARCA:SPY) and the Financial Select Sector SPDR (NYSEARCA:XLF) shows relative softness for BAC. Though, it seems the SPY declined on a soft ADP Private Employment data point. Certainly the lower level of estimated job creation would also impact the economically sensitive Bank of America , and played a role here. BofA's beta coefficient is 2.0 after all, and so reflects significant sensitivity.
What also may be pressuring the bank this morning is the just reported Weekly Applications Survey for the period ending May 30th. It showed that mortgage applications declined 3.1% through the period, and it was a broad reaching decline. Purchase applications, or those tied to the acquisition of a home, fell by 4%, while the Refinance Index declined by 3%.
Fear not though dear BAC holders, because there's an anomalous reason behind the decline. Look at the seasonally unadjusted figures and find that Purchase Applications dropped by 15% and overall activity fell by 14%. The seasonal adjustment here is accounting for the Memorial Day holiday.
However, in my following of this data point over the years, I've noted that it seems to adjust for three day holidays in a less than perfect manner. I believe this is because of the decrease in activity that likely occurs on the Friday before and the Tuesday following a three-day weekend. As a result, next week's data will likely be stronger than what the accurately adjusted measure should show. So, if the data is imperfect, then the decline in BAC this morning is anomalous and should be corrected swiftly.
| | |
| --- | --- |
| Mortgage Lender | Through 10:30 AM ET |
| Bank of America | -0.02% |
| Wells Fargo (NYSE:WFC) | -0.2% |
| J.P. Morgan Chase (NYSE:JPM) | -0.3% |
| U.S. Bancorp (NYSE:USB) | -0.1% |
The early move lower appears to be already correcting for BAC's banking peer group shown above here. It should be completely wiped away given the anomaly I've pointed out here. Given also that the ADP data is just an estimate, and that the bar is set somewhat low for the Employment Situation Report that it estimates private employment within, I see these shares ending the day in the green.
For the longer term, I expect Bank of America to benefit from its current gift from God valuation that is offering significant opportunity for new entrants in my view. I expect the high-beta shares to likewise benefit from the hopeful and so far seemingly fruitful economic improvement in Q2, which is seeing pent-up demand flow from Q1's weather beaten contraction. Even today, the ISM Nonmanufacturing Index was reported a full point higher than economists' expectations at 56.3. So, I suggest taking advantage of any dip to add stakes in BAC here.
Disclosure: I have no positions in any stocks mentioned, and no plans to initiate any positions within the next 72 hours. I wrote this article myself, and it expresses my own opinions. I am not receiving compensation for it (other than from Seeking Alpha). I have no business relationship with any company whose stock is mentioned in this article.