I added
Keegan Resources Inc. (KGN)
to the Barchart Van Meerten Speculative portfolio yesterday morning. KGN is a well-financed junior gold company with two premier gold assets in Ghana, West Africa, within one of the world's most prolific gold regions. KGN has successfully identified a significant gold deposit at its Esaase property which is currently being expanded with mineralization open in all directions. KGN's second project, the Asumura gold property, is located 65 km south of the 18+ M ounce Ahafo mine along one of Ghana's three major deposit hosting structures.
As with all commodity stocks we will consider this a technical momentum play and will sell if the upward price momentum is not sustained.
Only one Wall Street analyst is following the stock but he has a Strong Buy recommendation distributed to his clients.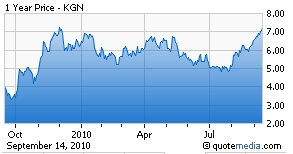 KGN came up on my radar when I was using my Barchart new high screener to find stocks hitting the most frequent new highs. This one hit 14 new highs in 20 sessions including 5 in all of the last 5 sessions. The price increased 23.39% in the last month and is trading above its 20, 50 and 100 day moving average. The stock recently traded at 6.88 well above its 50 day moving average of 5.65. The 14 day Relative Strength Index is 83.07% and rising.
Even though only on Wall Street analysts is following the stock the general investing public in positive on this one. Over on Motley Fool the CAPS members voted 60 to 13 that the stock will beat the market with the All Stars in agreement 31 to 4.
Gold is where it's at in this current market so if you are not over weighted in gold consider:
Keegan has quality gold reserves
Recent, positive and consistent upward price momentum
Wall Street Strong Buys distributed to clients
A positive general investor sentiment
Disclosure:
Jim Van Meerten through Marketocracy Capital Management has an interest in the stocks mentioned in his blog.