Synopsis
Bridgepoint Education (NYSE:BPI) is deeply undervalued and has very little risk from the new gainful employment regulation. BPI is one of the fastest growing companies in the for-profit education sector and produces a tremendous amount of free cash flow due to its industry leading return on tangible capital. Yet it trades far below industry averages.
The Department of Education's OIG audit into incentive compensation could be the reason for the low valuation, yet even in a worst case outcome, this should have no significant impact on the company's valuation. BPI has been moving up in the last few days, but it should move up significantly in the next few months based on multiple catalysts. Eventually BPI should command a valuation of $30 per share or greater, which would be in line with its comparables and long term growth rate.
Bridgepoint Overview
Bridgepoint Education was founded in early 2004 by former executives of Apollo Group (NASDAQ:APOL) and funded with a $20 million investment from Warburg Pincus. The founders' vision was to build an online education business that would provide a convenient and affordable education solution for working adults to pursue a higher education. The executives knew that by providing the coursework online they could build a highly scalable business with relatively low capital requirements, which would allow them in turn to undercut their competition while maintaining healthy profit margins.
In 2005 Bridgepoint bought the Franciscan University of the Prairies and renamed it Ashford University. Ashford University offers primarily bachelor's degrees and also associate's degrees. In 2007 Bridgepoint purchased the Colorado School of Professional Psychology and named it University of the Rockies. University of the Rockies offers master's and doctorate degrees.
As of June 30th, 2010 Bridgepoint had 67,744 students enrolled. 99% of it students were online and the breakdown by degree mix was 76% bachelor's, 11% master's, and 13% associates degrees. Bridgepoint went public in April 2009, and Warburg Pincus still holds 64.9% of the outstanding common shares.
The $20 million investment from Warburg Pincus is the only outside money that was ever put into Bridgepoint. With that investment Bridgepoint has grown from nothing six years ago to $689.5 million in revenue and $119 million in net income expected for 2010. Because the company has extremely low capital requirements, it was able to produce significant cash flow while growing. As of June 30th, 2010 the company had $206 million of cash and equivalents and zero debt. Bridgepoint recently announced a $60 million share buyback program which will be the first cash it has returned to shareholders. Shown below is Bridgepoint's income statement and cash:
click to enlarge images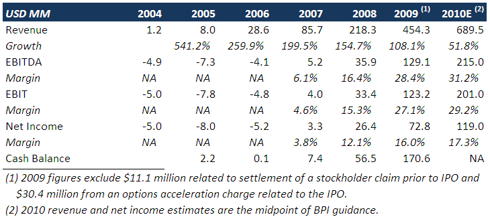 A Superior Value Proposition
Bridgepoint's ability to grow and meet the gainful employment regulations is based to a large extent on its superior value proposition. Bridgepoint allows incoming students to transfer up to 99 credits from other universities, making it easier for them to finish their degree at Ashford than most other schools. 93% of Ashford alumni who attended traditional colleges or universities feel the quality is the same as or better than the institution they attended prior. Lastly, Bridgepoint is substantially cheaper than its for-profit competition, making it an easy choice. Shown below is a cost comparison: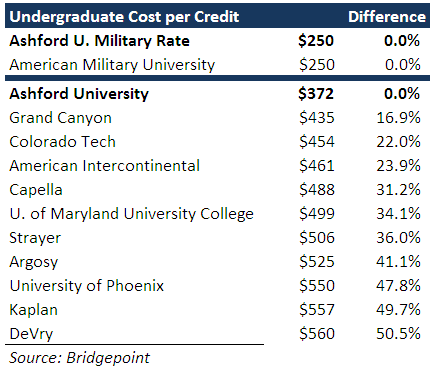 Gainful Employment Regulation
The for-profit education sector has been under scrutiny this year. The biggest issue affecting the sector has centered around the new gainful employment regulation, which will come into effect in 2011. The new rule will require that (i) a sufficient level of former students are repaying their federal student loans (i.e. the Repayment Rate meets certain thresholds), and/or (ii) that former students earn sufficient income to be able to repay their federal student loans (Debt Service Ratios meets certain thresholds). Schools that are not able to meet minimum required thresholds will have risk having their students' access to federal student loans either restricted, or the schools may lose their eligibility altogether. For-profit schools get most of their funding from federal student loans, so this rule will have a major impact on the sector.
In order to be fully eligible without restriction for federal student loans under the regulations, programs at schools must either have a Repayment Rate of 45% or greater, or the Debt Service requirements for students must be below 8% of total income or 20% of discretionary income. The Department of Education released sample data on August 13th showing loan repayment data for each university based on sample data it compiled from the state of Missouri.
Only four of the for-profit educational providers had a loan repayment rate greater than 45%. These were APEI, UTI, LOPE and BPI. In addition, management of Bridgepoint has consistently stated that it believes its students have a Debt Service less than 8% of total income. This is because (i) the cost of the Bridgepoint education is relatively low in relation to the value it provides, and (ii) students are often transferring in, and therefore incurring less debt at Bridgepoint.
Valuation
In spite of having the highest return on tangible capital in its space, one of the fastest growth rates, and one of the highest student loan Repayment Rates, Bridgepoint trades at significantly lower multiples than most companies in its space. Below is the comparable company data showing repayment rates, return on tangible capital, consensus growth rates for 2011 and 2012, and multiples: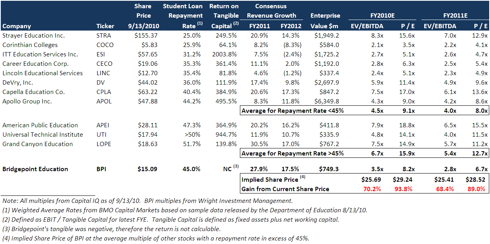 In order to trade in line with the other companies that have a loan Repayment Rate in excess of 45%, the stock would have a gain 68.4% - 93.8% from its price of $15.09 on September 13th, 2010 to approximately $25.41 - $29.24. This would still put it below a PEG ratio of 1.
However, this is not the likely top for the share price. The reason is that overall industry multiples will likely move up from these low levels after the mid term elections on November 2nd if Republicans win a substantial number of seats in the House and Senate, as is projected. This will give Republicans a blocking position on any further legislation against the for-profit sector. The Republicans do not believe it is fair to single out the for-profit education companies when many of the same problems apply to the state-funded and non-profit universities. See statement from Senator Enzi here.
Thus, after the mid-term elections the threat of any further legislation is virtually nil. Once the Republicans shift the debate to the entire education sector, the state-funded and non-profit universities will begin to lobby hard in order not to come under attack or be subject to further oversight. The likely end result will be that nothing more will happen. Even if the Democrats pull an upset, this letter from Secretary of Education Arne Duncan (an Obama appointee) to Senator Tom Harkin shows the department's view that rather than new rules, what is needed is better enforcement of existing rules.
OIG Audit
The only black spot in the whole BPI story seems to be an inquiry related to its incentive compensation. In May 2008 the Dept. of Education's Office of Inspector General commenced an audit of BPI. The major finding was that BPI may have violated safe harbors related to incentive compensation for recruiters. BPI submitted its final response the OIG in July. The OIG performed 130-150 hours of interviews, and received 300 enrollment advisor personnel files and thousands of pages of documents from Bridgepoint. The OIG will submit its response to the Department of Education and Bridgepoint in the next few months, and thereafter they will begin a negotiation into what remedies, if any, will be payable. While it is unreasonable to expect the company will get off clean, what would be expected is the BPI will have to pay some sort of fine while neither admitting or denying culpability.
So what is this fine worth and can it be factored in? Let us look at some comparable cases.
In August 2010, Grand Canyon Education settled an incentive compensation case for $5.2 million.

In September 2004, Apollo settled an incentive compensation case for $9.8 million.
In December 2009, Apollo settled an incentive compensation case for $78.5 million, which was one of the largest settlements from a whistleblower case ever.
It is hard to know what to expect in the case of BPI, but it is reasonable to assume that Apollo's settlement for $78.5 million would by far be the worst case scenario. After all Apollo had almost 9x the revenue of Bridgepoint in 2009. Most likely BPI's settlement will be a much lower number. But what would happen to our investment case if we assume that BPI settled for $78.5 million?
Actually not much. Bridgepoint had $206 million dollars in cash as of June 30th, 2010. There are 65.5 million shares and share equivalents. Therefore the cash per share required to pay $78.5 million is $1.20 per share, and BPI would still have $127.5 million dollars remaining. So, if you think $32 is a realistic share price, just adjust your model to $30.80. It does not make much of a difference. There is a billion dollars missing from Bridgepoint's valuation, and once BPI settles the fine, the stock price will go up because the uncertainty surrounding the issue is over. Hence, for a very small degree of uncertainly now, there is a tremendous amount of future upside from the current price.
Here Are Your Catalysts for a Higher Stock Price
BPI receives the OIG report in September and the incentive compensation matter is settled in October.
Republicans win a large number of seats in the November 2nd elections, which should ensure that no further legislator action will be taken.
Bridgepoint continues to grow and announces strong Q3 results.
BPI continues buying back shares pushing up the price and the EPS.
The short interest of 10.4 million shares represents 52.5% of the free float of 19.8 million shares.

If any of the above happen a short squeeze will push up the price significantly.
Disclosure: Author is long BPI