George Soros stated, "I rely on a great deal of animal instincts." It is a disposition that may have a lot to do with history as a sequence of random events and unpredictable choices, which is why the future is so difficult to foresee. If one looks at a company, one can see something, which is much larger in scale and ambition. But sometimes, there are trends that can push a company down by virtue of being labeled a fraud.
The American people look at China and respect and admire a nation that has accomplished something that we may never duplicate. Part of what makes China's growth so appealing, is that we only see what we want to see, or believe what we are told. We do not know them well enough to discover their human frailties that may diminish them in our eyes. In some cases, we hear about their shortcomings and refuse to acknowledge them. We compare our insides to their outsides, when that comparison is made we always come up short.
Xinyuan Real Estate (NYSE:XIN), a company rooted in China, is the first Chinese real estate developer listed on the New York Stock Exchange. One Seeking Alpha co-author pleaded, "If anyone has additional information please, I'm all ears, I'm willing to pay for any evidence that Xinyuan is not legitimate." The real question that needs to legitimize XIN of why it's so undervalued and overlooked by institutions has more to do with the price below $5 and the inherent risks that institutions are not willing to take to purchase a company with a market cap less than one billion dollars.
There is a belief that the books are cooked. There is a belief that the developments in China do not exist. There is a belief that they do not have the experience in the United States to develop property. Shadow banking has reached its tentacles, sweeping the belief that ghost cities have become a norm of what China is and will be in the future. Why are ghost towns in China being constructed without attracting residents or businesses? China's self-fulfilling prophecy of growth has more to do with the American expectation of their growth; failure to deliver will result in punishment. Not so much economically, but by national pride. That's why some analysts believe their economic statistics are false and not to be trusted. Again, they are the second most powerful economic engine in the world and at times I do believe their statistics are inflated. This is something that Americans are unable to comprehend simply because their character cannot be measured with failure.
There are many companies in China that commit fraud and there are many that do not. Buildings will be built even though the Chinese consumer market cannot afford it. Retailers are unable to support the new developments. However, for Chinese real estate developers that cheat the system and rob consumers of their homes and wealth carries a stiff penalty unlike America. The fear is evident; a good example of this is the Shenhow Apartment Case of 2006. This involved real estate developers unable to secure financing to complete a development project that used a variety of means such as the creation of fake application documents for bank loans and bribing bank officials to approve the individual mortgage loan applications for the fake buyers. Since 2003, commercial banks have been prohibited under the guidelines of the People's Bank of China (PBOC) from advancing loans to fund payments of land use rights. The PBOC also raised the reserve requirement ratio for large commercial banks by 0.5 to 20%. Local governments in China are clearly struggling with their finances, especially because of a decline in land transfer fees revenue the local government receives by selling land to developers. In the first half of this year, the amount of revenue received for land transfer fees in 300 cities was $652 billion yuan. Down 38% compared to the same period last year. In Beijing alone, it's down 55.65%. This is to curb shadow banking from lending money to developers and decreasing ghost cities throughout the country, resulting in a reduction in the GDP.
China believes that it was the American real estate collapse that triggered the loss of confidence in international markets and the distrust of its own banking system. The previous practices of American banks between buyers and sellers, and fraudulent assessment of property unfortunately resulted in many Americans losing their homes. A particularly strange and somewhat eerie phenomenon arose as a result of China building purely for the sake of economic growth and America's uninhibited belief that their own financial institutions have cleansed their hands from fraudulent activities. It is a dichotomy between two nations; one nation's more virtuous than the other, one needs to be punished more than the other by being labeled fraudulent. American financial institutions are absolved by being superior and having the attitude of being right. Paul Gillis, an accounting professor at Peking University stated, "The US is used to making the rules and China is saying 'we're not allowing you to make all the rules'." It becomes a question of sovereignty between two nations. As of May 24, 2013, Chinese and U.S. regulators entered into a co-operative agreement. The agreement permits joint inspections in China of audited firms that are registered with the Public Company Accounting Oversight Board (PCAOB) and to audit Chinese companies that are listed in the U.S. exchange.
Chinese companies are subject to Chinese laws just like American companies are subject to American laws. American accounting firms such as Ernst & Young, Deloitte, etc. that have branches in China are separate corporate entities that had to adhere to the laws of China or face penalties. Industries in China considered to be sensitive, such as advanced technological firms, are crucial to the economic development of the country. Observers speculate authorities may restrict access to these work papers in order to protect 'state secrets' that are crucial to China's growth. Mr. Zhao, a professor of corporate finance at the UK's Cranfield School of Management, stated "From the China side, everybody knows the accounting books are problematic. If the SEC can access the listed companies' information in China, then Chinese citizens will start demanding state-owned enterprises to reveal this information." The SEC's strong-arm tactics are not working even when Chinese companies are faced with the problem of getting de-listed in the U.S. exchange resulting in American multinational companies being punished. If the dispute is not resolved, Chinese auditors could potentially lose their registration. This is known as the nuclear option. Companies in China would be incapable of having their accounts audited to comply with U.S. securities law and therefore would no longer be able to trade on U.S. exchanges. Unfortunately, the SEC is playing a dangerous game of bargaining. China believes American financial institutions are more trusted than their own. Michael Gisser, head of law firm Skadden's Asia-Pacific practice, indicated: "There are companies that have not had any investigations, but nonetheless there is a loss of investor interest."
The word "enough" sometimes preaches how tired everyone is. For Goldman Sachs, J.P. Morgan, AIG, Bank of America, redemption is not the billions that they have to pay the SEC for real estate fraud. These financial institutions have to count their blessings that they're not de-listed, and more importantly the label of fraud isn't attached to their reputation.
Seeking Alpha has provided my colleague and I to be the first to introduce new empirical methods for financial analysts and the general public to study the veracity and claims that companies make between what is real to that which is not real. Google Earth sequences display the past, present, and future developments. However, these methods may have far reaching consequences for the mining industry.
Looking at XIN, my colleague and I have painstakingly researched all 42 of their real-estate development projects. We did not travel to China. We went on Google Maps and Google Earth. The outline of each of their developments corresponds to the past where the land was not developed to the development of the project itself. An example of the Suzhou International City Garden is provided below: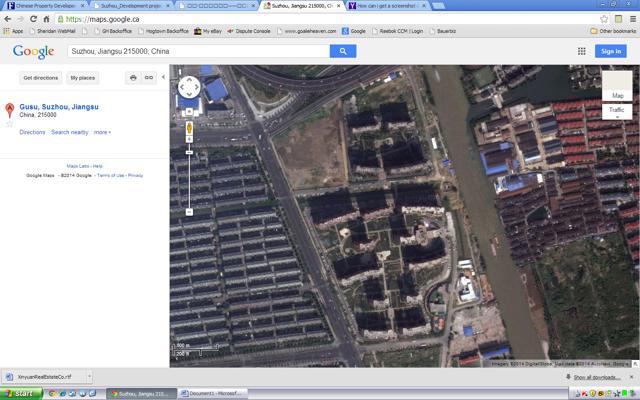 Click to enlarge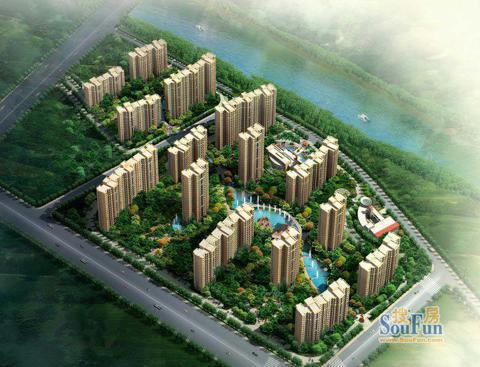 It is there for everyone to see. Even the foundations of the Williamsburg condominium project in Brooklyn located at Kent Avenue and South 8th Avenue have been put up: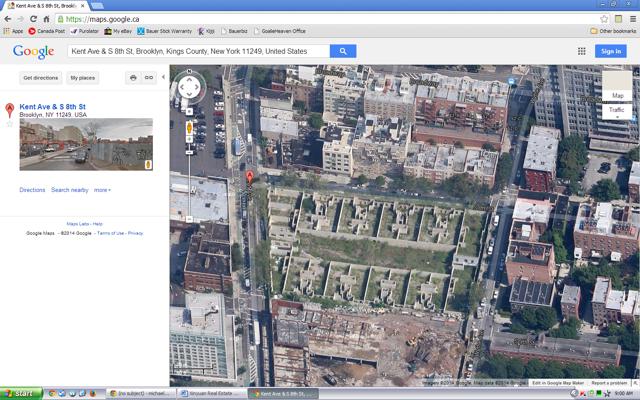 Click to enlarge
Another example of our findings includes the Zhengzhou Xinyuan Newtown pictured below in the middle of the map: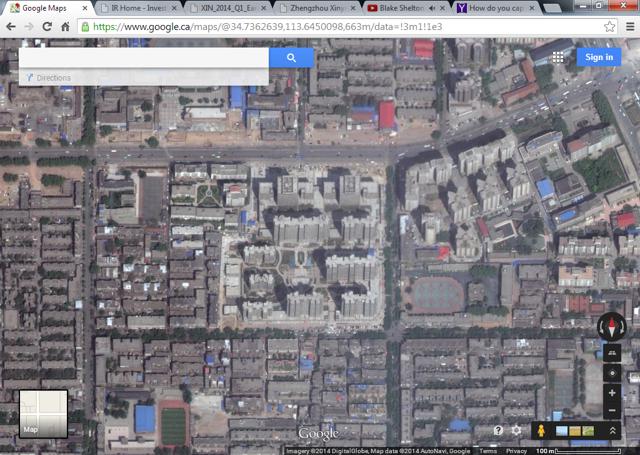 Click to enlarge
Here is a more zoomed in map of the Zhengzhou Xinyuan Newtown: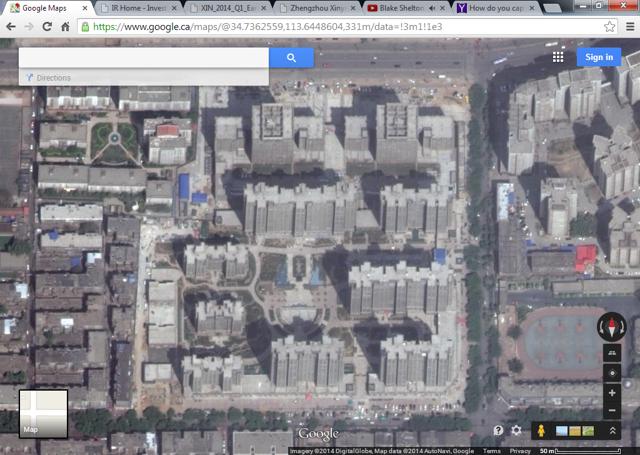 Click to enlarge
Another interesting aspect of XIN is its goal of using sustainable development when constructing its projects. XIN has been very selective on the markets that they are presently in or decide to enter. What is unique with respect to all their properties is that they must have a population of over 5 million, a stable demand, and sustainable land supply. That is why all their active and present projects have not been negatively impacted. The management team of XIN has become a prudent developer by incorporating discipline into their projects. The land acquisition for the first quarter totaled 376.3 million giving XIN a steady pipeline for future growth. As investors, you want to see strong progress for growth and revenue.
TPG Capital, a leading global private investment firm with over $59 billion under capital management, invested $108.6 million into XIN. Their due diligence had more to do with the hiring of Ropes & Gray LLP, a global law firm with offices located in the United States, Asia, and Europe that made the recommendation to TPG to invest in XIN because of their future growth. Ropes & Gray LLP have historically been very thorough in their research and have never been wrong due to their prestigious client-base. Ropes & Gray have recommended to TPG Capital to take Chinese companies private because of their low valuation. TPG Capital is known to purchase and privatize undervalued companies such as Chindex International Inc.
Helen Zhang, Interim CFO of XIN, gave some clue to American investors about her company. "The company is brilliant and it is our goal that the future coming years we would like to grow around 30% for the top-line and probably even more." She also indicated that TPG capital is playing an important role in the investment decisions regarding larger-scale projects. In the XIN Q1 2014 earnings call transcript provided by Seeking Alpha, Matthew Larson of Morgan Stanley provided a perplexed sentiment confirming his need to raise the stock price and in his mind failing to do so. He added, "and by the way you raise your dividend, have bought back shares over the years you put focus such as Anthony Walton on the Board, people who I would assume to advantage your company and then finally the TPG involvement. You pretty much done everything you can in my mind, the only thing that I should follow ironically is the stock price, it went up for quite a while and then it's given back. The irony is you done I think everything you could do within reason and as investors were hoping to see higher stock prices but that will hopefully come in the future."
The only reason why XIN is trading less than its book value is because American economists and analysts don't understand China's national urbanization policy. The economists are more apt to label China's real estate bubble as a harbinger waiting to trigger an economic collapse. For the economists, this is foolish. As part of China's landmark urbanization plan, the country aims to push forward urbanization by putting people at the center and making sure all people can enjoy China's modernization achievements. This plan aims to help 100 million migrant workers by providing work opportunities creating infrastructure and making more jobs available in the city. China's goal is to optimize city layouts by enhancing the lead role of major cities and increasing the number of small and medium-sized cities. With green production and consumption becoming the mainstream in urban economic activities, China should strive to push for harmonious and pleasant living conditions in cities by making public services accessible to all permanent urbanites and pursuing better ecology, more clean air and safer drinking water. The goal of China's urbanization plan is to provide strategic and fundamental guidance for the healthy development of urbanization across the country throughout this seven-year project.
If the mythical real-estate bubble is not an excuse to bring the markets down then what is? The exuberance that the financial institutions have that the S&P 500 will climb to the 2000 level. The hysteria people have that they will miss out on making even more money. The Feds, who are more concerned with the outcome of the NYSE rather than doing what's right. History has shown that they are always behind the 8 ball. Stock analysts that perpetuate greed by evaluating companies at lofty heights assuming the public investor will pay for it. To sum it up, if you go back to George Soros' animal instinct, it does have a bad habit of deceiving an animal because even the mightiest tiger in the jungle gets eaten alive because it has a false sense of security. We judge these financial gurus as heroes to mimic and be like them and to have their successes without their failures. Our reasoning and the public's will to act is no different than the mightiest financial wizard in America and we should never sell ourselves short. There was a faint whisper of what lies ahead to the global financial institutions. Yellen speaking to New York University graduates at Yankee Stadium stated that the graduates must demonstrate great courage, adding that Bernanke "demonstrated such courage, especially in his response to the threat of the financial crisis." Yellen is wrong; the courage was that the American public was willing to forgive even when they lost their homes and the confidence of rebuilding America. We recommend XIN as a strong buy, we attach its full book value of $12.50, and it's the right thing to do.
This article couldn't have been completed without my colleague Fiorenzo Arcadi, who extensively contributed a great deal of research.
Disclosure: I am long XIN. I wrote this article myself, and it expresses my own opinions. I am not receiving compensation for it. I have no business relationship with any company whose stock is mentioned in this article.