Germany's Commerzbank (OTCPK:CRZBY) recently caught our eye as we screened Europe for companies trading at steep discounts to tangible book value. Commerzbank, it turns out, sells for less than one-third of tangible book. One of the company's directors, Michael Reuther, presented at a conference in New York yesterday -- his presentation deserves a closer look.

Commerzbank and Dresdner Bank merged in May 2009, creating a bank with 15 million customers and 1,200 branches. While Commerzbank has had to work through major asset quality issues, the turnaround appears to be progressing well.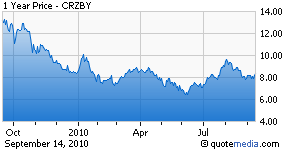 As a result, we view this as an interesting potential opportunity for investors who embrace Bruce Berkowitz's thesis that financial companies such as AIG (NYSE:AIG), Citigroup (NYSE:C) and MBIA (NYSE:MBI) are poised to outperform the expectations of still-gloomy Mr. Market. While Berkowitz has not strayed beyond U.S. borders in his investments in beaten-down financials, we believe Germany is an attractive place to look because the country continues to be the strongest economy in Europe. Germany's unemployment rate is meaningfully below the U.S. unemployment rate, and German exports continue to be strong.

Commerzbank reported net income of €1.1 billion in 1H10, as loan loss provisions declined from the year-ago period and the Mittelstandsbank segment reported one of its best quarters ever in Q2. Management now expects Commerzbank to turn a profit for the full year 2010, ahead of their original expectation. Here is what chairman Martin Blessing had to say last month:
Germany is Europe's economic engine - a fact which is also being noticed by our clients. Overall, we performed well in the first two quarters of the year; however, a steep road still lies ahead and we are still a fair way from normalcy. In accordance with the 'Roadmap 2012', we are therefore still systematically reducing risks. This is taking its toll on profits, but stability is more important to us than maximizing short-term earnings. We have always said that we will be profitable by 2011 at the latest. On the basis of the pleasing development in results in the first six months, we now assume that in a stable market environment we will conclude 2010 as a whole with a profit.

To be sure, the low price-to-book ratio means little for a bank with €27 billion in equity and nearly €900 billion in assets, as even a relatively small asset impairment could affect equity disproportionately. Nonetheless, the large size of the balance sheet also hints at the company's considerable earning power in a more normalized operating environment.

With Commerzbank trading at roughly €6 per share, down from a pre-crisis range of €25-35 per share, we view the risk-reward as potentially attractive and certainly as deserving of further inquiry.


Disclosure: No position