My recent article, GE (NYSE:GE): How The Upcoming Spin-Off Will Prove Profitable, began as follows:
I bet you awoke this morning bemoaning your failure to purchase shares in Sears (NASDAQ:SHLD) back in 1993. In the early nineties, Sears was the dominant retailer with powerful subsidiaries in the insurance, lending and investment fields. Unfortunately, for some, Wal-Mart (NYSE:WMT) came along and ruined the party. Nonetheless, Sears proved an excellent investment over the last two decades.
"But, Chuck, Sears was a terrible investment!" You are right …if you did not take advantage of the company's many spin-offs over the years.
Since June 1, 1993, 100 shares of Sears has morphed, through spin-offs, into 50 shares of Sears, 21 shares of Sears Canada Inc. (SEARF), 78 shares of Discover Financial Services (NYSE:DFS), 156 shares of Morgan Stanley (NYSE:MS) and 184 shares of Allstate Corporation (NYSE:ALL).
With dividends reinvested, you would have enjoyed a 10.3% annualized return compared to the S&P annualized increase of just under nine percent over the same period.
Translated into dollars, an investor opting out of every Sears spin-off would hold 100 shares of the company worth $4,661. An investor taking advantage of the above listed spin-offs would hold shares in five companies totaling $22,210.36.
SPINOFF DEFINED
A spin-off is a tax-free transaction in which the parent company transfers some of its assets to a newly formed company. The parent company transfers 80% or more of the stock of the newly formed company to holders of the parent company's stock.
There are varieties of spin-offs, and you will sometimes find those variations referred to as spin-offs, split-offs and carve-outs. However, there is no reason to burden the reader with the distinctions, and I will simply refer to all situations in which a parent company provides shareholders with stock in a newly formed company as a spin-off.
SPIN-OFFS: A HISTORY OF OUTPERFORMANCE.
The response to my aforementioned article made me realize that many investors are unaware of the long history of market beating gains recorded through spin-offs. Furthermore, the process that occurs during a spin-off confuses many investors. Consequently, I set to work learning all I could concerning spin-offs, purchasing a number of scholarly tomes on the subject and devoting myself to a better understanding of spin-offs as an investment.
Here are a few examples of studies proving spin-offs outperformance. (It should be noted that in many studies of spin-offs, there is no distinction made between a spin-off and a carve-out.)
A 1998 study of 83 spin-offs conducted by Penn State researchers determined that for the first three years following separation from the parent company, spin-offs enjoyed significantly higher revenue, asset growth and capital spending than the industry average.
A Credit Suisse study, spanning seventeen years, determined spin-offs outperformed the S&P 500 by 13% during the year following their genesis.
A J.P Morgan study of 231 spin-offs and carve-outs conducted between 1985 and 1988 found that spin-offs beat the S&P 500 by 11.3% and carve-outs by 10.1% during the first eighteen months of trading.
I could fill pages with additional studies concerning spinoffs. While individual studies noted differing levels of outperformance by spin-off companies, the numerous studies I viewed indicate spin-offs generally result in gains at least 10% greater than the S&P 500.
IMPORTANT CHARACTERSTICS OF SPIN-OFFS
Parent firms often perform poorly prior to the spin-off.
After the spin-off, parent corporations outperform the market, but to a lesser degree than the spin-off.
The stock of spin-offs performs poorly in the first few months of trading.
The ideal time to purchase a spin-off is during the first six months after separation from the parent company.
The largest returns occur between one and two years after the distribution month.
The best performing spin-off is generally a desirable company conducting business dissimilar from the parent company's core business.
Spin-offs are five times more likely to be takeover targets than similar stand-alone corporations.
Approximately two-thirds of spin-offs targeted as takeovers operated in a business distinct from that of the parent corporation.
Both the parent and the spin-off are more likely to become acquisition targets after the spin-off occurs.
THE UPCOMING SPIN-OFF OF TIME FROM TIME WARNER
On March 6, 2013, Time Warner (NYSE:TWX) announced the upcoming spin-off of its magazine publishing division. The new company will be known as Time (NYSE:TIME). A tax-free distribution of Time shares will occur on June 6, 2014. Time Warner will distribute one share of common stock for every eight shares of Time Warner.
Once it becomes an independent corporation, Time will be the largest public magazine publisher in terms of both readership and print advertising revenues in the U.S. and the UK. Time can boast of a portfolio of over 90 magazines, 100 million print consumers and 70 million online consumers.
According to a recent Barron's article, Morgan Stanley analysts estimate a fair-value range for Time shares at $23 to $25. Furthermore, the company is expected to initiate a dividend of 30% of free cash flow, which should provide a yield of approximately 3.7 percent.
Prospective Time bears point to a decline in the print medium. It only takes a glance at the latest data provided by The Association of Magazine Media to note a marked decline in revenues generated by magazine sales.
Time has suffered significant drops in revenue of late, with a 7% decline in 2012 and a 4% decline (adjusted for recent acquisitions) in 2013. Additionally, Time Warner will transfer $1.4 billion in debt to the new corporation.
Time executives anticipate a restructuring charge of $150 million in 2014. The restructuring should lead to a lower employee count.
After 2017, Time expects annual savings of $50 million due to the expiration of its lease of the Time and Life building in New York City.
As indicated in the graphs below, Time has acted in a proactive fashion to adjust to changing consumer preferences.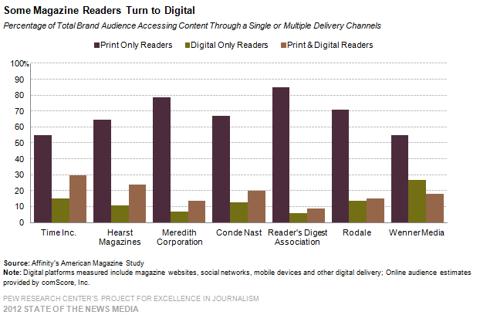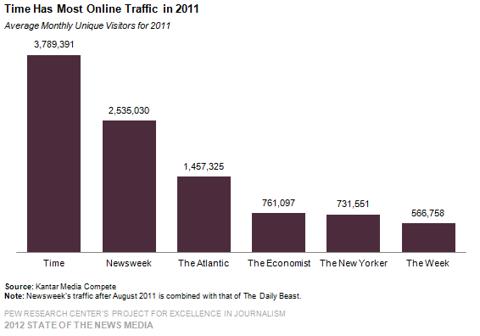 HOW SPIN-OFFS IMPROVE BUSINESS PERFORMANCE
Researchers are generally unable to provide definitive causes of the outperformance of spin-off companies. However, it is common for studies to indicate spin-offs prosper after their genesis as an independent corporation for the following reasons:
Every corporation has limited resources. Spin-offs are often a former division of the parent company. As such, the heads of the parent company allocated resources to benefit the overall business, possibly short-changing the prospective spin-off. Furthermore, corporate hierarchy probably viewed the prospective spin-off as a division slated for divestiture long before providing a public announcement concerning the spin-off. Consequently, the spin-offs performance as a division may have been adversely affected by a degree of neglect by the parent business.
Once a spin-off occurs, the newly independent managers have greater freedom to pursue initiatives designed to allow the spin-off to prosper.
The new management team members are offered financial incentives designed to improve the new corporations' performance.
Initially, new spin-offs will have little or no coverage by analysts. As analysts begin to cover the new corporation, the stock becomes better known to the market.
The spin-off as an independent corporation company often has better access to expansion capital.
Once established, the spin-off creates an investor relations department that disseminates the company's "story" to the market.
Additionally, the parent company, now divested of a division possibly considered as an ill fit or as undesirable by investors and/or analysts, is often accorded a higher value by investors.
POSSIBLE INVESTMENT SCENARIOS FOLLOWING THE TIME AND SYNCHRONY FINANCIAL SPIN-OFFS
I will not expound on Synchrony Financial (NYSE:SYF) as my article, GE: How The Upcoming Spin-Off Will Prove Profitable, covered that spin-off in detail. Suffice it to say, my previous articles on General Electric indicate I am bullish on that company, and I believe the spin-off of SYF will help GE focus on its core business. I also believe SYF will prosper as an independent corporation.
However, I will compare the structure of the SYF spin-off to TIME's to highlight some important details of the spin-offs. The difference between the two may affect how an investor approaches a trade or investment in the two companies.
There will be an IPO of SYF in which 20% of the company's stock is offered to the public (GE has already filed for the IPO). This will establish a price and a ready market for SYF prior to its distribution to GE shareholders. Following the IPO, the remaining 80% of SYF shares will be offered to holders of General Electric stock on a subscription basis. This can be a tricky situation for a company, as GE will hope to offer the shares at an exchange rate designed to pique shareholder interest without resulting in an oversubscription.
The manner in which SYF trades immediately following distribution of stock to shareholders will be affected in large part by the rate of exchange GE attaches to the shares prior to distribution. In most cases, parent companies disseminate shares at an attractive valuation.
It is important to contrast the mechanics of the SYF spin-off to those of the TIME spin-off.
Time Warner will distribute one share of TIME for every eight shares of Time Warner in the form of a dividend.
Unlike SYF stock distributed to GE shareholders (remember, the distribution of SYF will be by subscription only), investors in Time Warner will be forced to become investors in TIME.
Consequently, for the following reasons, it is reasonable to assume TIME stock will initially lose significant value:
Many holders of TIME stock will view the shares as "found money" and sell.
Some investors will have a very small number of shares. For example, an owner of 100 shares of Time Warner will receive 12 shares of TIME. Those shares will probably be valued at $300 or less. Many investors will find no purpose in continuing to hold that small of an investment.
There are investors who have a strong preference for owning stock in blocks of 100. Faced with holding odd lots, the investor will sell.
There are investors that believe the print medium is a moribund business. Viewing Time's prospects as dim, they will be eager to dump the shares.
Fund managers will be required to sell shares that do not meet their fund's requirements.
As noted in my survey of spin-off studies, the stock of the newly formed corporation often performs poorly immediately after the distribution period. I believe the reasons listed above illustrate likely causes of that under performance, and it is reasonable to assume this could offer an astute investor or trader an opportunity to acquire shares in Time at a bargain price.
Since the SYF IPO will consist of 20% of SYF stock, and the remaining shares will be distributed on a subscription basis, investors in SYF will be willing owners; therefore, although GE is likely to offer SYF shares at an attractive price, SYF should not suffer the degree of selling pressure which TIME will likely experience.
It is reasonable to believe many investors will view the spin-off of Time as a positive development for Time Warner, eventually enhancing Time Warner's stock value.
I believe many investors will welcome the divestiture of SYF, and GE stock could appreciate as a result.
WILL TIME OR SYF BECOME TAKEOVER TARGETS?
As noted above, spin-offs are five times more likely to be acquired after becoming independent entities.
When a spin-off engages in a business substantially different from the parent company's enterprise, it is more likely to become a takeover target. TIME and SYF match this profile.
Prior to the announcement of the TIME spin-off, there were reports of suitors for Time Inc.
A SPECIAL NOTE TO BONDHOLDERS OF TIME WARNER
Studies indicate bondholders often suffer losses following spin-offs. After a spin-off, the parent company no longer has claim to the spin-offs cash flows. This can reduce the value of the company's bonds. It should be noted TIME's cash flow contribution is substantial, equaling 10% or more of total Time Warner's revenues.
IN SUMMATION
Most investors would agree this has become a stock picker's market. From a statistical viewpoint, both parent companies and spin-offs outperform the market by a significant degree. Consequently, it behooves investors to analyze every spin-off to determine if it presents an investment opportunity (I intend to cover spin-offs extensively in the future). However, the purchase of spin-offs is not an investor's panacea. As with all investments, due diligence is required.
Due to the differing structures of the SYF and TIME spin-offs, I predict there will be a stark difference in price action immediately following distribution of the respective companies' shares. Consequently, although I view SYF as the stronger of the two companies, I believe Time could present investors with a bargain price within the first few weeks or months after the stock's debut.
Disclosure: I am long GE. I wrote this article myself, and it expresses my own opinions. I am not receiving compensation for it (other than from Seeking Alpha). I have no business relationship with any company whose stock is mentioned in this article.