"The worm has turned" ~ William Shakespeare
This phrase indicates a reversal of fortune has occurred. I believe this is the case for Kinder Morgan (NYSE:KMI) at present. KMI is basically a derivative play on Kinder Morgan Partners L.P. (NYSE:KMP). In the following sections, I will lay out my case as to why the worm has turned for KMI.
Issues brought forth by detractors
Several issues have been brought forth by the "Nattering nabobs of negativism" as former U.S. Vice President Spiro T. Agnew would say. The following is a short list of the major ones as I see it.
KMI is not a pure play on the Marcellus or Utica play potential infrastructure growth (The strongest midstream emerging market today)
The distribution coverage ratio is low and considered marginal
Future growth prospects of distributions and dividends are questionable
Annual distribution growth targets are overstated
Return on capital may decline
Potential for dilution by outstanding warrants is an overhang
Maintenance or sustaining capital expenditures are being understated to prop up distributions
The current sponsored governance structure inhibits growth and increases the cost of capital
These are the main complaints by KMI's detractors that have reverberated over the past several months since a negative Barron's piece was published back in February. I agree some of these issues are valid, yet I believe Kinder Morgan has the ingenuity and wherewithal to overcome these obstacles and continue to deliver for investors and unitholders alike. In the following section, I will make my case.
Positives developments for Kinder Morgan
Macro level Positives
Income investors on the hunt for yield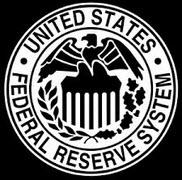 The Fed implemented a zero interest rate policy in conjunction with its quantitative easing policy. This has left baby boomer savers out in the cold and on a hunt for yield. Fixed income instruments such as bonds and CDs have virtually no yield currently. KMI sports an outstanding 4.97% dividend yield presently. This high dividend yield coupled with the company's opportunity for growth suggests a scenario where investors can achieve both capital gains in combination with income production.
Market participants' shift from growth to value continues
A major paradigm shift has occurred which will underpin KMI. The high-flying momentum stocks have severely sold off. Market participants are no longer satisfied with ephemeral valuation metrics such as the number of eyeballs and the like. Prescient investors are demanding earnings and income, as they should.
The unconventional North American Oil & Gas renaissance is a secular growth story
The North American oil and gas renaissance has just begun. New and diverse geographical areas formerly thought to be void of recoverable petrochemicals have been discovered from the Appalachians to the Rockies. There is currently very little or no midstream infrastructure to accommodate the production. This will provide plenty of growth opportunities for years to come for Kinder Morgan.
Company specific positives
As a former program manager for a global level project initiative, I can tell you, you are only as good as the team members around you. Kinder Morgan's Chairman Rich Kinder has done a fantastic job of bringing a top notch team together. How do I know this? The proof is in the pudding, as it were. This maxim implies that there is a lot of evidence supporting my assertion. The highlights of the positive developments follow.
The company has an unparalleled asset footprint
The company has delivered solid results from pipeline, crude-by-rail, and coal export units. Moreover, the company has done an exemplary job of extracting value from the company's extensive network of pipes, rail terminals, export facilities and ships used to shuttle energy around the U.S. and Canada.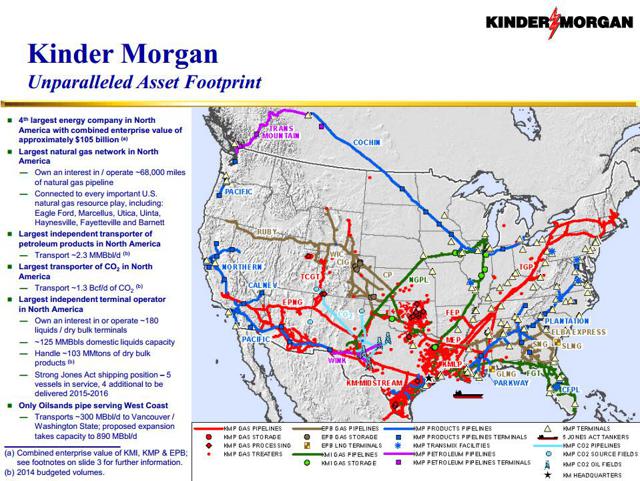 (Source: KinderMorgan.com)
Tremendous untapped opportunities still exist
There is a tremendous demand for natural gas around the world and in the United States currently. With the advent of new technologies for finding and extracting natural gas, the supply of recoverable resources continues to grow.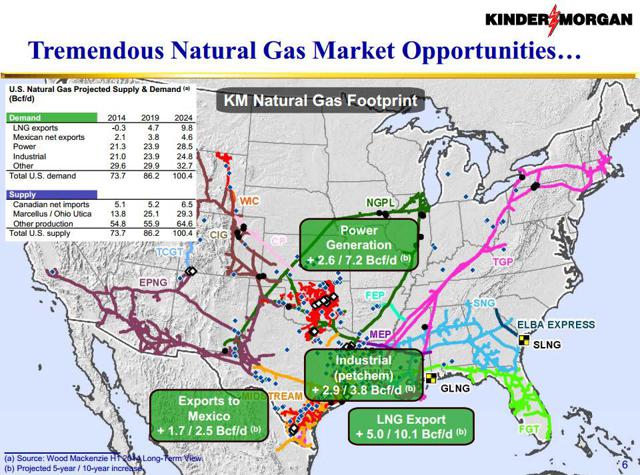 (Source: KinderMorgan.com)
Further, let's not forget the $16.4 billion worth of projects in development Kinder has corralled. Below is a chart of the specifics.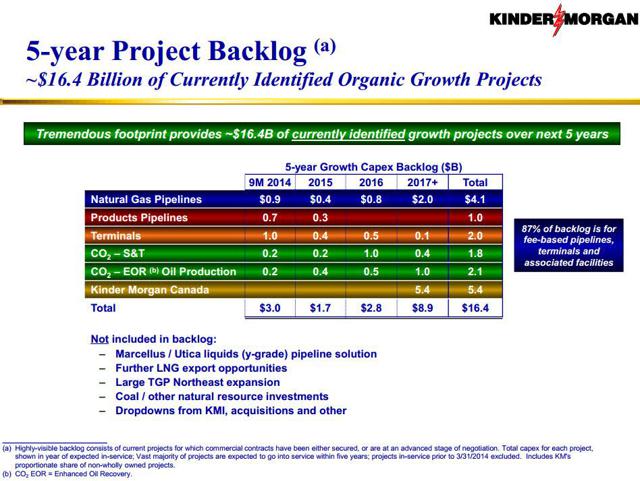 (Source: KinderMorgan.com)
Past performance
The numbers do not lie. Kinder Morgan has distributed more than $4 billion to shareholders in 2013 and shown consistent growth since 1996.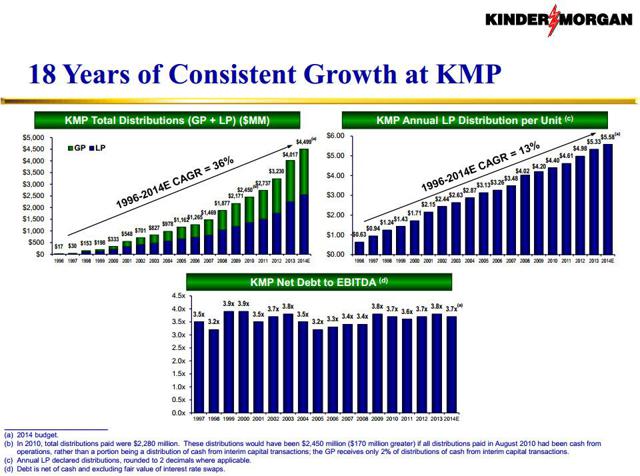 (Source: KinderMorgan.com)
2014 Guidance reaffirmed
The company has an excellent track record in both its financial and operational performance and just reaffirmed 2014 guidance.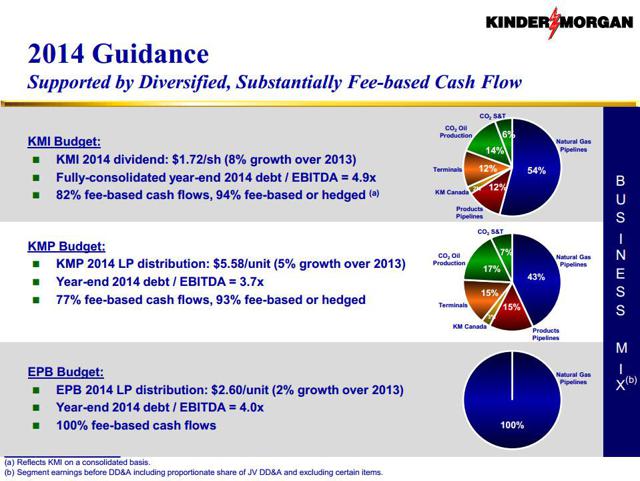 (Source: KinderMorgan.com)
Taking all these factors into consideration, I see blue skies ahead for the company. And by the looks of the charts, I am not alone. The worm has definitely turned evidenced by the reversal of trend in recent months. Nevertheless, there is still plenty of meat on the bone for potential investors. At least 30% upside remains just to reach previous highs.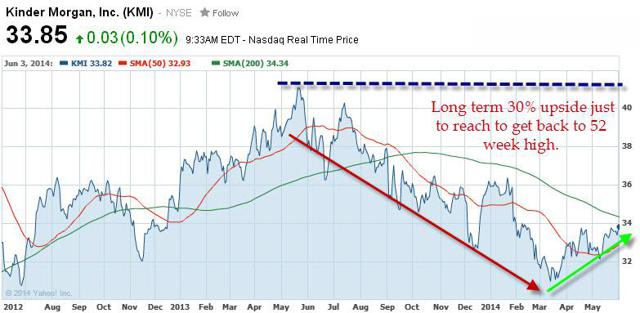 (Source: Yahoo.com)
A stealth rally has occurred over the past quarter and appears to be picking up steam. KMI shares are up 6.89% for the quarter and 3.36% for the month. Moreover, the 50-day SMA is now trending upward and a golden cross event seems imminent.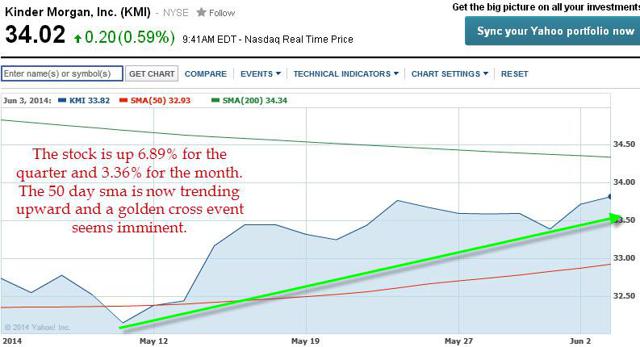 (Source: Yahoo.com)
Downside Risks
It would be remiss of me not to include the potential downside risks related to the company's prospects. Below is a list of the top potential downside risks I see presently.
Regulatory risks related to Products Pipeline FERC / CPUC cases, Natural Gas FERC rate cases, and potential legislative and regulatory changes.
Upstream operator crude oil production volume uncertainty
Commodity price uncertainty
An economic downturn
Rising interest rates - The full-year impact of a 100 basis point increase in floating rates equates to an increase of approximately $53 million in interest expense for KMP.
Conclusion
The entire brouhaha over Kinder Morgan's structure and growth prospects has been entirely overblown. The company is well positioned to take advantage of the tremendous growth prospects offered by the revival of the North American oil and gas industry. The company has an unparalleled asset footprint and a well-diversified midstream energy platform that provides stable, fee-based cash flow. Kinder continues to focus on maintaining a strong balance sheet, has an attractive project backlog, an established track record, and is the preeminent midstream industry leader. What more could you ask for? Nonetheless, always layer into any position over time to reduce risk. The market is at all-time highs as we enter the summer doldrums.
Disclosure: The author has no positions in any stocks mentioned, and no plans to initiate any positions within the next 72 hours. The author wrote this article themselves, and it expresses their own opinions. The author is not receiving compensation for it (other than from Seeking Alpha). The author has no business relationship with any company whose stock is mentioned in this article.