Editors' Note: This article covers a micro-cap stock trading at less than $1 per share and/or with less than a $100 million market cap. Please be aware of the risks associated with these stocks.
El Segundo, California-based Ironclad Performance Wear (OTCQB:ICPW) is the market leader in high-performance, task-specific performance work gloves "built tough for the industrial athlete." The Company had sales in 2013 of $24.5 million (eking out a small profit of $243k), yet has a market capitalization of only $16MM, which reflects its relatively small investor following.
With recently-appointed CEO Jeff Cordes at the helm of a new executive team, following turn-around expert Scott Jarus's 4½-year tenure, I believe the company's revenues could potentially double and its share price triple (or better) by 2016. Investors should consider scooping up any available shares under $.26 in the short term, and add more to their positions as the story progresses in the coming quarters.
Company Overview
Ironclad Performance Wear is a brand leader in technical, task-specific, performance work gloves. The Company was founded in 1998 and essentially created the "performance work glove" category. It currently has six U.S. patents and two U.S. patents pending, which are intended to protect the design and technical innovations found in its gloves. Ironclad also holds 54 registered U.S. trademarks, 15 common law U.S. trademarks, and 13 registered international trademarks. It develops and distributes specialized, task-specific gloves for numerous industries, including oil & gas exploration, automotive and construction, as well as police, fire, first-responder and military. Ironclad's gloves are available through industrial suppliers, hardware stores, home centers, lumber yards, auto parts stores and sporting goods retailers nationwide, and through authorized distributors in North America, Europe, Australia and Asia.
Products
Ironclad's glove products have a leadership position in the safety, construction and industrial markets, and its KONG glove - KONG is short for King of Oil 'N Gas - is the gold standard in the oil and gas industry. Here's a snippet from Ironclad's 2013 Annual Report:
Currently, our primary products are our task-specific technical gloves. Glove products are specially designed for individual user groups. Currently, we produce and sell over 85 distinct glove types in a variety of sizes and colors which cater to the specific demands and requirements of industrial, construction, do-it-yourself, and sporting goods consumers, including carpenters, machinists, package handlers, plumbers, welders, roofers, oil and gas workers, mechanics, hunters, gardeners and do-it-yourself users. Gloves are available in multiple levels of protection and abrasion that allow the wearer to choose a product based on the task demands, weather and ease of motion. Glove products are currently manufactured by multiple suppliers operating in China, Hong Kong, Cambodia, and Indonesia. The manufacturing capabilities necessary for the manufacturing of our gloves is not particularly specialized and we believe that we would be able to replace our current manufacturers without significant disruption in supply, if necessary. Raw material suppliers and substitute materials are readily available and we believe that our manufacturers would be able to replace their current raw material suppliers without significant disruption in supply.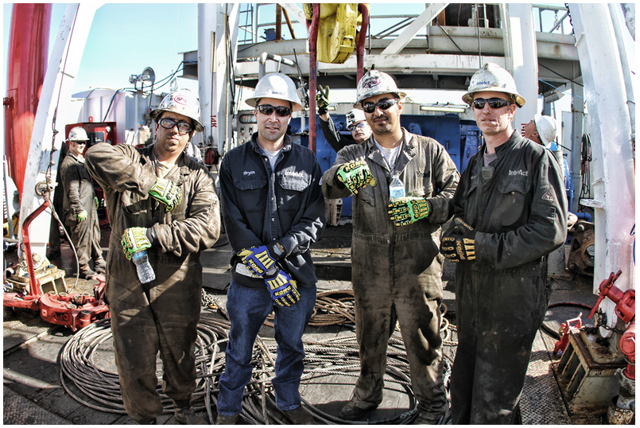 Click to enlarge
Photo Courtesy of Ironclad Performance Wear - KongGloves.com
Ironclad sells its products in all 50 states and internationally through an estimated 16,000 retail outlets "that cater to the professional tradesman, do-it-yourself consumer, industrial user and sporting goods consumer, including 'Big Box' home centers, hardware co-ops, lumber yards, industrial distributors, national auto retailers and sporting goods retailers," according to the 10-K. Its gloves are priced at retail between $8 and $65 per unit and "sales through industrial distributors accounted for approximately 38% of sales revenue in 2013 … One distributor, Orr Safety Corporation, accounted for approximately 24% of our sales in 2013."
History
The Company was founded by Eduard Jaeger in 1998 and came public through a reverse merger in 2006. Ironclad had sales of ~$9.6 million that year, and had net losses of nearly $4.4 million. Sales grew to $13 million in 2007, but losses remained steep, at ~$3.9 million. With another disastrous year in 2008, where sales plunged to $11.9 million and the company lost another $2.5 million, the Board of Directors made a move, and installed Jarus, who'd been serving on the Board, as "interim" CEO. Jarus was a former telecommunications executive whose last CEO role worked out tremendously for shareholders as he took j2 Global Communications (NASDAQ:JCOM) from the brink of being de-listed from the Nasdaq in 2001 to a market capitalization well north of $1 billion when he left in 2005. The results from Jarus's efforts at Ironclad are indisputable. In 2009, Ironclad had sales of $13.6 million and losses dropped to $709k. In 2010, the Company had $15 million in sales and actually turned a small profit of $365,577. Things really progressed in 2011 as sales surged to $21.4 million and the company showed net income of $1.1 million. And 2012 results were phenomenal, with nearly $26.2 million in sales and profits of approximately $3.1 million.
As growth cooled in 2013, the Company looked for new leadership, and Jarus stepped down in September. He was replaced by an interim CEO named Lee Turlington while the Board conducted a search for a permanent replacement, and Turlington turned over the reins to Cordes in February 2014. During Jarus's tenure, the stock went from approximately $.06 a share in January 2009 to a peak of $.33 in February 2012, and was trading in the $.20 range when he departed - an admirable performance of more than tripling the Company's market capitalization.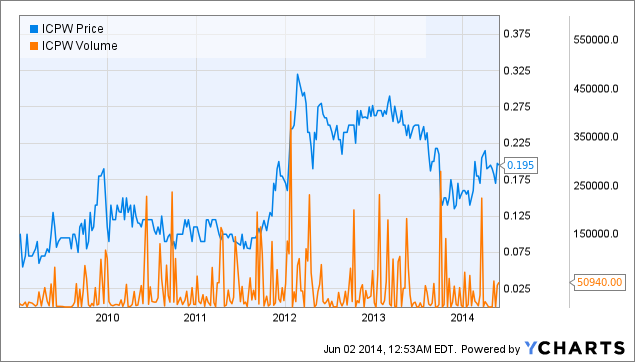 Management Team
With the appointment of Jeff Cordes as CEO in February, Ironclad gained a growth-oriented leader with extensive experience in global textiles and apparel. Most recently Cordes served as President & COO of Walls Industries, a leading global company in safety and work apparel. Prior to Walls, Cordes served as President, COO and Director of textiles manufacturer, Pillowtex Corporation.
Cordes didn't waste time putting his core team in place. Only two days after the Cordes announcement, Bryan Griggs joined the company as its EVP of Sales and Marketing. Griggs, with 15 years of executive experience in the apparel industry, came to Ironclad from Propper International, a leading company in tactical and military apparel. Prior to Propper, he served as Sales VP at 511 Tactical, a long-time business partner of Ironclad's, and has previous experience working with other companies including Otto International, Columbia, and Nike.
In May, Cordes brought on Bill Aisenberg as CFO, Scott Furash as VP of Global Sourcing, and Tom Felton as Senior VP of Supply Chain. Aisenberg and Felton were colleagues from Walls and Furash, who brings more than twenty years of executive experience in sourcing and development of safety apparel and textiles, most recently served as the Senior Global Sourcing Leader for Honeywell Safety Products.
Market Opportunity
During the investor call that followed 2014's first quarter financial results, Cordes stated his intention to build out the sales force with the hiring of several regional sales managers along with bringing on a network of independent sales reps, a strategy he's successfully deployed in the past. There's a clear market opportunity for this expanded sales team. According to the 10-K, "we estimate that our products are sold in only 25% of the retail and distribution outlets identified by our management as viable Ironclad outlets. We intend to continue to emphasize and expand our relationships with these retailers and distributors."
Another potential revenue stream for Ironclad is centered around licensing of the Ironclad brand on other safety products or apparel.

Price Target and Valuation Analysis
I estimate a fair value for Ironclad today at approximately $.32/share - a 50% premium to the current market value -- based on a conservative 1x trailing revenues of $24.5 million and the 76.7 million shares outstanding. ICPW trades at a steep discount due to a number of factors: 1) The company has done minimal "investor relations" activities and has a very small shareholder base -- only a small number of investors have ever heard about Ironclad and its story; 2) A large percentage of the float is tightly controlled by insiders and a small network of large, long-term shareholders; and 3) I think Ironclad suffers from a "guilt by association" perception of being a "penny stock" trading on the OTCQB.
A new CEO has the opportunity to change a company's culture and inject new energy, which Cordes appears to be doing. He's added key team members who he's worked with before, and is putting heavy emphasis on sales growth. Early results from these efforts won't show up until Ironclad's Q3 or Q4 numbers are in, and 2015 will be a true report card on his effectiveness. If Cordes and Co. are able to increase sales in the 25% of "viable Ironclad outlets" Ironclad already has, and make a dent in the other 75%, strong numbers will follow. Two other factors to watch are KONG sales through partner Orr Safety, as well as international growth - can Europe, Australia and Asia become sizable revenue contributors?
Assuming sales grow 10-15% in 2014 to the ~$27.5MM range, 20-30% in 2015 the mid-$30s, and another 25-30% in 2016, Ironclad will reach $40-$50 million in sales. With a bit higher revenue multiple of 1.2 to 1.5x, due to the growth and scale, I see a very reasonable price target of $.50 to $.75 a share.
Additionally, I could see the Company doing a reverse split and up-listing to the Nasdaq or NYSE MKT in the next 12 months. This would undoubtedly create favorable conditions for Ironclad to gain access to a broader institutional investment community, strengthen its financing flexibility, provide greater liquidity for shareholders, and create a currency with which Ironclad could use to make acquisitions. Cordes has a history of using M&A to fuel growth -- I believe he made more than 10 acquisitions during his tenure at Pillowtex -- and I could see Ironclad trying to scoop up a company (or companies) who sell gloves, safety products, or other line extensions such as Mechanix Wear, 5.11 Tactical, or HexArmor.
Risk Factors
Ironclad's Balance Sheet is solid. Unlike most OTC companies, Ironclad doesn't need to raise a bunch of money - according to the SEC filing for the quarter ending March 31, 2014, the company has $1 million of cash, nearly $4 million in accounts receivable, $4.6 million in inventory, and nearly $1.1 million in deposits on inventory - while only having ~$3.2 million in Accounts Payable. It has no long-term debt and an available revolving credit line of $6 million with Union Bank. So, there is little to no risk of dilution in the near term.
Ironclad's cash requirements are principally for working capital. Its working capital needs are fairly seasonal with the greatest requirements from July through October due to inventory build-up in preparation for the fall and winter selling seasons. According to the 10-K, "Historically, our main sources of liquidity have been borrowings under our existing revolving credit facility, the issuance of subordinated debt and the sale of equity. In the short term we are monitoring our credit issuances and cash collections to maximize cash flows and investigating opportunities to quickly reduce our current inventories to convert these assets into cash."
As the company seems to have access to whatever working capital it currently needs from cash in the bank and its credit line, there are really only two primary risks associated with investing in Ironclad: liquidity risk and execution risk. With liquidity risk I refer to the fact that ICPW trades on the OTCQB with an average daily volume of approximately 36,000 shares a day, according to Yahoo! Finance. Execution risk comes down to the simple question of whether Cordes and his new team can grow the business, which, objectively, has been in a rut since its blowout 2012 results. Ironclad mentions competitors Custom Leathercraft Manufacturing Company, Ergodyne, Hex Armour, Mechanix Wear and Ringer's, but states in the 10-K, "compared generally, we believe our material selection and construction provides for superior protection, durability, quality and repeat customers affording a substantial, sustainable advantage in the category."
Summary
Combining the injection of a new management team's energy and vision with market-leading products in an expanding market, strong Intellectual Property protection through patents and trademarks, and a terrific brand with a legion of loyal followers, Ironclad Performance Wear is poised for tremendous growth over the next couple of years. The Company has only scratched the surface on its potential, and is the classic type of under-followed gem that provides for outsized investment returns. ICPW stock merits serious consideration for investors comfortable with more aggressive investments.
Disclosure: I am long ICPW. I wrote this article myself, and it expresses my own opinions. I am not receiving compensation for it (other than from Seeking Alpha). I have no business relationship with any company whose stock is mentioned in this article.
Editor's Note: This article covers one or more stocks trading at less than $1 per share and/or with less than a $100 million market cap. Please be aware of the risks associated with these stocks.