West Jupiter
Seadrill (NYSE:SDRL) has secured a contract with Total Upstream Nigeria Ltd for the ultra deepwater drillship known as West Jupiter. The total revenue potential for West Jupiter is estimated at $1.1 billion over a five year contract period. This brings Seadrill's total backlog up to $20 billion. The backlog is now equal to 3.8 times the company's total revenue for 2013 and is higher than the total revenue earned in the past four years. West Jupiter adds another catalyst for Seadrill's future performance.
West Jupiter will be set-up to operate in up to 10,000 feet of water. It is capable of operating in water depths of 12,000 feet and drilling depths of 37,500. West Jupiter will operate next to Seadrill's West Capella drillship, which has been operating since 2008. The West Jupiter brings Seadrill's total number of drillships up to 15. It also increases Seadrill's presence in the Nigerian oil and gas industry.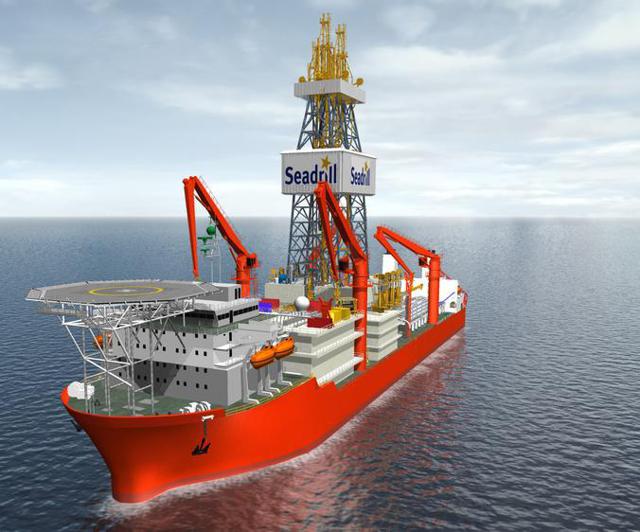 Picture Source: Seadrill.com
Higher Valuation is Justified
Seadrill has above average expected annual earnings growth of about 20% for the next five years. The oil and gas drilling industry has a 5-year expected annual earnings growth rate of 16%. The average S&P 500 company has expected annual earnings growth of just below 10% for the next five years. Seadrill's above average growth is likely to allow the stock to outperform the market and the industry.
Seadrill is valued higher than its peers in terms of EV/EBITDA. However, Seadrill also has a higher dividend yield and a higher 5-year expected annual earnings growth. Therefore, I think Seadrill deserves a higher valuation and that is exactly what investors are willing to give it. Here is a comparison of Seadrill and some of its competitors:
| | | | | |
| --- | --- | --- | --- | --- |
|   | Noble Corp. (NYSE:NE) | Transocean (NYSE:RIG) | Ensco plc (NYSE:ESV) | Seadrill |
| EV/EBITDA | 6.28 | 6.33 | 7.18 | 12.11 |
| 5 Yr. Expected Annual EPS Growth | 12.4% | 13.7% | 13.5% | 20% |
| Dividend Yield | 4.8% | 7.1% | 5.7% | 10.3% |
Data Source: Yahoo Finance
Seadrill's peers are also likely to perform well as they have low valuations and solid expected earnings growth. However, I think that Seadrill's stock is likely to outperform its peers in terms of total yield (dividends plus stock appreciation). The higher earnings growth should help drive the stock appreciation. When that is added to the high dividend yield, investors are likely to reap the benefits of above average gains over the long-term. With all of that in mind, I think that Seadrill's higher valuation is justified.
Negative Free Cash Flow is a Risk
Investors should be aware that Seadrill typically spends more in capital expenditures than it has in operating cash flow. The company's operating cash flow is healthy and growing year-over-year. However, the company's free cash flow has been negative in 3 out of the past 5 years. Seadrill spends high amounts of CapEx to invest and grow the business. It is certainly healthy to grow the business, but when there is no free cash flow left over, the company must increase its debt to pay the generous dividend. Seadrill's long-term debt increased by 53% in 2013 over 2012. At the same time, operating cash flow only increased by 6.6%. Therefore, if the company wants to continue paying such a generous dividend while aggressively growing the business, then it will most likely have to continue financing it, and adding to its debt. For the first quarter, Seadrill reported total cash of about $2 billion and total debt of over $14 billion. The company should be fine as long as it can pay off its debt and it doesn't become too burdensome. If the operating cash flow continues to increase year-over-year, then I think that investors will remain content.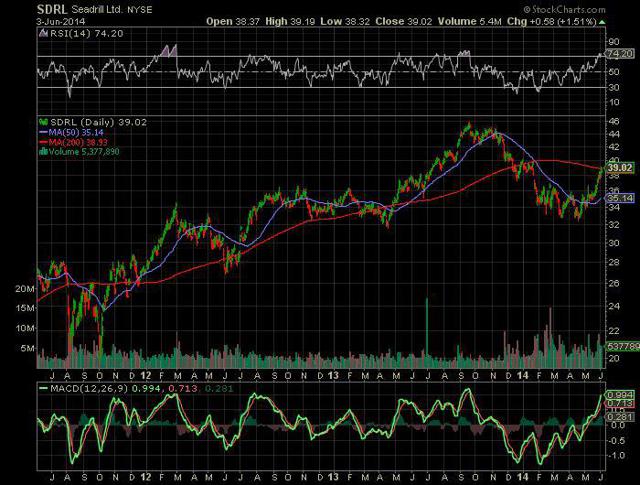 Conclusion
Seadrill has an attractive dividend yield with above average expected earnings growth. The West Jupiter drillship adds more to the company's strong backlog. The stock is likely to appreciate at an above average pace as earnings increase at an above average pace. The growing debt is something to keep an eye on, but doesn't look like too much of a threat right now. Overall, Seadrill looks like an attractive investment.
Disclosure: I have no positions in any stocks mentioned, and no plans to initiate any positions within the next 72 hours. I wrote this article myself, and it expresses my own opinions. I am not receiving compensation for it (other than from Seeking Alpha). I have no business relationship with any company whose stock is mentioned in this article.