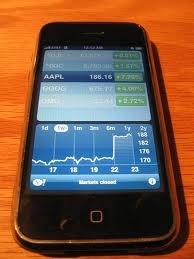 In today's fast-paced world, the ability to trade stocks from a mobile phone acts like a lifeline for a number of investors. Especially those traveling around the globe. As stock market prices and market fluctuations can literally change in minutes, it's very important to be connected when you are on the move to counter any potentially strong market moves.

Trading through mobile phones has gained popularity the world over. Now the Indian capital market watchdog, Securities Exchange Board of India (SEBI) has given the green light for trading of shares via mobile phones. With the regulator's nod, the Indian stock exchanges are all set to offer the facility to investors through their registered brokers.

The facility will enable any registered broker or a client to trade, place orders and view positions from anywhere in the country through their mobile phones. All trading facilities accessible in Internet trading will be available in mobile trading and Investors will be able to see real time changes in share prices and market data of multiple companies on their mobile screen. An Investor will need to have an online trading account & Internet enabled mobile phone. Investors will have to download a software application from the link forwarded by their broker.
Click to enlarge: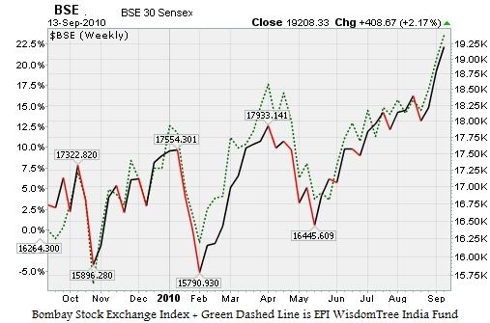 Click to enlarge

Large Telecom Subscriber Base
According to data released by the telecom regulator, the wireless subscriber base increased from 635.51 million in June to 652.42 million by the end of July 2010, registering a growth of 2.66 per cent. However, the total number of telephone subscribers (both mobile and landline) in India increased to 688.38 million by the end of July from 671.69 million in June.

India has a lot more mobile phone subscribers with total connections, estimated at 652.42 million as of Aug 1, than those using PCs. SEBI's decision to open up the trading platform for mobile users is likely to result in the rise of equity culture in the emerging Indian economy.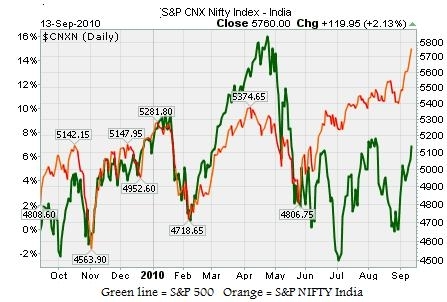 India Braces Itself for 3G Services
The telecommunications market in India has tremendous potential, and there is no communications equipment maker in the world which is not increasing its presence there at this time, ahead of the era of 3G cellular communications.

According to recent news, the first phase of 3G networks deployment in India is likely to start from December 2010 and will provide a business opportunity of approximately $3 billion for these network gear makers. If this actually happens, then India will generate the largest global telecom contract in 2010.
Besides the state run Bharat Sanchar Nigam Ltd. and Mahanagar Telephone Nigam Ltd. (NYSE:MTE), other private players who own spectrum are Vodafone Essar; a joint venture between Vodafone Group Plc. (NASDAQ:VOD) and Essar telecom, Bharti Airtel, Idea Cellular, Aircel, Tata Teleservices, and Reliance Communications.
The two major beneficiaries of the first phase of 3G rollouts will be L.M. Ericsson AB (NASDAQ:ERIC) and Nokia Siemens Networks, a joint venture between Nokia Corp. (NYSE:NOK) and Siemens AG (SI). While Ericsson is the existing vendor for Vodafone Essar, BhartiAirtel, and Idea Cellular for 2G networks, Nokia Siemens Networks has already established a strong 2G foothold in Vodafone Essar, BhartiAirtel, Tata Telecomservices and Idea Cellular.
Click to enlarge: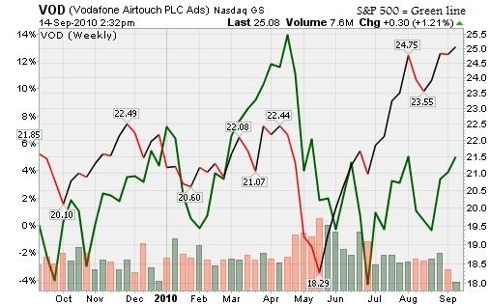 Click to enlarge
Most regular Indian stock market analysts and traders would love to see mobile trading launched. Most offices block online trading sites, so, the only option to trade the market is via the broker on the phone. This can be taxing at times. With mobile trading launched, the majority of Indians are likely to be in complete control of their stock market transactions without the need to catch hold of a broker.

The Indian Stock Markets are surely heading in the right direction as far as the strategy is concerned. There is a considerable traction for Mobile Trading in countries like U.S. and Japan. The only thing to watch out for is the execution on the ground. If the mobile trading platform does not compromise on the security of transactions, it's bound to increase retail investor participation in the Indian markets, one of the world's largest growing markets.

Disclosure: No positions