On March 30, I wrote an article based on the premise that LinkedIn (NYSE:LNKD) would continue its downtrend for the remainder of the year for two main reasons: LinkedIn is a niche product that has peaked in growth and the valuation of the stock is simply too high. At the time that article was published, LinkedIn stock was trading right around $190 a share and has since depreciated approximately 18%. This piece is an update to that article and will provide some additional justification on why LinkedIn remains to be a poor investment and, alternatively, a good short opportunity.
Analyzing Membership Growth and Usage
At first glance, LinkedIn would appear to be doing a good job in growing the core driver to its business: the amount of people who have created LinkedIn profiles. Indeed, to LinkedIn's credit, a membership growth rate between seven and nine percent for the past eight quarters has been maintained. These figures can be found in LinkedIn's most recent quarterly report, which additionally provides a current membership count of 296.5 million.
I contend that these figures are misleading, and that measuring the actual number of people visiting LinkedIn each month and the subsequent number of page views these visitors generate is more indicative of the underlying performance of LinkedIn's business model. First, despite the growth in people who have profiles on LinkedIn, the number of people who are actually logging into or visiting the website has been on the decline since a peak in April 2013 at 165 million. During that month, LinkedIn would've had around 218 million members as per quarterly reports, so about 76% of LinkedIn's membership number visited and used the site.
Contrast this to April of this year wherein LinkedIn only received 142 million people visiting the site, a 14% decrease. This decrease was despite a gain in the total membership number of 36% to 296.5 million. This represents a 48% participation rate for April 2014 and a difference of 28% in the participation rate between the two months. The total number of people visiting LinkedIn per month can be seen below, and the downtrend easily identified.
Click to enlarge images.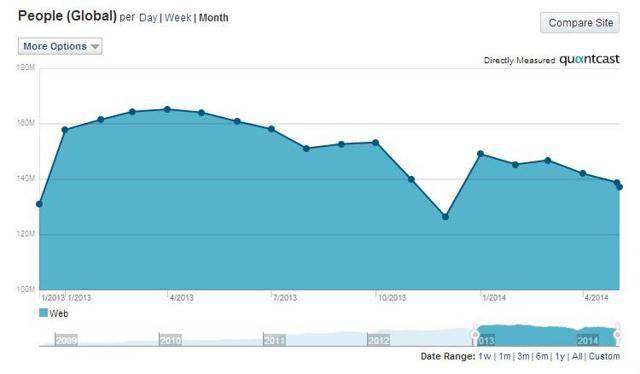 Click to enlarge
Furthermore, the number of page views LinkedIn receives per month has also been on the decline. Although this decline is happening on a lesser slope than the decline of visitors, it has begun to have a measurable effect on the financial performance of LinkedIn as a business. Page views peaked in April 2013 at 3.394 billion and were at 2.863 billion this past April. This represents a 15.6% decrease. The effect this trend has had is a 10% decrease in revenue from marketing solutions from a Q4 2013 figure of $113.5 million to $101.8 million in Q1 2014.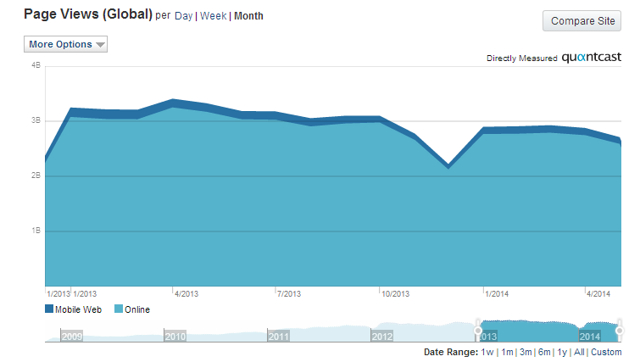 Click to enlarge
Note: The values of people visiting LinkedIn and page views is taken directly from QuantCast.com for the above analysis. I am using QuantCast's figures rather than the figures provided in LinkedIn's quarterly presentations because it allows me to look at smaller time periods such as months as opposed to quarterly aggregates in order to identify the development of trends more easily.
If the two trends detailed above persist, marketing revenue will continue to lessen. I do think, however, that the other two components of LinkedIn's business will not face negative growth, but whose growth will merely plateau to low single digit percentages as LinkedIn matures. These two sources of revenue include talent solutions and premium subscriptions. The growth of these two segments has indeed already slowed. Although talent solutions grew a respectable 12% quarter over quarter, that is, however, the fourth lowest growth quarter in five years. Additionally, premium subscriptions grew just 8% quarter over quarter, the lowest rate for that category in three years and the third lowest in five years.
LinkedIn is attempting to cease the contraction in its members' usage and revenue flows by expanding into China, but to justify current valuation I think LinkedIn would have to add the 140 million estimated potential new customers literally overnight. China may be a strong bet in the long run as Internet penetration improves and the Chinese become aware of LinkedIn, but as it stands only 5 million new memberships have originated from China since LinkedIn's launch in the country, one million coming after the launch of the simplified Chinese language site of February this year. These are not the sorts of growth numbers that justify the overvaluation to be discussed below.
Financials
In this section I will be looking at the financial performance of LinkedIn and comparing it to Facebook's (NASDAQ:FB) to show that if one is seeking alpha in technology or more specifically social networking stocks, looking towards LinkedIn is not the right place to find it. Facebook will come to be proven as a rather good investment, comparatively.
The most recent quarter's total gross revenue for LinkedIn grew at its second lowest quarterly rate since the first quarter of 2009, improving just 6% from Q4 2013 to $473.2 million in Q1 2014. This represents $322,415 in revenue per employee. Facebook's gross revenue contracted slightly from $2.585 billion in its Q4 2013 to a Q1 2014 number of $2.502 billion. This was a decrease of about 3.2%. Facebook's revenue per employee figure is still, however, over four times greater than LinkedIn's at a staggering $1.41 million.
Facebook has had an improving ROE figure for four consecutive quarters and is 13.67% as of their most recent quarterly report earlier this year. LinkedIn, on the other hand, has barely registered a positive ROE number for years. LinkedIn's most recent ROE number is actually negative at -0.46%.
Here is a P/E chart for Facebook as of June 6: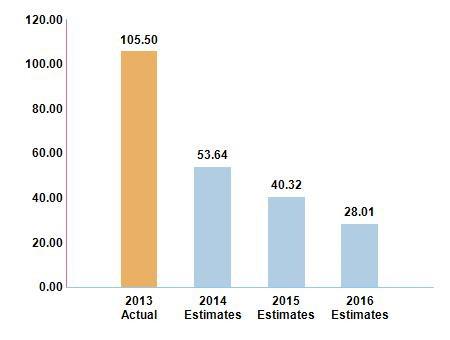 Here is the same data for LinkedIn: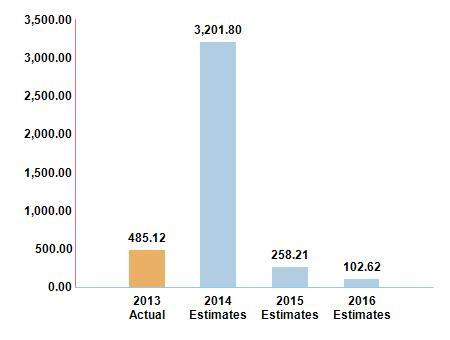 The astronomical P/E of LinkedIn could be defensible if LinkedIn was in fact growing income fast to boot, but the PEG ratio clearly shows that this is not the case, and the above noted contractions in the number of people visiting LinkedIn and the decline in page views signals that earnings may very well begin to contract further and perhaps turn negative for a few quarters as LinkedIn makes investments in its semi-floundering business model. Facebook's PEG is a quite high 1.67, but LinkedIn's completely blows this out of the water and is at a ludicrous 89.05.
LinkedIn is valued like it is some high-flying startup that has huge potential, not a business that is starting to absorb negative net income in its most recent quarter and is struggling to keep the number of visitors and page views driven from declining. LinkedIn is a maturing company with slowing growth, and should be valued as such.
To me, all this signals that Facebook is a much more robust, optimized and efficient business with a justifiable valuation. LinkedIn, however, cannot easily be described as any of that. Perhaps if LinkedIn somehow cured cancer the valuation would make sense, but it's a niche networking site for professionals and is wholly overvalued to an extreme.
Technical Downtrend
Below is a daily chart of LinkedIn's stock with the trend lines from my original article extended to today's price. As you can very well see, price has broken the lower trend line and has since bounced down from that line at a peak on May 29 of about $164. The peaking of the stochastic and this failed attempt to break back above the lower trend line signal to me that there is still further technical downside for this stock in addition to the many fundamentals working against it.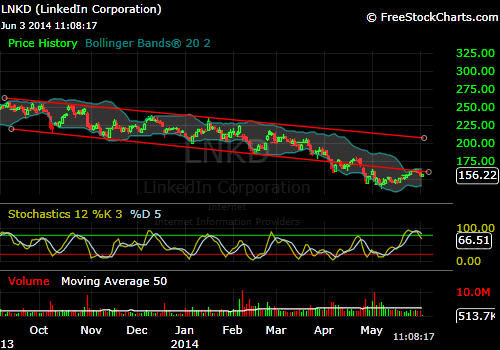 Conclusion
I am fully expecting and would not at all be surprised to see LinkedIn trading around $100 before the end of this year. In writing this article, I hope I have brought to your attention some interesting points on why I think LinkedIn has much further downside to go, and I hope that you are at least slightly more informed on some of the key performance areas of LinkedIn as a business and stock than you were before reading this. I appreciate your view and if there are any points you'd like clarification on, differ with, or would like to discuss this piece further, please comment below.
Disclosure: I have no positions in any stocks mentioned, and no plans to initiate any positions within the next 72 hours. I wrote this article myself, and it expresses my own opinions. I am not receiving compensation for it (other than from Seeking Alpha). I have no business relationship with any company whose stock is mentioned in this article.