On May 29, 2014, Document Security Systems (NYSEMKT:DSS) CEO Jeff Ronaldi updated institutional investors on recent company progress and provided a preview of significant events he expects in 2014 and beyond. The presentation clearly showed that there is a lot more to DSS than the highly publicized stayed cases against Facebook and LinkedIn, which are expected to get back on the docket in 3Q 2014. On January 13, 2014, the US District Court for the Northern District of California issued a stay of proceedings for the company in its case against Facebook (NASDAQ:FB) and LinkedIn (NYSE:LNKD) in light of Alice Corp. v. CLS Bank. The rise and fall of DSS share price in recent months was for the most part related to the anticipation of the Markman hearings in March 2014 on the FB and LNKD cases and their postponement thereof after the stay was issued.
The following are some of the highlights of Mr. Ronaldi's presentation:
1. The lawsuit against Coupons.com will go to trial this year
For those not familiar with DSS lawsuit against coupons.com (NASDAQ:COUP), in October 2011, DSS filed a lawsuit against Coupons.com alleging that Coupons.com had misappropriated DSS trade secrets and breached confidentiality agreements with DSS. The suit involves DSS's proprietary digital copy protection technology; DSS contended that their technology had been utilized by Coupons.com on billions of internet generated coupons since 2006. The original claim amount was approximately $240-300M in total or $40-45M per year retroactive to 2006. But this is 2014 and Coupons.com is now a public company with a market cap of almost $2.4 billion dollars. In fact, the Coupons.com IPO has proven to be one of the most successful IPOs this year.
In his presentation Mr. Ronaldi stated categorically, "we expect to go to trial against Coupons.com ...we are going through the court system as we speak." It should be noted that the case against Coupons.com is unrelated to the Alice Corp. Vs. CLS Bank case. DSS management feel that they have a strong case against Coupons.com. This opens the possibility for an out-of-court settlement.
2. DSS is shifting focus from product-generated revenues to higher margin license-generated revenues
As the following slide shows, DSS is establishing a strong IP position with more than 160 patents and over 50 foreign counterparts (according to CEO Ronaldi).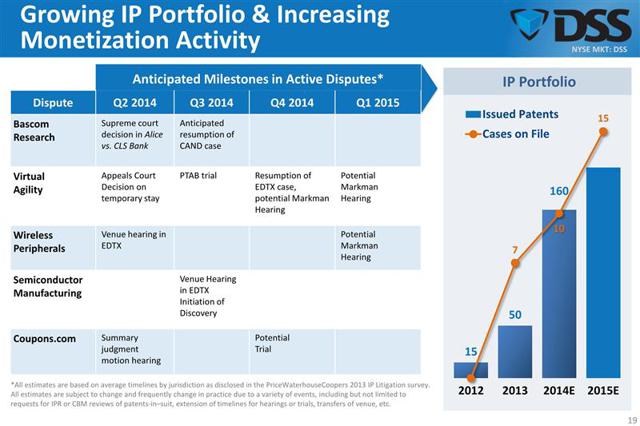 Mr. Ronaldi expects its patent portfolio to increase to 200 to 300 patents in a year or two. This is up significantly from 12 patents in 2012. The company has a very disciplined approach when acquiring and/or producing patents because they all have to be consistent with their product "road map." Mr. Ronaldi stated that they acquire less than 1% of the patents offered to them. Because they are perceived as experts in the IP world, they have a healthy pipeline of patents that's continuously brought to them by corporations as well as individuals for evaluation. Most of these patents have been collecting dust because the holders don't have the resources or time to maximize their value.
DSS is building its patent portfolio in three verticals:
Brand Protection (its core expertise area)
Software and Internet
Hardware and peripherals
According to Mr. Ronaldi, DSS intends to accelerate the monetization of existing patents. The following slide shows the huge growth expected in the area of IP Licensing (source Ernst & Young):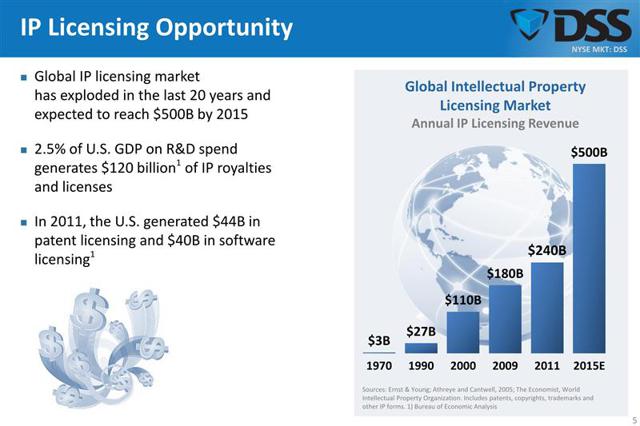 A strong patent positions enables DSS to:
1. Establish competitive advantage: This means that it can support first-mover advantage, command higher margins, and increase market share,
2. Define market boundaries: A strong IP position allows a company to effectively assert its property rights against other market players,
3. Generate licensing revenue: A strong IP position can support licensing transactions that drive technology adoption,
4. Gain transactional leverage: A strong IP position can allow a company to negotiate favorable business terms and ownership in partnership relationships including joint ventures, reseller relationships, spin-outs,
5. Support brand identity and recognition: A strong IP position that includes trademarks and patent-protected technology and products can support a positive brand perception in the market that helps drive sales (example: AuthentiGuard).
Recently, a member of the DSS board of directors commented: "DSS's core security printing technologies combined with continued technology and IP development that transcends into the digital world is expanding the market opportunity for DSS that will drive technology commercialization and adoption of solutions to very important problems."
The following is a slides show the areas where the company is heading its commercialization and license-revenue opportunities (across 3 verticals):
A. Brand Protection (its core expertise area)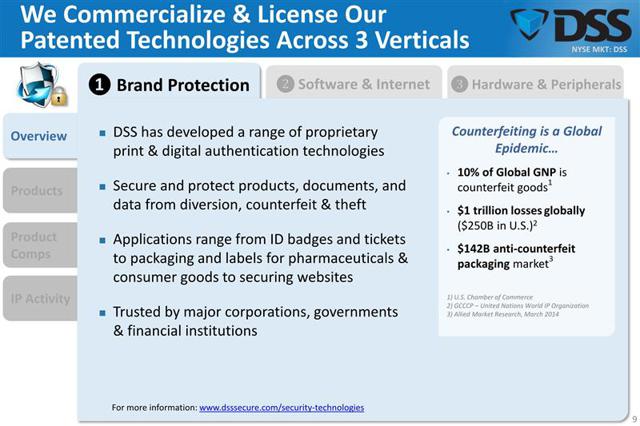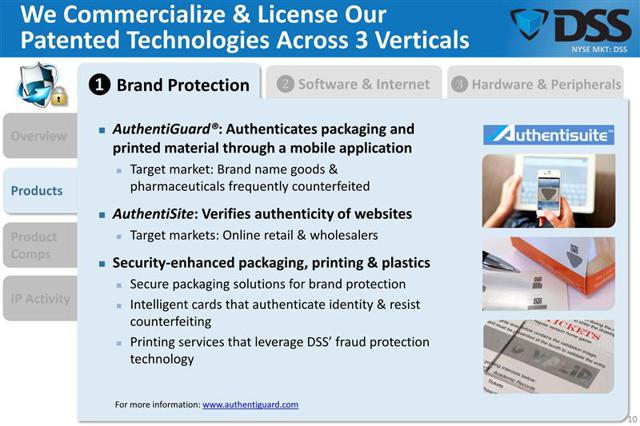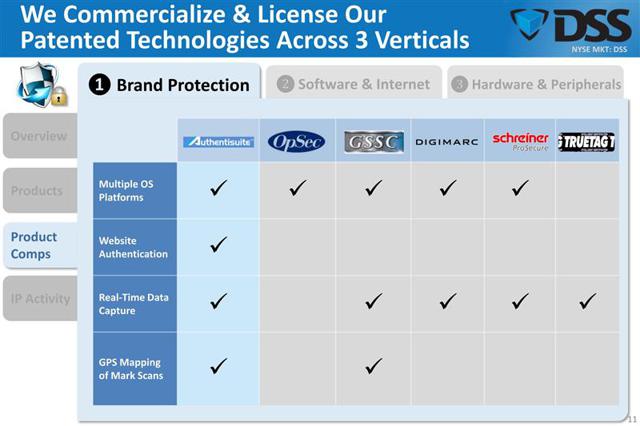 B. Software and Internet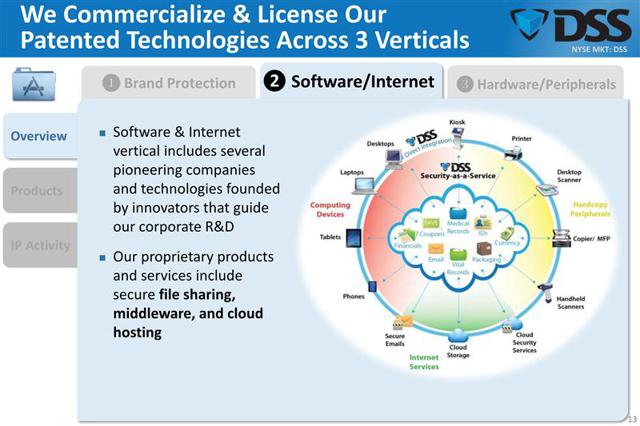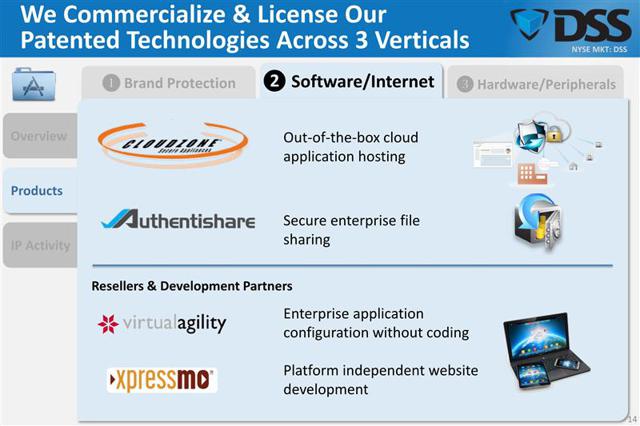 C. Hardware and peripherals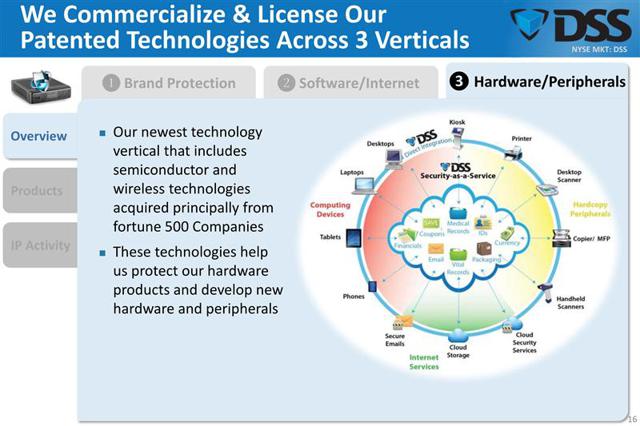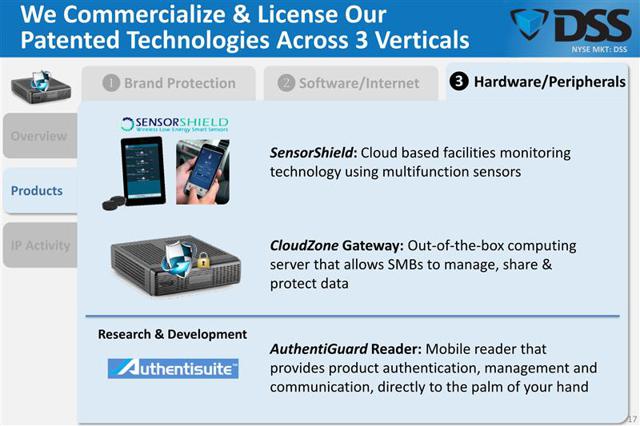 3. DSS has the most diversified and complete business model in the sector
Unlike other companies in the sector commonly referred to as patent trolls [Vringo (VRNG), Spherix (NASDAQ:SPEX), Parkervision Inc. (NASDAQ:PRKR), VirnetX Holding Corp. (NYSEMKT:VHC), DSS is an operating company with more than 100 employees producing technically superior products based on solid patent protection like AuthentiGuard. The company has its own R&D which generates patents consistent with the company's product "Road Map." With its growing patent portfolio the company is now increasing its focus on patent licensing and aggressively asserting its rights by enforcing its patents when they are being infringed (more on this in the next section]. The following slide shows how DSS business model is more complete than other companies in the sector: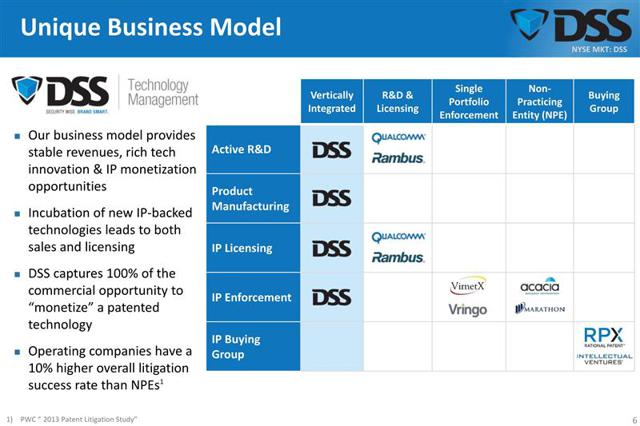 4. The company now has great visibility in upcoming patent-enforcement events
CEO Ronaldi presented several slides showing key milestones for the lawsuits against Coupons.com, Facebook, LinkedIn, AAPL, Samsung and many others accused infringers. Please note that the Coupons.com and the hardware and peripherals cases against Apple Inc. (NASDAQ:AAPL),Samsung (OTC:SSNLF)), Taiwan Semiconductor Corporation (NYSE:TSM), NEC Corporation (OTC:NIPNF), etc. do not depend on the outcome of the Alice Corp. vs. CLS Bank.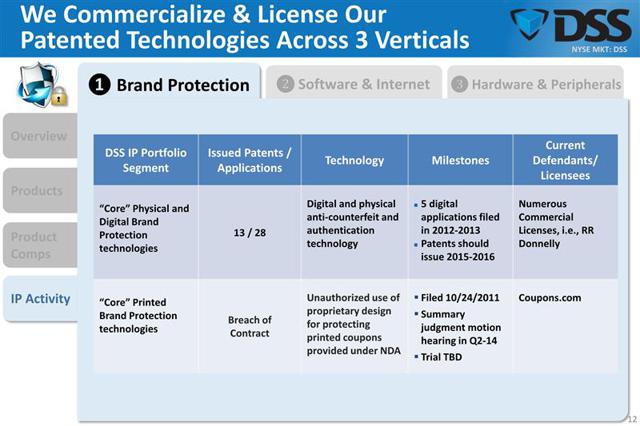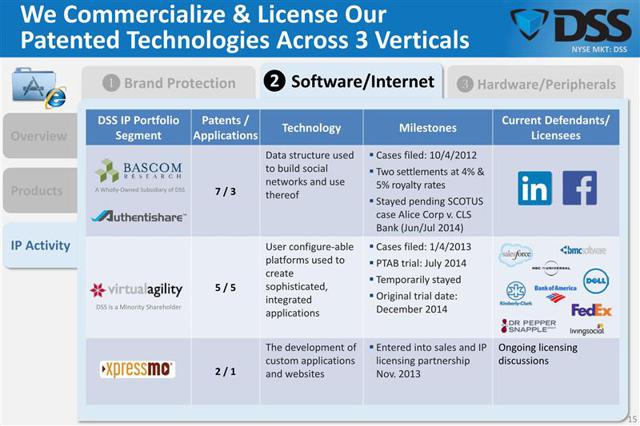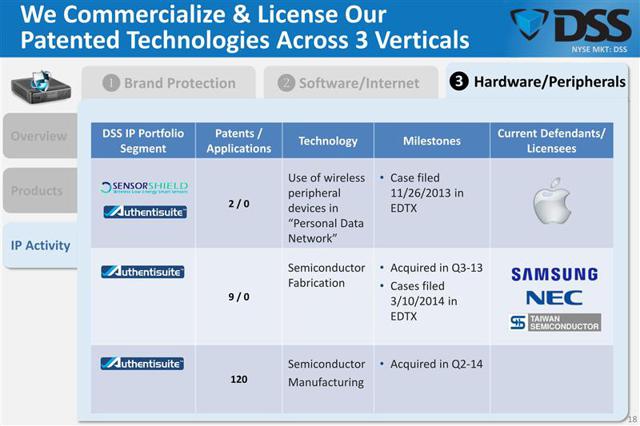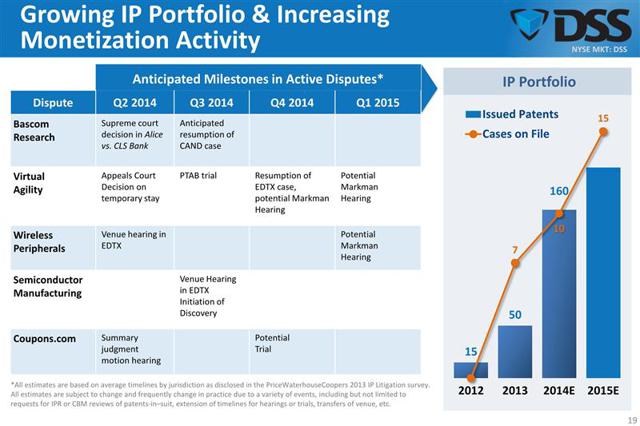 5. The company has defined its growth drivers
With a IP position stronger than ever and its AuthentiGuard and other products gaining greater traction, the company is ready to unleash its true potential. The following slide shows the company vision to accomplish its growth goals: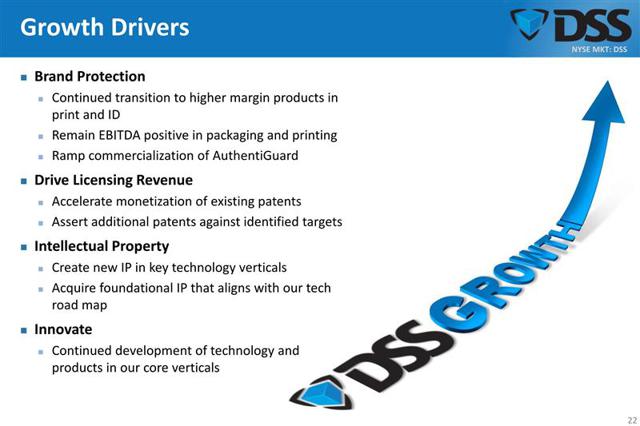 To help ramp the commercialization of AuthentiGuard and other brand protection and security products, on June 2, 2014, the company announced an upcoming webinar entitled: "Consumers, the Missing Soldiers in the War on Counterfeit."
The webinar will feature industry experts Ron Guido, former vice president of Global Brand Protection and Supply Chain Integrity for Johnson & Johnson (NYSE:JNJ) and Pat McInally, former NFL player, syndicated columnist, author and creator of Kenner Toy's "Starting Line-up." Larry Shannon-Missal from Harris Interactive will discuss the research methodology behind the market research survey.
The company recently hired the Liolios Group to lead a new strategic investor relations and financial communications program. I expect more investors presentations and webinars in the future, a lot more than in recent history.
The key to DSS current and future success is its experienced management team with hundreds of years of cumulative experience in the areas of IP monetization and commercialization: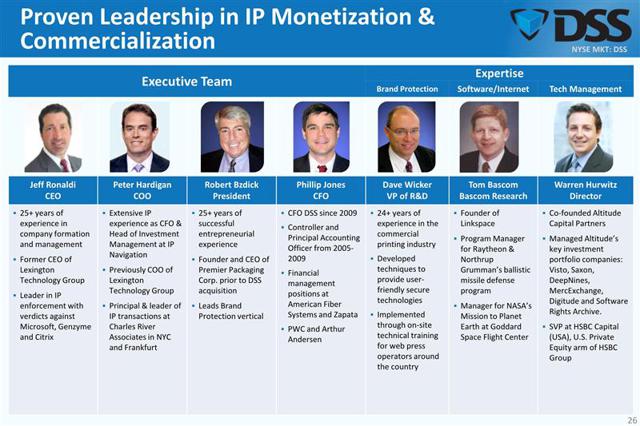 It is clear that if DSS leadership team is able to successfully execute its stated growth plan, the upside from the current $1.4/share and $50 million market cap is potentially significant. Investors considering investing in DSS, or any other stock, should always read carefully the risks and uncertainties as spelled out in the company's 10-K and 10-Q filings.
Disclosure: I am long DSS. I wrote this article myself, and it expresses my own opinions. I am not receiving compensation for it (other than from Seeking Alpha). I have no business relationship with any company whose stock is mentioned in this article.
Editor's Note: This article covers one or more stocks trading at less than $1 per share and/or with less than a $100 million market cap. Please be aware of the risks associated with these stocks.