On June 2 Sentry Investments Inc. (Sentry), one of the biggest shareholders of Timmins Gold Corp. (NYSEMKT:TGD), announced that it was going to nominate six new directors to the board of this Canadian gold miner. Ten days before this announcement, Timmins cancelled its annual general meeting, which was to be held on July 17.
After Sentry's announcement, Timmins was one of the biggest movers of the last two sessions, with shares rising 8.8% on June 2 and 5.9% on June 3. The volume was also very impressive -- 852,000 shares changed hands on June 2. Definitely, Timmins shares were in a turmoil following the Sentry announcement. In this article, I am trying to find out what induced Sentry to submit its announcement. I am also considering the possible consequences of this announcement.
First, some facts.
Timmins Gold Corp. is a Canadian medium-sized gold miner operating an open-pit mine, called San Francisco. The mine is located in the State of Sonora, Mexico. The mine started its operations in 2010 and since that time, Timmins has been ramping up its production; in 2013 the company produced 119,655 ounces of gold. Mineral reserves amount to 1,589,000 ounces of gold and the estimated mine life is around nine years.
Timmins, with all-in sustaining cash cost standing at $790 per ounce in the first quarter of 2014, is one of the lowest cost gold producers. What is more, the company is profitable since its first ounce of gold was extracted. There was only one case when Timmins made a loss -- in the fourth quarter of 2013, due to new mining tax regulations, the company had to record a higher deferred income tax; this one-off event was a direct cause of a loss.
The table below evidences the company's basic metrics:
(in thousands of dollars)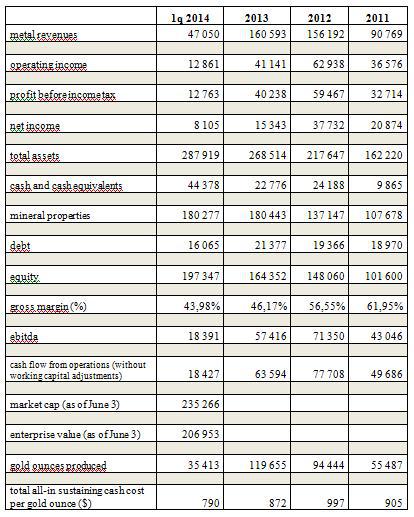 As I mentioned earlier, presently Timmins operates only one mine - the San Francisco pit. In 2016, the company plans to open another mine -- La Chicharra. La Chicharra should add another 16,000 ounces of gold to the current production. Timmins has prepared an NI 43-101 technical report for the San Francisco Gold Project (comprising two mines: San Francisco and La Chicharra) -- below you will find the basic metrics of that project:

In my opinion, the financial results of Timmins and the economics of the San Francisco Gold Project confirm the company's sound financial standing -- this is a low-cost, profitable company with substantial mineral reserves.
Sentry Investments, founded in 1997, is one of Canada's fastest-growing independent asset managers. Sentry manages over $14 billion in assets on behalf of more than 400,000 Canadian investors. Sentry, holding 17.25% of the issued and outstanding shares of Timmins, is the company's biggest shareholder.
The other two big shareholders are:
Van Eck Associates Corporation - holding 14.95% of shares outstanding
Sprott Asset Management LP - holding 6.49% of shares outstanding.
In its announcement, Sentry states that its intention is to:
"Boost independence from executive team to ensure appropriate oversight of management.
Enhance corporate governance best practices and ensure the alignment of executive compensation with performance.
Enrich the Board of Directors with individuals that have significant mining and geological technical talent. Specifically, add directors who have discovered, built, operated, optimized and sold gold heap leach mines in Mexico and done the same for other mining assets elsewhere.
Improve operational performance and financial flexibility.
Properly formulate Timmins' strategic objectives with respect to potential acquisitions & divestitures."
Examining this announcement in detail, I have found the following important topics:
According to the announcement, Sentry gave a notice of its intent to Timmins before May 23. In reaction to that notice, Timmins cancelled the annual general meeting (presently Timmins plans to hold this meeting in September). It seems that Timmins' management is trying to buy time to organize an effective counter-action.
Sentry accuses Timmins of being in violation of the TSX rules requiring the annual general meeting to be held prior to June 30. This is not the first time Timmins has been in violation of TSX rules - the same happened in 2013 (the meeting was held on July 18) and in 2012 (July 19).
Sentry indicates that in 2013, three Board members (two executive and one non-executive) received extremely low voter support. "Report on voting results" shows that the President, Arturo Bonillas, received 49,021,495 votes (46,023,886 votes were withheld) and the CEO, Bruce Bragagnolo, received 49,351,295 votes (with 45,694,086 votes withheld). Well, I am impressed - the support was really very weak, which shows that there are big shareholders who are not satisfied with the current management (I assume that one of these shareholders must be Sentry).
Sentry wants the directors' compensation to be tied to meaningful performance metrics.
Sentry makes complaints that the Timmins management "ignored requests made by significant shareholders to allow for comprehensive due diligence to be conducted by potential acquirers. Stronger companies with superior growth prospects, stronger financial positions, superior technical skills and superior operating performance have been rebuffed..." Well, it seems that Sentry has a totally different strategy for Timmins than its management. I am pretty sure that using words "potential acquirers" could be interpreted by the financial public as a statement that Timmins was for sale (of course, nearly everything in this world is for sale but using these words in such a direct manner should have its psychological effect). Below I present a chart showing what happened to the Osisko Mining's share prices when Goldcorp and Yamana Gold were struggling to gain control over Osisko.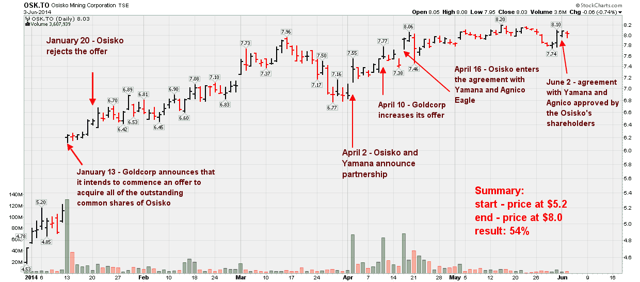 Remarks
The chart evidences a well-known financial phenomenon: when somebody fights for taking control of a listed company, the shares of such a target company appreciate in most cases; in case of Timmins, it seems that Sentry is definitely fighting to take control. At the moment, there is no public offer to acquire Timmins' shares.
Sentry states that "Timmins' management has neglected to clearly define a strategy of value creation, demonstrated an inability to optimize capital, and a preference to discourage potentially attractive merger/sale opportunities" - this part confirms there is a serious dispute between Sentry and Timmins' management over the future of the company.
Sentry accuses Timmins' management of "the lack of visibility into Timmins' long-term growth strategy beyond the San Francisco Mine." The current exploration program, prepared by Timmins, confirms that. Only one target, listed in this program (Marisol Property), lies relatively far from the San Francisco Mine. The other two targets are in the close vicinity of an existing open-pit mine. Although Timmins has a few mineral projects located in the Mexican states of Zacatecas and Nayarit, there is no mention of exploring them. It seems that Timmins' management perceives the San Francisco Mine as its main and ultimate strategic gold deposit while Sentry aims to go beyond that. This is another big discrepancy between Sentry and the management.
The main part of Sentry's statement is the list of six nominees to the company's board. These candidates are professionals with considerable experience in heap leach mining operations, corporate finance and corporate governance.
Summary
The last Sentry announcement indicates that there is a serious dispute between Timmins' management and its largest shareholder. My impression is that in the near future this dispute will intensify -- yesterday's quite aggressive announcement confirms that. The present management, holding only 4% of the shares outstanding, needs time to prepare for a battle. Due to the long-lasting cooperation between Timmins' management and another big company shareholder, Sprott Asset Management, I assume that Sprott is going to support the management. If that is a case, the management is controlling 10.49% of shares outstanding. On the other hand, Sentry holds 17.25% of shares outstanding. What will Van Eck Associates and the other shareholders do? That is a question.
The fight has started and, in my opinion, it will lift Timmins' share prices up in the coming months.
Disclosure: I am long TGD. I wrote this article myself, and it expresses my own opinions. I am not receiving compensation for it (other than from Seeking Alpha). I have no business relationship with any company whose stock is mentioned in this article.