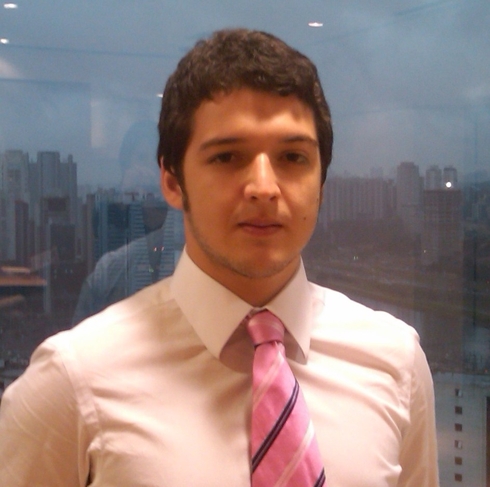 Click to enlarge
Raphael Weyne is an economist, based in São Paulo, Brazil, working at an international financial services and investment banking firm. Previously, he was a risk and operations manager at international asset management firm Victoire Finance Capital and senior market risk analyst at Brazil-based bank BBA, the investment banking business of Banco Itaú.
H.L.: The emerging economies in South America, especially Brazil, appear stronger than the European and American models. Why?
R.W.: It is no secret that, due to South America's recent past of high inflation rates conjoined with the external shocks from the late 1980s and '90s, our economies have been subject to higher demands – from both the International Monetary Fund and other private, creditors – to keep public deficits under control, boost current account surpluses, and maintain tight monetary control (i.e., high local interest rates). Over time this has, indeed, provided Latin American countries in general (especially Chile, Colombia, Brazil and Mexico) with high currency reserves and relatively low inflation.
Meanwhile, you had the Europeans caught up in a fiscal and monetary debacle for the past few years, and in the U.S. you had a turbulent last 10 years in pretty much all aspects, including wars and political miscarriages with lots of international pressure on many sides. I think Americans were trying to figure out how they want to be seen and how to act in a world they didn't quite comprehend. Those tasks consume time and money.
When the tide changed, emerging economies that had long been repressing consumption with high interest rates -- mainly to fight low savings and inflationary pressures from many bottlenecks -- found a perfect buffer for the lack of dynamism in the world economy: We had been good boys for a while and found that maybe a little shopping was in order. We are eager to live like Americans with the "big car-big lawn" life-style, so we lowered rates and lowered taxes on cars and white goods. It worked perfectly. We kept growing and made our contribution as a safe-harbor to the world's economy, and all of that at the cost of little or no additional inflation.
However, I think Brazil and India are still on their way to taste a bit of the bitterness of monetary tightening as I think we are going to see higher-than-expected inflation in the two final quarters of 2010 in those economies. Of course we saw deteriorating current accounts as exports diminished and commodity prices hung lower, but, hey, what do we keep huge international reserves for?
H.L.: How has Brazil avoided the huge debt problems in Europe and the U.S.?
R.W.: Local banks have passed the test. They have endured an unprecedented global crisis in flying colors for two reasons: Local banks (in spite of what they like to think) are not global players and never took too great a position on plays totally outside their countries' down-to-earth macroeconomic reality. Second, we have strict guidelines and control. It's also valid to say that in Brazil the banking system has, as a whole, diligently implemented the Basel II Committee's international banking regulation and capital requirement recommendations. The local industry, including big Brazilian banks like Bradesco (NYSE:BBD), Itaú Unibanco (NYSE:ITUB) and, more recently, Banco do Brasil (BBAS3), have also invested in technology and is known to be, in many aspects (from ATMs to online transactions and credit risk models), more efficient than its peers in more developed countries, like the U.S.
H.L.: What are the strongest sectors in the Brazilian economy?
R.W.: Retail and real estate have been the name of the game for a couple of years and will continue to be for years to come. Incomes keep growing. The economy looks sound, and people are buying their first homes and related "stuff."
The retail sector has experienced non-stop mergers for the last 12 months, but I think mergers and acquisitions will take a break until current acquirers have re-analyzed and re-understood their customer base. Most of these companies are family-owned and not public.
As for real estate, it was the "prettiest girl in school" back when we still had two initial public offerings a week. Then we saw some 13 or 15 IPOs in this sector. Companies merged, and some went bankrupt. The sector is still very fragmented and regionally dominated by smaller companies.
H.L.: Brazil is known for oil, gas, and mining. What's happening there?
R.W.: You have new things turning up all the time. In August Brazil's richest person, Eike Batista, found 15 trillion cubic feet of natural gas in northern Brazil. Last week the governor of the state of Minas Gerais announced another natural gas discovery. The size is still unknown, but most likely is a few trillion cubic feet. We have a new large potassium reserve found in the north last week too. That's not to talk of the recently found pre-salt oil reserves that put Brazil ahead of countries like Russia in terms of oil reserves. Also, Brazil is home to Petrobras, one of the largest oil and natural gas companies, and Vale, the world's second largest mining company.
H.L.: How much impact on Brazil's economy does America's economic woes have?
R.W.: Very small. The biggest impact currently I would say is the on the financials from side effects in the world economy on emerging markets' growth and commodities. Brazil does not import lots of technology/logistics/services (although I believe we are going to see a major change in that fast enough over the next four years). Brazil doesn't have as much a bond with U.S. consumption as Mexico's auto industry, for instance. We mainly export to the U.S. orange juice and soft commodities such as grains, so these things are more or less stable.
H.L.: What's happening in Brazil's housing market – and what do you predict for the rest of 2010 and 2011?
R.W.: The housing market received a big help from the federal government with a program called "My House, My Life," launched in April 2009 providing a $13,500 grant to low-income families to finance and subsidize purchases of first homes. Before that the real estate sector was doing fairly well on its own, especially in important states' capital cities. Up through Sept. 3, the program had 630,886 signed contracts.
Next year things should start to come back to normal as the government program ends and as credit starts to build in the way it used to. That should improve stock performance, but credit movement is still a bit smoky, and this is not a no-brainer.
H.L.: What's the unemployment and job picture in Brazil?
R.W.: Just this week we got unemployment numbers for August: 6.9 percent, steady from previous month. Unemployment has been stable at the 7 percent level, and I predict 7.1 percent this year (on the back of a very strong first half and a not so strong second half) and a bit below consensus with a 4.5 percent growth for 2011, due to a more negative scenario in terms of inflation and interest rates. Also, we see Latin America growing 5.9 percent year-over-year in 2010, and 4.4 percent year-over-year in 2011.
Unfortunately, however, the consensus among analysts is that Brazil has a huge backlog of qualified professional job openings and need for engineers, researchers, and biologists, etc., but those aren't the kinds of professionals we are currently producing.
H.L.: What Brazilian stocks do you recommend?
R.W.: The mining, oil, and gas sectors are sexy in the mid to long run, mainly due to new findings. I wouldn't bid on Petrobrás' (NYSE:PBR) planned $75 billion stock issue, however, until two or three days after the issuance when the "flippers" have left the stock. Also, retail is always a good bet on the Brazilian economy.
However, I think the Bovespa equity market is going nowhere. If I thought the market would engage in a little rally I'd probably position myself on big Brazilian banks (BBD, ITUB, BBAS3) because they have been hit hard, and I see them very well positioned for both Brazilian and world growth.
Disclosure: No position