Krispy Kreme Doughnuts (KKD) "operates as a branded retailer and wholesaler of doughnuts, beverages, and treats and packaged sweets. The company operates through four segments: Company Stores, Domestic Franchise, International Franchise, and KK Supply Chain. The company was founded in 1937 and is headquartered in Winston-Salem, North Carolina."
The company has a solid business model that attracts a large variety of customers which generates a lot of recurring revenue, outside of asset sales. Historically, KKD performed relatively poorly but managed to save itself by closing stores and significantly cutting expenses. Since then operations have been a success, transitioning their expansion plans more strategically and moving operations onto the international frontier. Although most people would consider the company a cash cow (a slow grower), it is still growing revenue and earnings at a rapid pace.
Analyst Reviews
Since the business has been performing much better since the financial crisis, analysts have been giving solid ratings typically ranging between market perform or outperform, particularly throughout 2013. Overall I think this coverage is relatively justifiable with a few outliers falling into irrational exuberance about reasonable sales and cash flows. Below is a snapshot of the recent calls: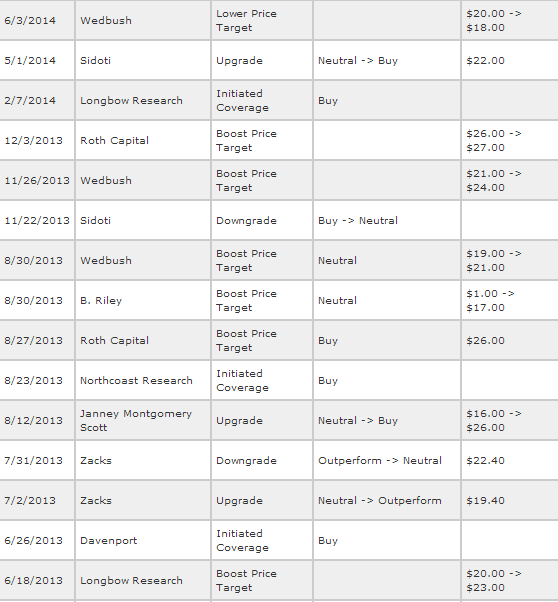 In hindsight, the price targets of $24, 26, 27 all seemed great but required a steady level of earnings growth which was quickly snuffed out in early December.
Valuation
Between 2011 and 2013, KKD has expanded operating cash flows by as much as 300% but reached a minor setback due to changes in working capital and taxes. Evaluating year over year cash flows, things seem to be growing at a solid pace. Wall Street analysts expect that EPS will grow between 20-25% for the next few years as expansion continues and as additional operating efficiency begins to take effect.
A simple discounted cash flow model using EPS of 93 cents (for forward expectations) growing for the next 5 years at 20%, with zero trailing growth, suggests the company is worth $18.40 price per share. Considering recent reports that have missed expectations back in December and this most recent one, I don't think the higher end 25% growth estimate is warranted here.
Considering that free cash flow is still pretty volatile due to expansion, I decided to take a look at operating cash flow instead to get a reasonable assessment of market cap. Using the most aggressive case scenario suggests 26% cagr for ocf to give a 1.5 billion fair value, about 50% upside. A normalized trend of 20% cagr would issue about 1.1 billion, about 5% upside from the current price of $16.11. With that said, this recent slump may not be a legitimate deviation and therefore understating potential cash flow figures.
Conclusively, I would estimate that the stock price is either fairly value or slightly undervalued with a margin of safety between 10-15% at most. Personally I would wait for a larger gap to ensure that investing principal is safe.
Technicals
Selling continued until the very end of the day on 06/03/14 which is usually a signal of continued bearish price action. Although Williams %R 14 is extremely oversold at the zero point mark indicating this is a decent time buy. Derivative Oscillator is also maxing into negative territory, as it begins to rebound bullish momentum usually ensues. This is the chart below: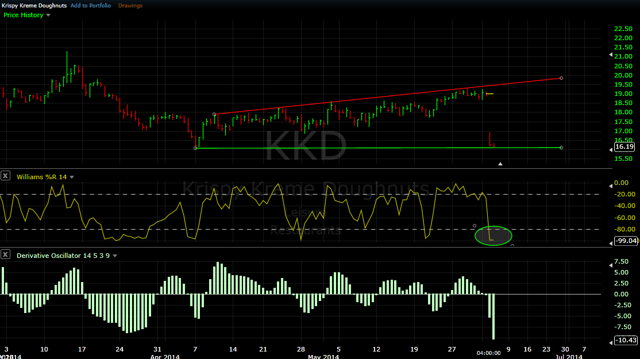 What I find most interesting about KKD is that the price stopped directly at $16, at a support line, which most technicians would consider a buy. Recently DSW experienced the same thing, and quickly rebounded more than 10% in a few days. I think entering here can be opportunistic, but also can very risky due to heavier volume and volatility.
Bottom Line
Krispy Kreme Doughnuts is a solid franchise that will continue to grow and doesn't have apparent risk of potential massive selling at $16 pps. I believe shares are more undervalued than overvalued, but would consider it pretty close to fair value. Personally I am not entering a stake in KKD, however if one is interested, I would make it a relatively small position and add if the price continues to fall. Otherwise stand on the side lines and look for a better price perhaps closer to $15 a share.
Disclosure: I have no positions in any stocks mentioned, and no plans to initiate any positions within the next 72 hours. I wrote this article myself, and it expresses my own opinions. I am not receiving compensation for it (other than from Seeking Alpha). I have no business relationship with any company whose stock is mentioned in this article.