A bird's eye view of stock valuations today reveals an insatiable appetite to chase performance. After all, the stocks and ETFs that garner the most attention usually have the best looking past performance. Every prudent money manager or advisor will tell you that there is a time and a place to invest in "momentum". That said, it is much easier to take a position in an investment you can justify on paper using impressive past performance data.
However, before investing in anything, one must ask the question "Am I buying too late?" This question is rarely asked about Market Vectors Gold Miners ETF (NYSEARCA:GDX). In 2011 GDX lost 16.1%. That was followed up with a loss of 8.88% in 2012 and a whopping 54.02% loss in 2013. Even with significant gains in 2007 and 2009, GDX has lost over 5% per year since inception (2006). Take a look at the three year chart below.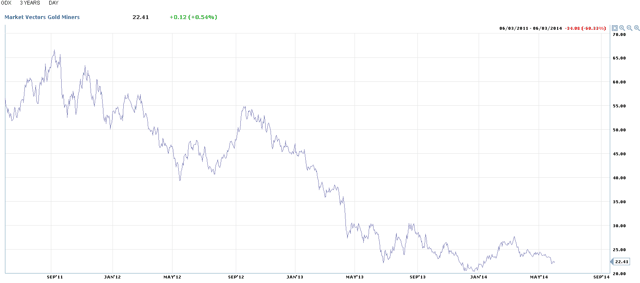 Image Source: (OptionsXpress.com)
While there is little past performance to persuade investors to purchase this falling knife, part of the value GDX holds is found in its correlation with markets. In other words, if you're as nervous about overall market valuations as we are, you probably can't get excited about purchasing equities like Tesla (NASDAQ:TSLA) and Netflix (NASDAQ:NFLX). Take a look at the chart below and notice the low correlation relationship between GDX and the S&P 500 index.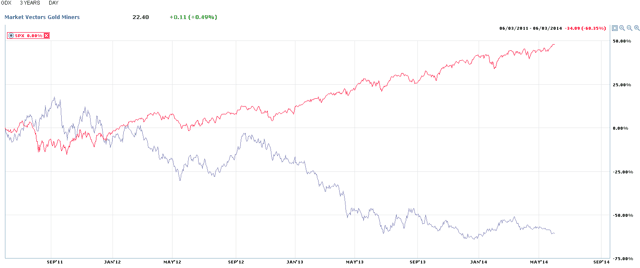 Image Source: (OptionsXpress.com)
We certainly don't need a correlation matrix to understand the relationship. Therefore, an investment in GDX should not be based upon an overall equity forecasts. In light of that, GDX requires a different toolbox to evaluate and forecast. This begins by examining the core commodity itself--gold.
While gold is continuing to get bashed by large investment banks, actions by central banks across the globe will ultimately have the lasting impact on gold prices. Given the positive impact the Federal Reserve's quantitative easing programs have had on gold in the past, the European Central Bank is considering their own liquidity injection. The markets are bracing for details to be released June 5, 2014 and gold could be a direct beneficiary of their plans.
While the price of gold is well off its multi-year lows, gold miners are languishing at even lower valuations. The chart below shows the price of gold over the past 8 years. Clearly, gold has fallen from highs in 2011 but remains almost a 100% higher than the levels in 2008-09.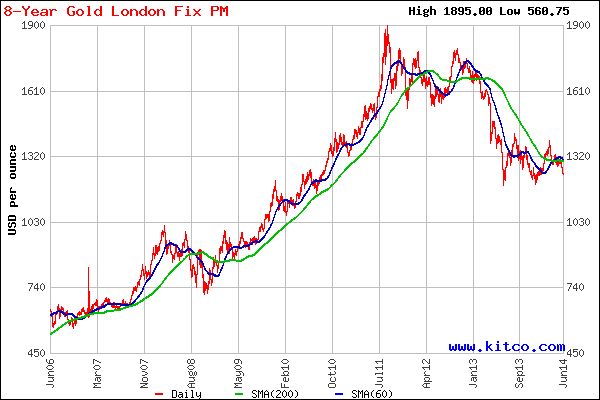 The next chart illustrates the divergence that has occurred between the price of gold (represented by the SPDR Gold Share ETF (NYSEARCA:GLD)) and GDX.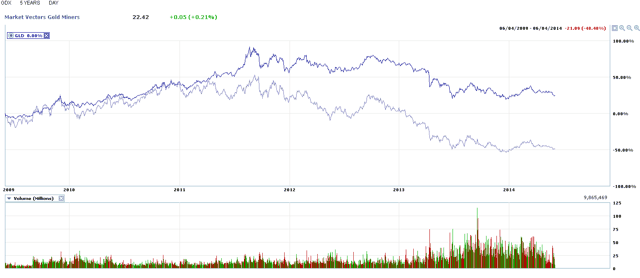 Image Source: (OptionsXpress.com)
Part of the reason for the disconnect between the price of gold and gold miners lies in the misallocation of capital by gold miners over a number of years. From the beginning of 2005 to the end of 2012, gold miners aggregate market cap grew by more than 16% annualized, while their aggregate price only grew about 7.7% annualized. The 8% annualized gap between market and price-performance was simply share dilution (Johnson & Lee - Morningstar 2014). They essentially engaged in their own quantitative easing by issuing new shares time and time again to continue mine acquisitions. As a result, miners have been forced to undergo an internal financial pruning process which has been painful to share prices. However, with leaner balance sheets and the current disconnect with the price of gold itself, GDX is poised to benefit from a reversion to mean process.
We had a glimpse of this earlier this year. Between January and the middle of March, GDX went from approximately $22 per share to over $28 per share. Since then, the ETF has gravitated back down to the $22 per share level (as of early June, 2014). Although GDX volatility remains high, this means significant moves in a short amount of time can occur suddenly. A similar move from earlier this year also took place between the end of June 2013 when the ETF was once again around $22 per share and rose to over $30 per share by the end of August 2013. As with any ETF, the individual holdings ultimately determine the risk reward statistics.
In the case of GDX, the top three holdings present a unique weighting that should be examined. As of the beginning of June, the top three holdings for GDX represented over 34% of the entire ETF's holdings. These investments included Goldcorp. Inc. (NYSE:GG) at 13.3%, Barrick Gold Corp. (NYSE:ABX) at 13.28%, and Newmont Mining Corp. (NYSE:NEM) with 8.06% (see Morningstar Holdings report). With this kind of weighting, our research concentrated on evaluating these three stocks. Using our internal valuation metrics we have placed the following target prices on each of the stocks:
| | | |
| --- | --- | --- |
| Company | Closing Price As of June 3, 2014 | Target Price |
| Goldcorp Inc. | $22.86 | $45 |
| Barrick Gold Corp. | $16.01 | $39 |
| Newmont Mining Corp. | $22.82 | $44 |
Should these stocks approach their target prices, and given their weightings, GDX would experience a prorated return north of 30% (even assuming the rest of the holdings are flat). Therefore, our recommendation would be to take a position at current price levels with a short-term target of $28 per share and a long-term target of $41 per share.
Disclosure: I have no positions in any stocks mentioned, and no plans to initiate any positions within the next 72 hours. I wrote this article myself, and it expresses my own opinions. I am not receiving compensation for it (other than from Seeking Alpha). I have no business relationship with any company whose stock is mentioned in this article.