Introduction
In the past, if you were curious to know what kind of features the common car of the future would have, you could glance at an expensive Mercedes S-Class or similar luxury vehicle that today retails on the order of $100,000. Vehicles like the Mercedes S-Class demonstrated what was possible and acted as a glimpse into the future; and it sure was, and still kind of is. Features like reverse cameras, heated seats, keyless & button-less entry and start-up all started with them over a decade ago, and now these features are becoming a part of entry-level automobiles. However, it seems that some of these innovations have subsided and it appears that Tesla's (NASDAQ:TSLA) Model S will now be the new glimpse into the future. Not just because it's electric, but because it has unique features like retractable handles and 17" touchscreen displays.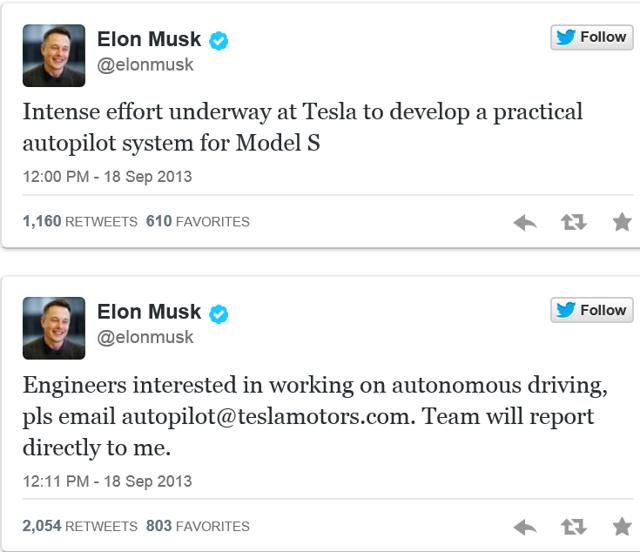 Click to enlarge
Elon Tweeting out Autonomous driving (Source: The Street)
It was last September when Elon Musk began his search for engineers to build an autonomous vehicle and then in February he stated that he believes he has the best team for autonomous driving compared to any other auto company - or company at all. With self-driving cars becoming the holy grail of individual transportation, it is a high-priority long-term goal in the automotive industry. Even the ad King, Google (NASDAQ:GOOG), is onboard. With government regulations like vehicle-to-vehicle communication coming into play, we're clearly getting closer to autonomous driving and Elon seems to think that Tesla will pave the way.
The Advantages of Self-Driving Vehicles
With human error as a big factor, everyone and especially the youth, elderly, and even intoxicated has led to millions of accidents each year. Fatalities, accidents, congestion, and even road rage can all be solved with the assistance of autonomous vehicles. Automated cars in constant communication with each other will know more on the road and will be able to do things that humans just can't do like quick lane merging or high-speed bumper-to-bumper driving to reduce congestion. With many automakers and even Google working on creating the solution, Tesla has joined the race and their CEO believes they will be the first with mass production autonomous features on the road.
So where are we now?
Without having any mass-produced autonomous vehicle on the road yet, the auto industry has still provided very useful alternatives in that direction. Currently, some of these features include:
Radar guided cruise control that can induce automatic acceleration and braking to prevent accidents ahead; making for pedal-less driving through all traffic conditions
Unique automatic braking systems that can induce a controlled braking force that can prevent accidents from the front meanwhile ensuring that the car does not stop too quickly for any following vehicles.
Automatic parallel parking
Warning signs that alert drivers when they are drifting out of their lane
Many of these features come from the big names like Ford (NYSE:F), GM (NYSE:GM), Toyota (NYSE:TM), and Mercedes to name a few and we will continue to see more progress come. As for self-driving vehicles, Nissan (OTCPK:NSANY) has recently stated that they will have "commercially viable" self-driving vehicles for sale by 2020. In addition, Google has made significant progress with working prototypes but the costs are still too expensive as just the equipment in their latest version is at least $150,000.
"Auto-Pilot" by Tesla
An arguably important step Elon Musk takes in adopting autonomous vehicles starts with its name, "Auto-Pilot," which is a name and feature we are all pretty familiar with. The very idea of self-driving vehicles almost implies that people will be transporting themselves wherever they please without ever needing to even glance at the road. In fact, Google's latest prototype doesn't even feature a steering wheel, which can make some people a bit uneasy even though this is exactly where we want to be.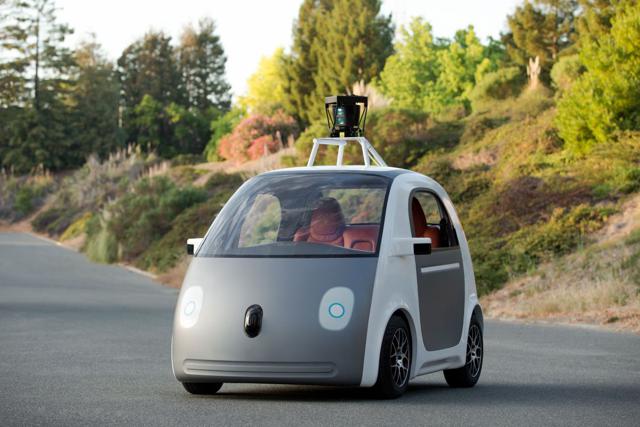 Click to enlarge
Google's Latest self-driving vehicle. Source: Re/code
With Tesla, Mr. Musk plans to first implement autonomous features that let the computer take complete control of the vehicle 90% of the time. That is, having 90% of the miles driven autonomously; he's previously emphasized that it's "incredibly hard to get those last few percent." With auto-pilot, it will be very similar to how planes and boats operate where certain conditions enable the vehicle to take complete control while allowing the driver to ease and then take control at any time when necessary. Tesla will achieve this by using flush mounted cameras and a radar system that will likely be similar to Google's. However, with great styling an importance at Tesla, it is likely that they will pursue a different visual than Google's outstanding radar that is mounted on the roof. While auto-pilot won't be the ultimate goal of self-driving cars, when it is implemented in as soon as a "few years," it will likely be the only mass produced car to utilize this.
Conclusion
Tesla has already provided us with a glimpse into the future of the car as the Model S has already got the industry on their toes to respond as best they can. They have also proven that the technology they provide in their vehicles is unmatched by anyone and with autonomous features, the trend will continue. I'm not saying that Tesla will rule the road as I have previously wrote that they are still a contender to the race to the affordable EV. However, Elon Musk is an incredible executor and many including myself expect that autonomous features in a mass production car will be first seen in a Tesla.
Disclosure: I have no positions in any stocks mentioned, and no plans to initiate any positions within the next 72 hours. I wrote this article myself, and it expresses my own opinions. I am not receiving compensation for it (other than from Seeking Alpha). I have no business relationship with any company whose stock is mentioned in this article.
Editor's Note: This article discusses one or more securities that do not trade on a major U.S. exchange. Please be aware of the risks associated with these stocks.