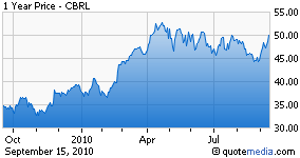 Cracker Barrel Old Country Store Inc. (CBRL) reported its financial results for the fourth quarter and fiscal year 2010. (See conference call transcript here.)
Net income from continuing operations increased to $27.4 million or $1.14 per share from $22.8 million or $0.99 in the comparable quarter of 2009. The company's results also surpassed the Zacks Consensus Estimate of $1.12. The upside was primarily due to higher operating income, lower interest expense and lower taxes.
For fiscal year 2010, earnings per share were $3.62 compared with $2.89 in 2009.
Revenue
Considering the top line, total revenue from continuing operation was $612.5 million, up 2.8% year over year. On a comparable basis, restaurant sales in the fourth quarter were up 2.0% and retail sales were up 2.6%.
For fiscal year 2010, revenues increased 1.6% year over year to $2.4 billion. Comparable store restaurant sales increased 0.8% while retail sales decreased 0.9%.
Margins
Gross margins in the quarter improved to 70.0% compared with 69% in the year-ago quarter. General and administrative expenses increased 17% over the year to $37.4 million and 6.1% of total revenue.
Higher store operating income offset by higher general and administrative expenses pushed up the operating income in the fourth quarter to $45.5 million from $41.1 million in the fourth quarter of 2009. Operating margin improved from 7.0% to 7.4% in the quarter. For the fiscal year, operating margin was 6.8% versus 6.0% in 2009.
Balance Sheet
At the end of the fiscal year, Cracker Barrel had cash and cash equivalents of approximately $47.7 million compared with $11.6 million in 2009. The company repaid its debt to some extent in the year, leading to a 10% decline to $573.7 million in 2010.
Cash Flow
Net cash flow from operating activities soared 29.2% to $212.1 million. Capital spending increased to $69.9 million from $67.8 million in 2009. The company repurchased roughly 1.35 million shares in the fiscal 2010 for approximately $62.5 million.
Outlook
For fiscal year 2011, Cracker Barrel expects total revenue growth to range approximately between 3.0% to 4.5% year over year. The guidance is premised on the opening of eleven new units during the year, comparable store restaurant sales would increase within the range of 1.5%-3.0% and comparable store retail sales would go up between 2.0%-4.0%.
Depreciation is expected to be roughly $64-$66 million, operating margin within the 7.1%-7.3% range, net interest expense within $48-$49 million, effective tax rate within 27.0%-28.0% and diluted shares outstanding approximately 23.5-24 million.
Earnings per share are expected to be approximately $3.95 to $4.10 and capital expenditures to be between $110 and $120 million. The company will continue its share repurchase activity in 2011 and repay $25 million of its long-term debt.
Cracker Barrel Old Country Store Inc. was founded in 1969 in Lebanon, Tenn. and operates as many as 595 company-owned locations in 41 states. We currently maintain a Neutral recommendation on the stock, as supported by a Zacks # 3 (Hold) Rank.
Disclosure: No position