One of the main tenets of successful investing is to find companies that possess a competitive advantage. This advantage gives the company a superior position compared to competitors for a variety of reasons. Warren Buffett espouses the importance of investing in companies only if they have a significant competitive advantage in order to create a moat between the company and competitors. This moat allows for pricing power, which ultimately leads to profits. Netflix (NASDAQ:NFLX) was the first mover in the industry and cannibalized Blockbuster by successfully envisioning the future. However, with the proliferation of competitors it is apparent that this advantage is rapidly degrading.
Intensifying Competition
By being the first major player in the industry Netflix enjoyed relatively high purchasing power. Licensing of titles is typically done through multi-year exclusive subscription video-on-demand licenses (SVOD). Through this method Netflix was able to lock in content at attractive prices. Unfortunately, with the recent heightened competition from a wide range of companies such as Amazon (NASDAQ:AMZN), Hulu, Microsoft (NASDAQ:MSFT), AOL (NYSE:AOL), and Yahoo (NASDAQ:YHOO), these costs are set to rise dramatically. Moving forward, Netflix will have to pay substantially more for content, which will impinge upon margins. Evidence of this trend is percolating as the cost of revenue rose a staggering 18% from 2012 to 2013.
Netflix has the most notable original programming, which has contributed to its success greatly. House of Cards, which won an Emmy, helped grow its subscriber base. It is undeniable that original programming is crucial for subscriber growth. Amazon is set to invest an estimated $500 million through this avenue in 2014, which will trump Netflix's $400 million. If Amazon is able to replicate the success of House of Cards with its own content, Netflix may see a flight from subscribers.
Further, competitors such as Microsoft will go after a niche in the market to pick off subscribers. Microsoft announced that it has 12 originals in the works and is focusing on millennial males. Other notable announcements of original content came from: AOL (16 programs), Yahoo (2 programs), and Hulu (15 programs). Netflix will have to pay much more for new original content and it seems quite likely that another provider will create an award winning show.
DVD Business Shrinking
Netflix was able to overtake the goliath at the time, Blockbuster, in the DVD rental industry by providing a cheaper alternative with a greater selection. However, this segment of the business is antiquated and Netflix's reliance on these profits should be considered.
For the full year of 2013, the DVD segment represented roughly 58% of profit. Coupled with that dependence is a steady drop off in total DVD subscribers and subsequently reduced profit, which is alarming. Subscribers to the DVD segment declined roughly 25% from Q1 of 2012 to Q4 of 2013. Netflix dominates this market, but it is swiftly shrinking. In order to grow, Netflix will have to rely on the streaming segment, which is beginning to be categorized by acute competition.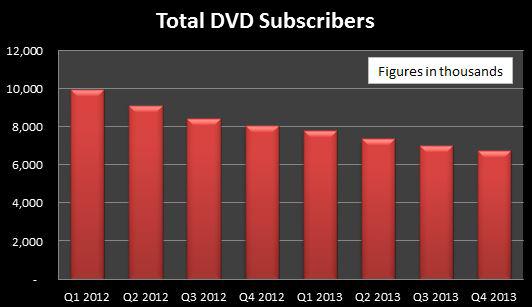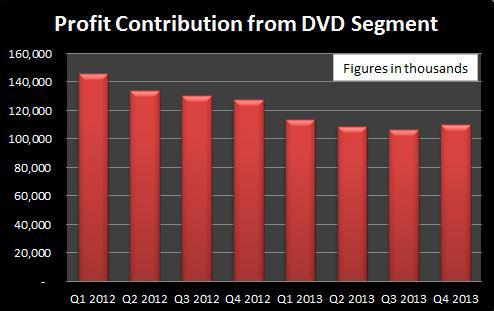 (charts created by the author)
Europe Expansion
On May 28th Netflix announced its plans to expand to six new European countries: Germany, France, Austria, Switzerland, Belgium, and Luxembourg. The market took this very positively and Netflix subsequently rose nearly 10% on the news. With an addressable market about half the size of the U.S., investors are seeing an opportunity to galvanize revenue.
At the same time, the risks of this venture are not being considered. So far the international streaming segment has yet to be profitable for Netflix, losing roughly $274 million in 2013. Moreover, Netflix faces heightened risks in the two largest markets it is attempting to enter in Germany and France.
NFLX won't have the cornerstone of its original content, House of Cards, in France, as Canal Plus owns the rights to this series there. Secondly, French laws prohibit Netflix from streaming films for 3 years after they're released in movie theaters, while at the same time they can be rented from a set-top box four months after the premiere.
In all of the countries a streaming service already exists and in Germany, Sky Deutschland is a popular streaming service that is owned primarily by Twentieth Century Fox. Netflix is also late to entering these markets as Amazon Prime's streaming service is already available there.
Although Netflix is being prudent in looking for ways to generate growth, entering Europe was not a shrewd move.
Final Remarks
With Netflix trading at near record highs, it is clear increased competition, dwindling DVD segment profits, and threats to European expansion are not priced into the stock. Netflix currently trades with a lofty P/E ratio of nearly 160. Justifying that multiple will prove nearly impossible in this increasingly crowded industry.
Disclosure: I have no positions in any stocks mentioned, and no plans to initiate any positions within the next 72 hours. I wrote this article myself, and it expresses my own opinions. I am not receiving compensation for it (other than from Seeking Alpha). I have no business relationship with any company whose stock is mentioned in this article.