By Jules Koifman
A Look at the Tough Position Faced by Nokia and Others
The mobile phone industry has undergone remarkable change over the past few years. Nokia (NYSE:NOK) and Motorola (MOT) have lost considerable market share to RIM (RIMM), Apple (NASDAQ:AAPL), and Android-based phones (NASDAQ:GOOG), while Microsoft (NASDAQ:MSFT) is nearly out of the picture.
On Friday, September 10, Nokia announced that Stephen Elop will take over the position of CEO from Olli-Pekka Kallasvuo. Elop, a Canadian and Nokia's first non-Finnish CEO, was previously the head of the business unit at Microsoft that produces the popular Office software suite. Since the launch of Apple's iPhone in 2007, Nokia has seen a more than 50 percent decrease in its share price. Now, Elop acknowledges that:
Nokia requires an approach that recognizes that today's customers are expecting a combination of great handset, an operating environment that is great to use and all within the context of the Internet.
Nokia is now changing its focus from hardware to software in order to better compete with the features offered by BlackBerry and the apps offered by iPhone and Android. Following the announcement of the new CEO, Nokia shares increased 6 percent in Helsinki.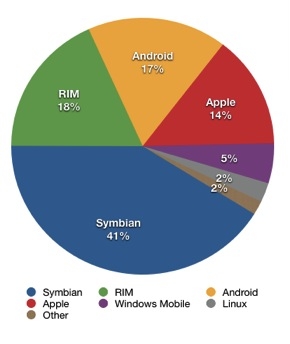 Although Nokia currently has a 34.2 percent global market share for all mobile phones, its market share in smartphones has been rapidly declining. Symbian, the Nokia operating system for smartphones, has a 41.2 percent market share as of Q2 2010, down from 51 percent just one year before. Meanwhile, RIM's BlackBerry has achieved steady growth into its current 18.2 percent global smartphone market share, and Apple has achieved a 14.2 percent market share with its iPhone. Now, the number one threat to the market is Android, the Google smartphone operating system.
In Q2 2009, Android had a tiny market share of just 1.8 per cent. However, by Q2 2010, Android smartphones held a global market share of 17.2 percent, eclipsing the growth in sales of any other competitor. And now, a new report from Gartner says that by 2014, Android phones will represent nearly 30 percent of the entire global market. Nokia is not immediately doomed, since its foothold with loyal customers has Symbian predicted to retain 30.2 percent market share in 2014. Nonetheless, this represents a declining business and is therefore a huge threat to Nokia.
Microsoft is hardly a player at all in the smartphone market, meaning it stands on the sidelines of a very lucrative industry. As Nokia struggles to get back into the game, an ex-Microsoft manager as CEO may not be the best thing for the company. After all, why was he not in charge of smartphones at Microsoft if that is his strength? Of course, there is still the significant potential for Elop's take-charge approach to uplift Nokia, and possible future cooperation with Microsoft may be beneficial to both companies.
Apple's iPhone is vulnerable too. Although it is set to reach a market share of 17.1 percent by 2011, it is also expected to fall back to 14.9 percent in 2014. And with recent controversy over the iPhone 4's "death-grip" reception issues, and a persistent lack of Flash capabilities, there are nascent concerns that Apple is ignoring some key consumer demands.
Research in Motion is severely threatened. Once hands-down the global leader in smartphones, the advent of the iPhone and mobile apps has demonstrated that there are many other equally capable e-mail devices that offer attractive features that BlackBerry lacks. The Gartner report claims RIM's market share will plummet from 19.9 percent in 2009 to 11.7 percent in 2014.
Looking into the future, it appears Google's Android is flooding the market. According to CEO Eric Schmidt, over 200,000 Android-powered phones are sold every day. And since Google offers the software to smartphone manufacturers free of charge in order to promote use of its search engine and other services like Google Maps, there is a very strong incentive for companies like HTC Corp (HTC) and Samsung (OTC:SSNLF) to produce Android phones, as it represents an easy way to add desirable features to their products.
Since Android is a software platform and not a package of hardware and software like iPhone or BlackBerry, there is much more potential for a high-quality, diverse selection of smartphones. Furthermore, since it is open-source, the potential to create apps is much greater than for any major existing smartphone OS. Android's market share growth demonstrates that consumers do appreciate these features and are opting to buy Android because of them.
If Apple and RIM are falling behind, Nokia and Microsoft have very little time to fix things and get it right.
Disclosure: No positions