Usually sober, the
Financial Times
recently headlined: "Equities Bonanza!" Was it just hype? Let's have a look at the facts.
The Times story was based on a little-noticed report from Goldman Sachs. The US investment bank says the value of the world's emerging stock markets will rise more than fivefold over the next two decades. Emerging nation stock markets are now valued at $14 trillion. Goldman says that number will jump to $80 trillion by 2030. If so, this really is a bonanza. The creation of $64 trillion in new wealth is an event no investor should ignore.
Where will this new equity value be created? Not surprisingly the BRIC countries will be the focus of booming stock values. Brazil, Russia, India and China are already home to a 31 percent share of global equity value. The BRICs are expected to rise in value to 41 percent of the world's market value by 2030. All emerging economies together are projected to reach a world-changing 51 percent of global equity.
What's behind the shift? Not surprisingly, Goldman says rapid growth within emerging markets will be one factor. "Maturing of equity markets that are at earlier stages of development" will also play a part. Take one look at the graph below from the Financial Post and you will see a sea change for US markets.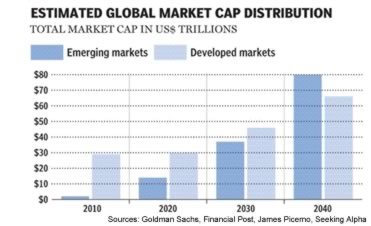 The US Falls to Number Two
The big question is who will lead the pack? Goldman Sachs says:
Emerging market economies have been growing at an annual rate of nearly 11% over the past 10 years. Compared that to only 5% in developed markets. This growth has resulted in a transformed global economy. [It has created] new business and industry, and expanded financial markets.
China has long been in the lead. Annual GDP growth in the 9 percent range has been a fact of life there for thirty years. The developed world is still struggling to emerge from the global financial crisis. But China posted more than 11 percent expansion in the first half of this year.
China's relentless growth and its immense size will put it ahead of the US and the world in terms of market cap.
| | |
| --- | --- |
| RANK | NATION |
| 1 | China |
| 2 | United States |
| 3 | India |
| 4 & 5 (a dead heat) | Brazil and Japan |
| 6 | Russia |
| 7 | United Kingdom |
| 8 | France |
| 9 | Germany |
China is projected to continue growing at a rate greater than 8 percent a year until 2020. The driving force for growth until 2020 will be rapid capital accumulation. That's one view from the Carnegie endowment.
India may overtake China's GDP growth rate around 2015. Morgan Stanley projects that India could grow as fast as 10 percent a year by mid- decade. Despite India's rise, China will have the larger economy. And its stock market will be headed to the top. The US will decline in relative importance.
Euromonitor International notes that the US share of world GDP declined from 23.7 percent in 2000 to 20.2 percent now. (That comparison is in Purchasing Power Parity – PPP – terms.) The reason: fast growth among emerging economies as well as the impact of the financial crisis. US GDP contracted by 2.4% in 2009.
Here's how the world's economies will measure up in 2020: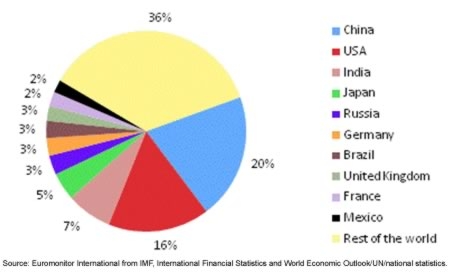 Conclusion
Not surprisingly, Goldman Sachs advises greater investment in emerging economies. The bank has this advice for investment funds:
[Those funds] which now hold about 6 per cent of their assets in emerging market equities, could increase their allocation to 10 per cent by 2020, and 18 per cent by 2030.
That's a major shift in allocation. The Financial Times says this could result in $4 trillion worth of emerging market equity purchases over 20 years.
My advice is simple. Go where the growth is. Individual investors should make the trend their friend. Give serious consideration to your portfolio's allocations in emerging markets. Consider domestic stocks that sell into emerging economies.
The multi-trillion dollar growth of emerging markets might seem like a long way off. But stock markets move ahead of trends. It's not too soon to consider a higher weighting in emerging markets.
Disclosure: No positions