EMC Corporation (EMC) continues to be an interesting investment in the data storage, cloud computing and information security business. In October 2013, I singled out EMC Corporation as a top provider of in-demand services such as information security, cloud computing, virtualization and data analytics. I pointed to EMC's high free cash flows and strong revenue growth as examples of why I believed the tech company deserved a higher valuation at the time.
Back in October, I also looked at EMC's acquisition spending, which totaled approximately $9.1 billion from 2008 to 2012 and delivered incremental revenue growth for the company. From 2007 to 2012, EMC produced a compound annual revenue growth rate of 10% and a compound annual free cash flow growth rate of 18%; results that clearly justified a higher valuation than a forward earnings multiple of twelve at which the data storage provider was trading back then.
Fast forward nine months and little has changed in terms of EMC's sound operating performance and low valuation. EMC still trades at around 12 times forward earnings and presented investors with another strong first quarter and a rock solid balance sheet. At the end of the first quarter of 2014, EMC reported total cash/cash equivalents and short-term investments of $8.3 billion, which represents about 19% of total balance sheet values. EMC's strong balance sheet is also reflected in a long-term debt to equity ratio of only 0.23.
Committed to free cash flow deployment
Since 2009 EMC has generated $20.9 billion in free cash flow and has invested about half in the purchase of revenue growth and about half in share repurchases. The chart below depicts how EMC has used its free cash flow from 2009-2013 and highlights that the company has stepped up its share repurchases dramatically over the last two years. EMC has also voiced its intention to return approximately half of EMC's ex-VMware (NYSE:VMW) free cash flow to shareholders by buying back its own shares and concentrating more on dividend payments. With EMC's recent 15% increase in its quarterly dividend to $0.115, EMC is indeed getting serious about focusing more on shareholder remuneration going forward.
Click to enlarge
(Source: EMC Corporation Investor Overview Presentation, February 2014)
Share price
Shareholders of EMC have experienced quite a rollercoaster ride over the last year. Shares of EMC have gained only 8% even though the company produced strong revenues, free cash flows and adjusted earnings. With shares continuing to trade at a multiple of twelve times earnings, I expect more investors to catch on to the EMC growth story. The company is a true free cash flow machine and actually deploys most of it to the benefit of shareholders.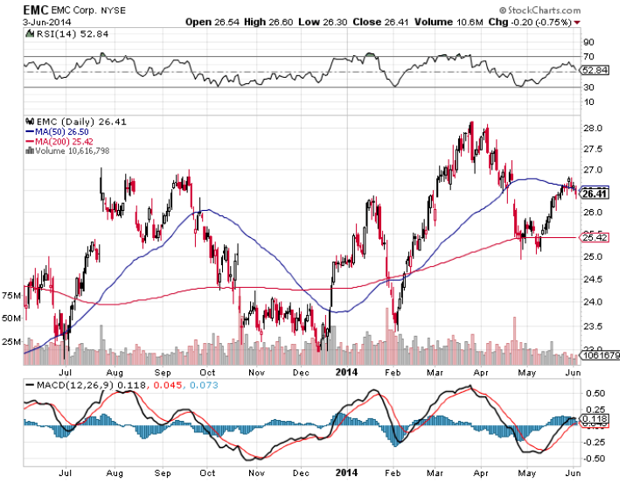 Click to enlarge
(Source: StockCharts.com)
Final assessment
Looking at EMC's fundamentals leads me to question the current market valuation. EMC has produced double-digit revenue growth (partly driven by acquisitions), strong free cash flow and solid earnings growth. The data storage company also improved its adjusted gross margin consistently from 56.9% in 2008 to 64.0% in 2013, indicating higher capital returns.
A focus on share buybacks and dividends could cause EMC to become more visible in the marketplace as I feel the company is not really selling its free cash flow story enough. At only twelve times forward earnings, investors have limited downside risk in my opinion and could benefit from meaningful upside potential once the market values EMC's free cash flow strength more appropriately. Strong Buy.
Disclosure: I have no positions in any stocks mentioned, and no plans to initiate any positions within the next 72 hours. I wrote this article myself, and it expresses my own opinions. I am not receiving compensation for it (other than from Seeking Alpha). I have no business relationship with any company whose stock is mentioned in this article.