The Mortgage Bankers Association of America released its weekly mortgage applicatations index this morning (Wednesday June 4th). The key purchase application index declined 4% from the previous week and 15% year over year. The decline in purchase applications occurred despite the fact that May is a peak seasonal month for purchase contracts. This is despite the fact that interest rates "for most products fell to their lowest levels in close to a year" (from linked article). This, along with some other recent developments, indicates to me that my bearish view on the housing market is likely accurate.
The latest report on mortgage applications capped four weeks in a row of week to week declines in purchase applications (May 14-June 4: -1%, -3%, -1%, -4%). The data released on Wednesdays covers through the previous Friday, which means the time-period covers four weeks through the end of May. Year over year comps were all double-digit teen percentage declines.
This is important for two reasons. First, May is one of the peak seasonal months for home purchases. A decline in purchase applications -- 93% of all new home buyers use a mortgage -- means that the primary "organic" demand cohort for homes is fading -- quickly in my opinion. The weather during May overall was quite hospitable across the country for home shopping, which means the "bad weather" narrative has failed.
The second reason is that existing home sales reports are based on closings. With the average time to close a mortgage running less than 40 days (see below), it means that the National Association of Realtors existing home sales report for June (reported in July) will reflect the marked decline in mortgage purchase applications that occurred during the critical May time period. Furthermore, as I've detailed in previous articles, 93% of new home buyers use a mortgage. New home sales are derived from contract signings. When new home sales for May are reported in June, it should reflect lower than expected sales as implied by the declining purchase applications.
To be sure, it's always possible that cash buyers will take up part of the slack that is being created by the decline in mortgage-financed buyers. However, per NAR data which I've discussed in previous articles, over 70% of cash purchases are going to flippers. Flippers rely on more traditional buyers for their flips. If the traditional mortgage-financed buyer is not buying, who will buy the homes purchased by the flippers?
Another indication that the demand-side of the housing market is deteriorating is the fact that mortgage-financed buying is clearly dropping despite the fact that mortgage rates have been declining since the beginning of the year (source: St. Louis Fed, edits in red are mine):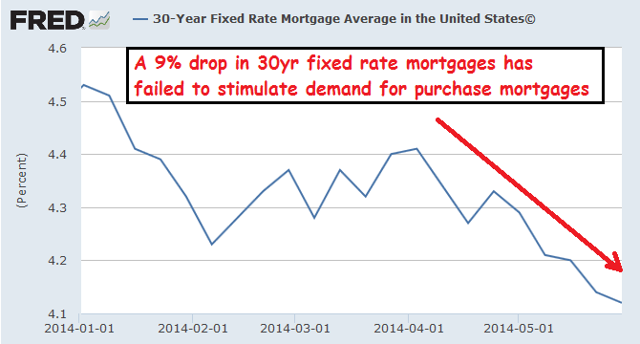 Click to enlarge
As you can see from the above graph, not only have mortgage rates been dropping since January 1, but the rate of decline was accelerating during May, when mortgage purchase applications dropped four weeks in a row. If lower rates are not stimulating home sales, what will?
One of the biggest fundamental problems for the housing market is affordability. Despite lower mortgage rates, the cost of owning a home has now excluded a large segment of potential buyers. With the real median household income now declining, over 50% of all households are struggling to cover their housing payments (Half Of Americans Can't Afford Their House). This fact means that over half of all American households are effectively eliminated from the demand side of the housing market equation. This fact is further reinforced by the data in this article -- Mortgage Closing Rates Only 55% -- which shows that only 55% of all mortgage applications are being approved. In my opinion, this reflects the deteriorating financial condition of the average household and thus reflects the deteriorating condition of the housing market.
It is thus becoming more clear -- at least to me -- that the housing market is in big trouble. April through August is considered the best period for home sales seasonally, with May and June typically the peak months. The early data suggests that May and June home sale results will disappoint market expectations, if not show an outright decline.
Given this fundamental outlook, I continue believe that shorting homebuilder stocks will outperform the market, regardless of whether the S&P 500 continues to climb or not. The Dow Jones Home Construction Index (DJUSHB) is down 7.6% from its 52-week high close at the end of February. In that same time period, the S&P 500 is up 4%. Homebuilder shorts outperformed. The outperformance will be magnified if the SPX goes into a decline.
I am short DR Horton (NYSE:DHI), KB Homes (NYSE:KBH) and Ryland (NYSE:RYL). I am working on another short-sell idea that I think will do well. I also like shorts in Beazer (NYSE:BZH), Toll Brothers (NYSE:TOL), Pulte (NYSE:PHM) and Lennar (NYSE:LEN). I recommend using every short-term bounce higher in the DJUSHB to establish or add to short positions. You can sell short near and out of the money calls to reduce your risk of upside volatility. You can sell out of the money covered puts for the same purpose.
Disclosure: I am short DHI, KBH, RYL. I wrote this article myself, and it expresses my own opinions. I am not receiving compensation for it (other than from Seeking Alpha). I have no business relationship with any company whose stock is mentioned in this article.