Back in mid-March, I was in favor of using the Alibaba (ABABA) IPO hype as a means to short Yahoo (NASDAQ:YHOO). While Yahoo shares did not run up as much I had hoped for the preferred trade, shares fell almost 20% from $40 to $32 before rebounding. Now, Yahoo sits under $35, and we could be just two months away from an IPO for Alibaba. Today, I'm here to explain why I've changed my stance on Yahoo, and why I'm becoming a believer in the name.
Rising estimates make comparisons better:
In my previous article, Yahoo just looked too expensive, especially for a company that isn't a tremendous growth name. Since then, we've seen a two-fold improvement to the valuation. Analyst estimates are up, and the stock price coming down makes this name look much better.
Revenue estimates are up slightly since my last update. The 2014 analyst average has gone from $4.49 billion to $4.50 billion, and the 2015 average is up from $4.63 billion to $4.64 billion. The more important item for most investors is EPS. The 2014 EPS average has risen from $1.57 to $1.64, while the 2015 average is up from $1.79 to $1.85.
This has changed the argument a bit when it comes to Yahoo. In my original article, I showed Yahoo in comparison to Google (NASDAQ:GOOG) (NASDAQ:GOOGL) and AOL (NYSE:AOL). The following table shows a comparison of growth estimates for these names for 2014 and 2015, as of my previous article and then Wednesday. The estimates for Yahoo are non-GAAP for both revenues and earnings per share, and the Google and AOL earnings per share numbers are non-GAAP as well.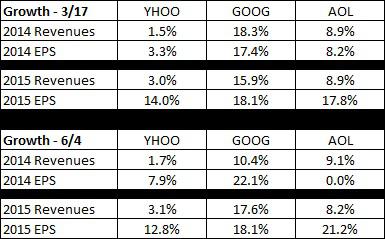 Let me first start with Google. There's been a wild swing in 2014 estimates as the company is selling off parts of Motorola. With that sale, Google won't generate as much revenue, but the company won't accrue further losses for that segment, so EPS will hopefully rise. Google also had another revenue and earnings miss in April, which has impacted estimates somewhat. In terms of growth, however, Google is still the leader in this space.
The other name to look at is AOL. While revenue estimates have not changed as much, you'll notice that 2014 EPS are now expected to be flat. This is after a large Q1 earnings miss. AOL looked like a much better investment than Yahoo back in March, but flat 2014 earnings takes a bit out of that argument. For this year and next, Yahoo still isn't the best growth name here, but the comparisons are getting better.
A much improved valuation:
With Yahoo approaching $40 around the time of my last article, I was not a fan of the valuation. But with shares under $35 now, my opinion changes completely. In the table below, I've compared valuations as of my previous article and currently. As a reminder, please see the note above for details on which numbers are based off of GAAP and non-GAAP numbers. Additionally, the numbers for my previous article were based off the prior Friday's closing prices, which for example was $37.60 for Yahoo. On that Monday, the day my article was published, Yahoo shares opened at $39 and just missed $40 a few days later. For Google shares, I am using the Class A GOOGL shares for pricing as they have voting power.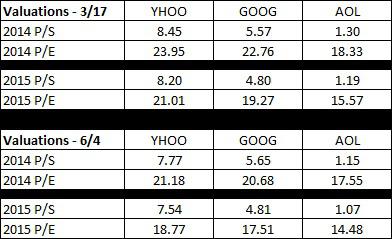 Overall, Yahoo's valuation has improved mightily against the other two companies. For instance, in my last update, Yahoo traded at a 5.25% premium to Google on 2014 P/E and a 30.63% premium to AOL for the same period. Those premiums are down to 2.41% and 20.68%, respectively, based on Wednesday's close. Yes, Yahoo is still trading at a premium to these other names, but most of the premiums look a lot better now.
The buyback looks a lot better here:
This is what the company said on Page 23 of the 10-Q filing regarding the share repurchase program:
In May 2012, the Board authorized a stock repurchase program allowing the company to repurchase up to $5 billion of its outstanding shares of common stock from time to time. That repurchase program, which by its terms would have expired in June 2015, was exhausted during the first quarter of 2014. In November 2013, the Board authorized an additional stock repurchase program with an authorized level of $5 billion. The November 2013 program, according to its terms, will expire in December 2016. The aggregate amount available under the November 2013 repurchase program was approximately $4.6 billion at March 31, 2014. Repurchases under the repurchase programs may take place in the open market or in privately negotiated transactions, including structured and derivative transactions such as accelerated share repurchase transactions, and may be made under a Rule 10b5-1 plan. During the three months ended March 31, 2014, the company repurchased approximately 12 million shares of its common stock under its stock repurchase programs at an average price of $37.65 per share for a total of $450 million.
So most of the current buyback has not been executed yet, with the remaining $4.6 billion or so representing more than 10% of Yahoo's current market cap. Additionally, you'll notice that Yahoo bought back shares at an average price of $37.65 in Q1. That was an okay price, as it wasn't near the $40 high Yahoo traded at in March. However, we know that shares have come down, as you can see in the 6-month chart below.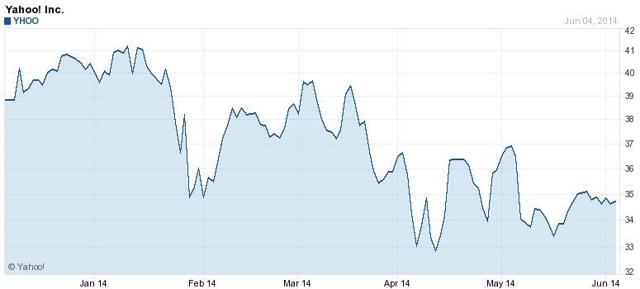 (Source: Yahoo! Finance)
The average daily closing price for Yahoo so far in Q2 is under $35, basically around where shares trade at currently. That's nearly $3 below where Yahoo's average was in Q2, so even if Yahoo only spends the name nominal amount on shares in Q2, the company will get more shares back. Perhaps, with shares dipping towards $32 at one point, Yahoo might even spend a little more with shares lower. Yahoo has already reduced its share count tremendously since the end of 2011, as you can see in the table below.

If Yahoo exhausted the remainder of its buyback at $35 a share, you'd be talking about 131 million shares that could be bought back. At $40 a share, you're talking about 115 million shares, and at $45, it would be roughly 102 million. Don't forget though that the number of shares bought back won't necessarily be equal to the reduction in the outstanding share count. Yahoo, like pretty much every company, has some dilutive securities, like executive options, that do offset part of the buyback. Yahoo also has some convertible debt, but at this point, that debt does not look like it would be converted to equity. For now though, it will be interesting to watch the decline in Yahoo's share count.
Final thoughts:
A couple of months ago, I was not a big fan of Yahoo, and believed the stock presented a potential short opportunity. But with estimates rising recently and shares coming back down below $35, my opinion has changed. Yahoo's buyback should certainly be stronger at these levels, and we could be just two months away from the Alibaba IPO. The valuation has certainly improved, and with the share count coming down by the quarter, I do think Yahoo starts to present an opportunity at current levels.
Disclosure: I have no positions in any stocks mentioned, and no plans to initiate any positions within the next 72 hours. I wrote this article myself, and it expresses my own opinions. I am not receiving compensation for it (other than from Seeking Alpha). I have no business relationship with any company whose stock is mentioned in this article.
Additional disclosure: Investors are always reminded that before making any investment, you should do your own proper due diligence on any name directly or indirectly mentioned in this article. Investors should also consider seeking advice from a broker or financial adviser before making any investment decisions. Any material in this article should be considered general information, and not relied on as a formal investment recommendation.