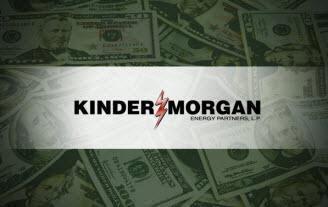 Overview
Richard Kinder has made a series of high profile insider buys of Kinder Morgan Inc. (NYSE:KMI) recently. Some have dismissed the relevance of these purchases due to the fact Kinder is worth about $8 billion and the amounts in question are essentially chump change to him. Yet, on Tuesday, it was revealed a different insider has stepped up to the plate and made a significant open market purchase. In the following sections I will review the recent insider buys and give my take on just how much weight you should give to these transactions.
Kinder Morgan Share Statistics
Kinder Morgan's watchwords are "Run by shareholders, for shareholders." Currently, the total number of insider shares held is 358.3 million.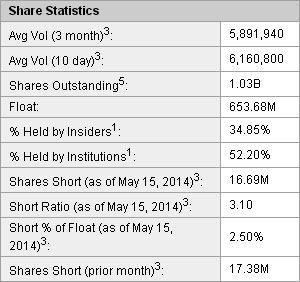 (Source: Yahoo.com)
This amounts to 34.85% of the shares outstanding. Institutional investors own 52.20% of outstanding shares as well.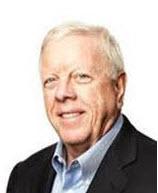 Richard Kinder's position
CEO Richard Kinder recently disclosed a new purchase of 100,000 shares of KMI for $3.2 million. His share count should now be somewhere in the vicinity of a quarter billion shares of KMI. The stake is valued at nearly $8 billion. Kinder owns nearly 25% of KMI. I have not encountered a company yet where the Chairman's ownership interest of a company was this large. You need look no further for an excellent example of putting your money where your mouth is. Management's and shareholders' interests are unquestionably aligned in my mind.
Some question why Kinder doesn't own more of Kinder Morgan Partners L.P. (NYSE:KMP). I believe the answer is pretty simple, it's the tax consequents of owning an MLP. Nevertheless, this is purely speculation. Yet, the topic does bring forth a point I'd like to make regarding the company's current sponsored governance structure. One of the major benefits of the structure is that it allows the opportunity for the greatest number of investors to participate. I imagine there are numerous investors that are grateful for the opportunity to be able to own a piece of Kinder Morgan without having to deal with MLP tax related issues. For some, this is the primary reason they own MLP units. Yet, for others it may be a different story. Below is a diagram of the corporate structure of Kinder Morgan for you to peruse at your leisure. I thought I'd add this slide in since there was so much confusion regarding the relationship between the Kinder Morgan companies.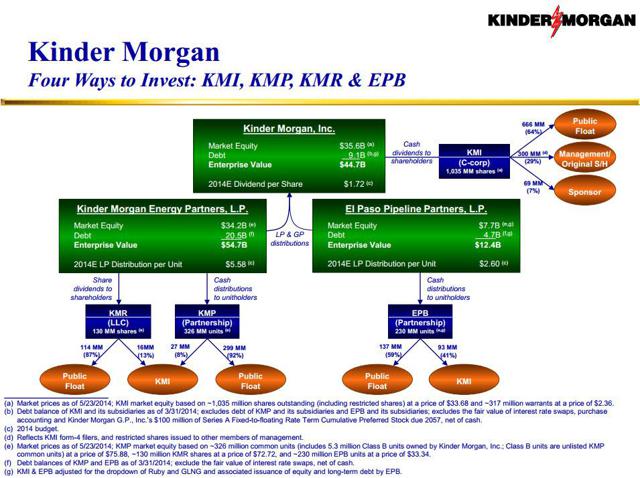 (Source: KinderMorgan.com)
2013 Proxy Statement Insider Share Statistics
Below is a snippet of the most recent 2013 Kinder Morgan proxy statement. As you can see Richard Kinder owns a significant amount of shares in KMI.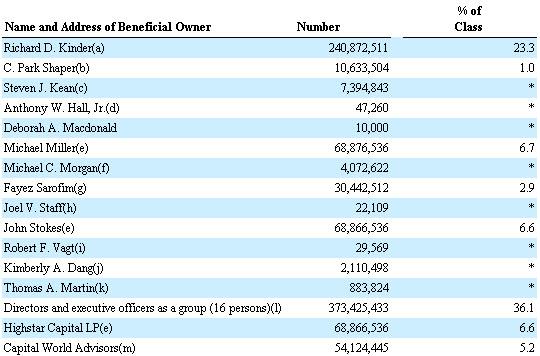 (Source: SEC.gov)
Furthermore, there are several major shareholders with significant positions. One of which is Fayez Sarofim. Sarofim is the one who just purchased another 200,000 shares on June 2nd. The total value of the purchase is $6.7 million.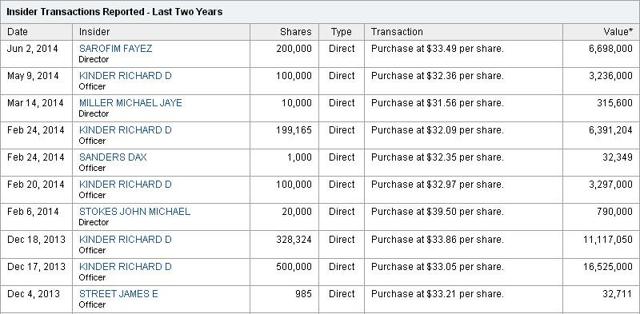 (Source: Yahoo.com)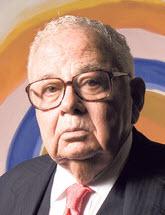 The Lion in Winter Roars
Sarofim known as the "Lion in Winter' is one of KMI's original shareholders. He was a manager of the firm before it went public in early 2011. Kinder Morgan has been one of Sarofim's greatest investments. Sarofim is in his late eighties now. He originally is from Egypt and came to the U.S. in 1946. He later founded the Houston-based asset management firm, Fayez Sarofim & Co. I consider him the "Warren Buffett" of Egypt. His investing style is to buy quality stocks and hold them forever. His most famous investing quote is:
"People always look for the needle in the haystack. Why not buy the haystack?"
Sounds kind of like Warren Buffett, wouldn't you say? I like his style. This purchase caused me to stand up and take notice. Sarofim does not play games or buy shares as a publicity stunt, of this I have no doubt.
Are insider buys really that great of an indicator?
Any time a company has recent significant insider buys investors stand up and take notice. Insider buys can be a useful indicator. Insiders have exclusive information on the company performance. The logic goes like this, if insiders are risking their own money on the stock, usually they should have good reasons. Furthermore, when several insiders buy the stock at the same time, this adds weight to the indicator. The often repeated mantra is:
"If insiders are buying the stock, it is a positive indicator. After all, who better to know the current business environment and the future prospects of the company than the insiders."
This assertion would seem to make sense. Insiders may sell a stock for a multitude of reasons. On the other hand, if they are buying the stock, it can mean only one thing, the stock is about to pop. The insiders should have intimate knowledge that things are looking up.
The flip side of the coin
There are some reasons to be wary of putting too much weight in regards to insider buys. Here are my top three.
Insiders are good at business not investing
Insiders are human. People do make mistakes. Insiders may be great business people, but not very good investors. Nonetheless, Sarofim has more than proven himself to be a great investor. I don't see this as an issue.
Insiders have rose colored glasses
Some insiders may become infatuated with their own company and overvalue the stock. Being part of the organization's operation makes them a wee bit biased sometimes. This could lead to them overvaluing the stock when it actually isn't. They are essentially void of objectivity.
Ulterior motives may be present
Sometimes insiders will make purchases simply as a publicity stunt. Nonetheless, this can never be proven. For instance, one purpose may be to build credibility for the company as it seeks loans. If the CEO and other top executives are buying stock in the open market, this is one way to send a huge positive signal that the company is doing great.
My Take
For what it's worth, I do not feel any of these drawbacks apply to the recent insider buys related to Kinder Morgan. I brought these points up to provide balance. You can't simply look at recent insider buys alone and say, the stock must be a lock to go up. You have to look at the big picture. Fortunately, the future appears bright for Kinder Morgan.
Blue Skies Ahead
I see blue skies ahead for the company. And by the looks of the charts, I am not alone. The worm has definitely turned evidenced by the reversal of trend in recent months. Nevertheless, there is still plenty of meat on the bone for potential investors. At least 30% upside remains just to reach previous highs.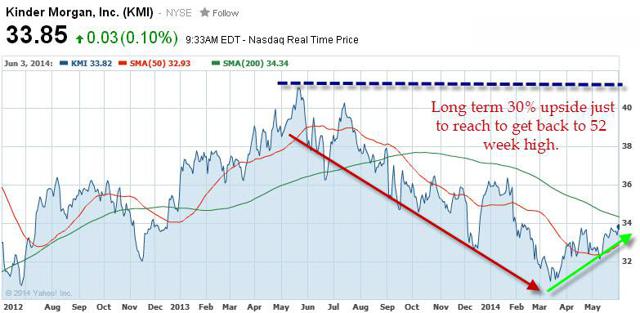 (Source: Yahoo.com)
A stealth rally has occurred over the past quarter and appears to be picking up steam. KMI shares are up 6.89% for the quarter and 3.36% for the month. Moreover, the 50-day SMA is now trending upward and a golden cross event seems imminent.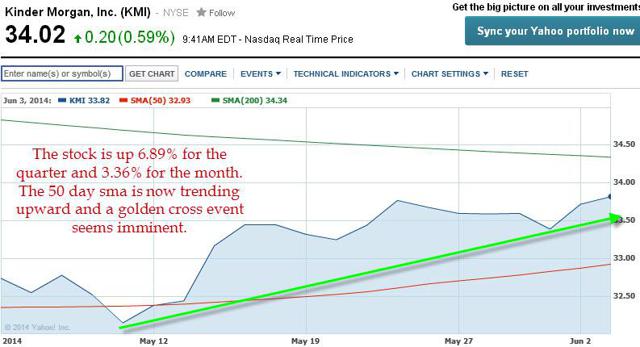 (Source: Yahoo.com)
Downside Risks
There are always downside risks related to any investment. Below is a list of the top potential downside risks I see presently.
Regulatory risks related to Products Pipeline FERC / CPUC cases, Natural Gas FERC rate cases, and potential legislative and regulatory changes.
Upstream operator crude oil production volume uncertainty
Commodity price uncertainty
An economic downturn
Rising interest rates - The full-year impact of a 100 basis point increase in floating rates equates to an increase of approximately $53 million in interest expense for KMP.
Conclusion
The massive insider ownership in KMI is impressive. The recent buys over the past six months have been at essentially at the same level the stock is trading at now. Fayez Sarofim is no joke and knows what he is doing. I put a high level of credence in his recent 200,000 share $6.7 million purchase.
Final Thought
The company is well positioned to take advantage of the tremendous growth prospects offered by the revival of the North American oil and gas industry. Kinder Morgan has an unparalleled asset footprint and a well-diversified midstream energy platform that provides stable, fee-based cash flow. Kinder continues to focus on maintaining a strong balance sheet, has an attractive project backlog, an established track record, and is the preeminent midstream industry leader. Nonetheless, always layer into any position over time to reduce risk.
Disclosure: I have no positions in any stocks mentioned, and no plans to initiate any positions within the next 72 hours. I wrote this article myself, and it expresses my own opinions. I am not receiving compensation for it (other than from Seeking Alpha). I have no business relationship with any company whose stock is mentioned in this article.