Internet and social media stocks are recovering after a few months of strong selling pressure. Facebook (NASDAQ:FB) has fared well in this prolonged selloff, and is showing relative strength when compared to its major peers. This shows that investors were reluctant to sell Facebook, and were ready to sell most of the other social media and internet stocks during the momentum selloff in the last three months. Now that Facebook is overcoming its two-month price range, the short-term momentum might take its share price closer to my $90 price target. In this article, I will also try to explain why the $90 price target is more realistic than many Seeking Alpha readers and investors believe (especially the bears).
Strong fundamental momentum should continue going forward, although Facebook faces tougher comps in 2H 2014
There is no reason to believe that Facebook's strong fundamental momentum will not continue going forward. In fact, the company has recently announced new initiatives which should additionally boost revenue growth. However, Facebook will face tougher growth comps in the second half of 2014, because this was the time that mobile growth ramped up significantly. In my previous article on Facebook, I analyzed the potential growth drivers that should replace the core growth areas that are propelling the company's growth at the moment: Instagram, WhatsApp and Creative Labs. However, what is also important for the near-term growth is the expansion of video-ads. Facebook has launched news feed video ads to seven more markets last week and the company does not expect big 2014 sales from these 15-second video ads, and it is proceeding cautiously to avoid upsetting users. While the impact will be limited in 2014, it will certainly add a new and powerful growth engine for Facebook in the future although some results will already be visible in 2014. The Publicis deal is another important milestone for Facebook. The $500 million deal involves a "co-creation of [ad] product around data, video and images, including core Facebook and Instagram." Publicis' clients include major brands such as Coca-Cola, P&G and Verizon, and should be very valuable customers which will boost the monetization efforts for Facebook going forward.
As I said before, Facebook faces tougher comps in the second half of 2014, which should translate into lower revenue and earnings growth in that period. However, I believe that the strong sequential momentum (and the above mentioned growth drivers) should keep revenue growth north of 50% and 45% respectively in Q3 and Q4 as opposed to current analyst estimates for 48.5% and 38.4% in Q3 and Q4 respectively. My expectations are also pretty much in line with earnings and revenue surprises that Facebook posted in previous quarters. So, there is room for upward analyst estimate revisions which are bound to make the forward valuation more compelling.
Why my $90 price target is more realistic than many believe
In my previous article on Facebook, I stated that Facebook should be trading at $90 by the end of 2014. This price target was based on the 2014 EV/EBITDA ratio of 30. There were several comments that pointed out that this is an unrealistic price target that is based on "bubble multiples." While the 30x EBITDA would indeed be a high multiple for a company that is not growing or growing more slowly than Facebook, I would have agreed with that opinion. But, Facebook is delivering outstanding revenue and earnings growth rates, and all the stock has to do is keep its current valuation in the next seven months to get to $90, since its TTM EV/EBITDA ratio is currently 32 (so, add a 6% discount to the year-end multiple). And as I mentioned before, there is room for additional upside in 2014 revenue and earnings expectations, so the price target could be even higher based on EV/EBITDA ratio of 30, or investors will get a lower valuation at year-end at $90 per share. The EV/EBITDA chart below shows the EV/EBITDA ratio range in the last two years, and readers can see that the ratio has rarely been below 30.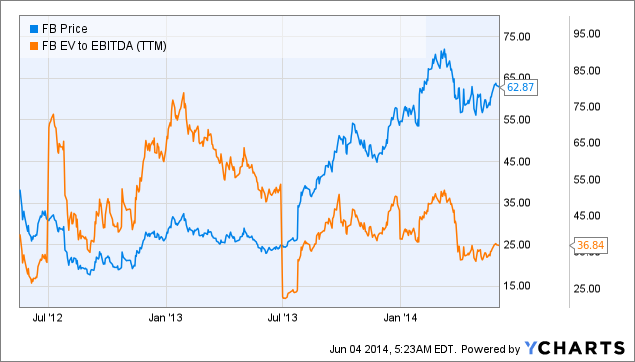 Source: ycharts.com
A look at the chart
After looking at Facebook's price chart, I am more confident in my bullish assumptions. Facebook has finally managed to cross the 50-day moving average line and the volume on down days is drying up, which means that there is little selling pressure. If the general market stays in an uptrend, Facebook will certainly be one of the leading stocks and I expect Facebook to make new all-time highs in the next couple of months, on its way to my $90 price target. The next big catalyst for the stock price should be the Q2 earnings report which is due in the second half of July.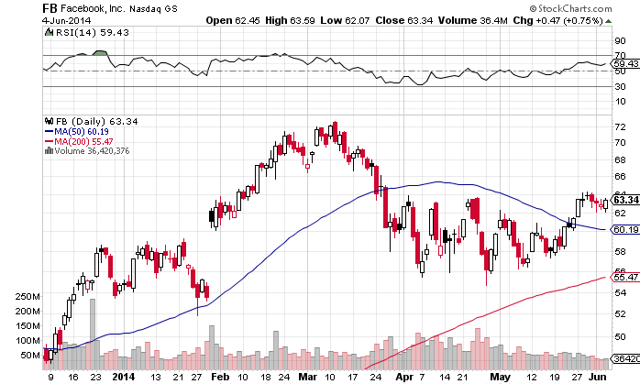 Source: stockcharts.com
Conclusion
Facebook is benefiting from strong fundamental momentum across its business platform. The strong demand for its ad products and the long-term growth initiatives should keep the company young and growing at a rapid pace in the next couple of years. With the recent developments which have been quite positive, I am more confident in my $90 price target, which should be achieved by the end of 2014.
Disclosure: I am long FB. I wrote this article myself, and it expresses my own opinions. I am not receiving compensation for it (other than from Seeking Alpha). I have no business relationship with any company whose stock is mentioned in this article.