While most of its major competitors have a strategy in place of growing organically and via acquisitions, AMC Entertainment Holdings (NYSE:AMC) has elected to generate growth with its existing assets.
So far this strategy is working well for it, as its focus on quality and innovation has helped it outperform in key metrics, while positioning itself for long-term incremental growth.
By incremental, I don't mean it doesn't have some meaningful catalysts that could push the company share price higher fairly quickly. Rather, I mean it has decided to move forward slowly with its pricing - both with concessions and movie prices - so it doesn't get overly aggressive after its numerous improvements and resultant better customer experience.
To show how its strategy is working against its competitors, admissions per screen grew 7.3% in the latest quarter, while its competitors grew at a 5.4% per screen. According to the company, that is the ninth quarter in a row it has outperformed its peers.
A challenge AMC faces is it has to balance the changes across its circuit, as younger customers prefer a more basic and less expensive experience, while older customers like the perks, and are more than willing to pay for them.
(click to enlarge) source: StockCharts.com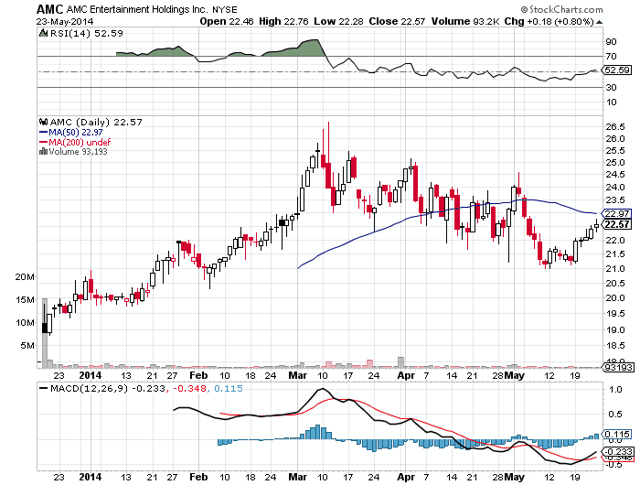 Click to enlarge
How its Strategy Practically Works
We'll get more into the details of the organic growth strategy of AMC a little later. First we'll look at how it's re-seating remodel is generally set up.
After a specific remodel is completed, over approximately the first year it goes through a trial period where the company watches the attendance numbers; waiting to see how much they increase, as well as how quickly it takes to get there.
Once the jump in attendance approaches targeted levels, which has been taking about a year to reach, the company boosts its average ticket price (ATP) at the specific theater moderately afterwards. When the company sees the change in behavior taking place and holding, it then more aggressively increases ATP a little later in the second year.
The key is getting customers to get used to the better seating. When that is accomplished, along with a smaller price increase, the customers enjoy a much better experience and aren't resistant to the larger increase that comes a little later in the process.
How the company determines when to implement the price increase is when the theater approaches attendance capacity. At that time the customer is deemed ready to accept paying more for the better seating and service.
Why this is important to know is those shareholders and investors looking for an immediate and quick return on the re-seating investment will be disappointed and think AMC may be underperforming, when in fact it is being disciplined in working out its plan.
This isn't being done for the sake of spacing out its revenue growth, but to weaken customer resistance by not providing too much sticker shock over a short period of time. It is a good strategy that has been working well for the company.
Bear in mind that while the re-seating is a big part of the organic growth strategy of AMC, it is in conjunction with dining in the theater, added restaurants, a better concession mix, and offering alcohol, among other new services.
Details of AMC's Strategy
Food and beverage revenue jumped nicely in the latest quarter, climbing 8.2% against the same period of 2013. Along with a record concession sales by the company, other catalysts were its growing number of MacGuffins lounges, Dine-In Theatres, and the increasing numbers of patrons buying into its AMC Stubs loyalty program.
In the latest quarter the average customer spent $4.05 on concessions, the top performance ever by the company. That is primarily from successful experimentation with product mix.
I find this extremely important for future growth prospects, as it requires the lowest inputs to produce significant results. That means very high margin for the company in this segment.
The Dine-In Theatre concept of AMC also has strong potential, although it has limited impact at this time because it only has 13 of them in operation.
There are two different types of Dine-In Theatres. One is for a more casual dining experience, called Fork & Screen, while the second is a more upscale, quality experience dubbed Cinema Suites. They appeal primarily to two different demographics, with younger people usually preferring the casual experience, and mature people the upscale experience.
With the Fork & Screen option, customers have to be 18 or older to participate, or be accompanied by an adult. With the Cinema Suites option, customers must be 21 or older to use the service. Included with Cinema Suites is a personal recliner with service that can be summoned at the push of a button. Both services offer a full cocktail bar.
MacGuffins lounges is another interesting innovation by AMC that has a lot of potential, as they're set up to be a destination. There are currently 66 MacGuffins lounges across AMC's circuit.
How it works is those attending the theatre can meet in the lounge before and after the movie to hang out and buy food and/or drinks. Anything acquired can be taken into the auditorium.
Instead of just offering a movie, it offers a place for family and friends to hang out, instead of leave and go somewhere else for that purpose. This has a lot of potential to add ancillary revenue and earnings to the company, understanding that usually the longer people remain in a business location, the more money they spend there.
Overall, the latest figures show the food and beverage sales at AMC came in at $181.8 million, an increase of 8.2%. Of that $14.9 million, or 8.2%, 2.8% was the result of the initiatives mentioned above, which comes to a little over $417,000 for the quarter.
Together new food and beverage initiatives added $0.10 to the company. It could have been better, but the caution of the company in raising prices too soon, as well as the surprising success of its AMC Stubs program shaved off about $0.02 off the top.
What investors need to understand is AMC does have the pricing power in place to gradually change this, but it has chosen to do so, as mentioned earlier, at a slower pace in order to ease consumers into the emerging pricing points, which will trend higher.
AMC Stubs
AMC Stubs is a loyalty program that offers the usual variety of rewards for those that spend a lot of time and money at AMC theatres. This has grown at a quicker pace than anticipated by AMC because of higher attendance, which has resulted in the loss of about $0.02 per customer in its food and beverages segment.
Although that is a short-term negative catalyst, it is a good long-term one, as the company and investors can count on these customers coming back time and time again, which offers some predictability to the performance and outlook for the company. At this time 2.6 million AMC Stubs member households account for approximately 20% of overall attendance.
The improving percentage of renewals point to the program have sustainable long-term success. In the latest quarter the number of AMC Stub renewals improved by four percentage points, the best it has ever done.
Over time this should be considered a strong positive strategy of the company, as it will level out. And even if attendance continues to rise, that will in and of itself boost food and beverage sales. So even if the result is a drop in earnings per customer, the company will still benefit from it because of the increased scale. Either way it wins.
Overcapacity
In many of the markets AMC competes in, there are overcapacity seating issues. So while on the face of things it appears the loss of the number of seats from the re-seating initiative will result in less business, the fact is it will only improve the performance of the company because the seats weren't being filled anyway because of there being so many available in the various markets.
So as other companies also engage in changing their seating arrangements, that will help each local market because it will drive consumers to better seating, which generates higher revenue and earnings.
Since people weren't filling many of the available seats, this is a positive for AMC, as it should generate more profits, as its higher-priced seating attracts more patrons.
This will take some time, but early results reveal it's definitely a positive move that will make the company more profitable as people adjust to higher prices with a better experience.
Again, we must remember younger people with less disposable income will usually opt for a more generic, low-price venue. In that case the usual concessions and ticket price will be the primary catalysts. It's the consumers with more disposable income and demand for premium seating and services which are the targets of AMC's seating, food and beverage improvements.
While AMC has led the way in a lot of these improvements in the industry, it still has a competitive advantage because it has become efficient at running the new programs, which will help it to more quickly scale it in the appropriate markets.
Breaking it Down
AMC will continue to be challenged because of its lack of ownership of theaters in the urban areas it operates in, as it pressures margins in comparison to its competitors. That's why the company, over time, needs to acquire more of the theaters in order to mitigate that problem.
For now that's not going to happen because the company isn't going to increase its leverage, and it has only completed about 25% to 30% of it re-seating strategy, which is where most of its spend is going to go.
In the short term AMC is likely to underperform its competitors because it is hesitant to meaningfully boost prices significantly in food and beverage or ticket prices. That means it's working on growing its attendance, while foregoing growth in margins and earnings for now.
Even so, it was able to produce an adjusted EBITDA of $102 million in the quarter, up 24.2% over last year in the same reporting period. Much of that was the result of an increase in attendance and lower G&A expenses. With re-seating adding new customers to the company, it appears even with the higher theater rents, it can be slightly overcome as long as the company doesn't incur any major increase in rent prices. Last quarter rent increases were minimal, which helped it outperform. The 1% increase in rent expense came from more snow removal costs.
On the other side of the urban markets it primarily serves in, is it is positioned to take advantage of the higher disposal income consumers in those markets have. This is why the re-seating strategy is a good one, as people desire the comfort associated with the new seats, and are willing to pay extra for them.
In the first quarter the company enjoyed an increase in attendance at those refitted theaters of a huge 49%. When you consider it's at most, only 30% into the process, you can see the huge upside the company has ahead of it.
The results of that increased attendance was admissions revenue jumping 63%. Also important was at those specific theaters the company was able to raise ticket prices by 10% without missing a beat. The average ticket price was up 1.7% across the entire theater circuit.
At this time AMC has about 4,950 screens at 343 locations. Of those, 410 screens at 37 locations have been reseated. Give or take about 100 screens, that means the company will end up with about 1,500 screens reseated upon completion of the project.
The easiest way to look at how all of this will impact the company is to look at the 8.2% increase in food and beverage sales, as that metric takes into account not only the 2.8% increase in revenue from the various new eating and drinking options, but also the increased attendance attributed directly to new customers being attracted by the luxury seating and eating experience.
With that in mind, the outlook for food and beverage is it at least triple what it is now (on the low end), which should bring in about $12.7 million a quarter, assuming a 7% increase. That would be over the next two to three years. It would of course increase from quarter to quarter; but that would be a base increase I am looking for.
As for admission revenues, that should grow by about 7.8%, as it did last quarter. Since admissions generated $409 million in revenues, that points to revenue growth of about $32 million. These numbers are dependent upon the re-seating and additional food and beverage venues being completed on time.
The remaining $32 million in other revenue is from the advertising and other ancillary sources. This isn't likely to change much, although increased attendance could help boost that number some.
Over time, the food and beverage unit will add over $0.30 to the company, based upon its existing $0.10 already added, with less than a third of the re-seating completed.
Conclusion
I think AMC's strategy of not attempting to boost prices to get everything it can out of its initiatives in the short term is an excellent strategy. While it may appear to underperform in the near term, over time it has the powerful ability to raise ticket and food and beverage prices when it needs to. This is a terrific moat that should provide a good defense against its competitors.
The fact that it is willing to forego some short-term profits is a good sign the management at the company are very disciplined in their approach; willing to take some potential flak and disgruntlement from shareholders and investors, while positioning itself to manage earnings going forward. I really like this strategy, and it will offer flexibility to leaders at the most opportune times. Understanding this strength is a key to having confidence in the performance of AMC.
That means in slower seasons the company can hold its pricing where it's had, as it has recently, in order to keep consumers coming to its theatres. That's why it grew attendance in the latest quarter.
When thinks pick up and consumers are more confident in the economy, it can boost prices without missing a step on attendance and food and beverage sales.
With leverage standing at 3.5X, and being near the top of its comfort zone, I would think the company will look at growing organically for some time, rather through acquisitions and debt.
Since that's its stated purpose, and it is adhering to that strategy, it appears its set for solid returns in the future.
One thing I would like to see is AMC pursue more of an ownership role it its locations. At this time it only owns about 5% of its theaters, which gives it less flexibility concerning rental and operating leverage.
I understand it's hard to juggle everything at one time, as it targets the consumer experience first, which is paying off strongly for the company. But as it does this, taking a larger ownership in its locations would make the company more attractive over time.
As it is, I still like AMC Entertainment Holdings, and I see it having a profitable future because of the steps it has taken on its way to long-term profitability. It doesn't hurt that it also has a 3.5% dividend yield as well.
Having said all of this, AMC still is subject to the product Hollywood puts out, and its fate and that of its shareholders are entwined with a continual string of hits, as well as a healthy economy.
On AMC's side, it's doing the right things to be a viable company, and adding the premium seating and services will allow it to perform better than in the past, because people with disposable income will continue to spend during a slow economic period of time, whereas consumers with less disposable income tend to cut back on spending on entertainment.
In that regard I see AMC as having positioned itself to perform very well in the years ahead.
Disclosure: I have no positions in any stocks mentioned, and no plans to initiate any positions within the next 72 hours. I wrote this article myself, and it expresses my own opinions. I am not receiving compensation for it (other than from Seeking Alpha). I have no business relationship with any company whose stock is mentioned in this article.