The following is a list of stocks in a new uptrend, as defined by the Average Directional Index, or ADX(14) index. All of these stocks have bullish options sentiment…

To create the list, we started with a universe of stocks in an uptrend that have an ADX(14) value above +20, which signals strengthening upward momentum. We then reduced the size of this universe by only focusing on stocks that have very low Put/Call ratios, based on open interest in the options market.

ADX data sourced from Stockcharts.com, options data sourced from Schaeffer's Research. Full analysis below.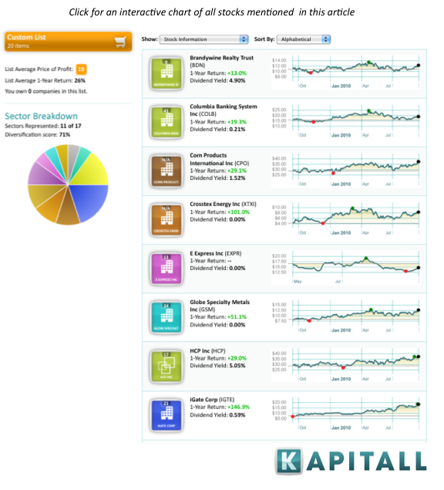 1. Lawson Software, Inc. (NASDAQ:LWSN): Call open interest at 16,482 contracts vs. put open interest at 229 contracts (Put/Call ratio at 0.01). Daily ADX Line(14) stands at 20.32.

2. iGate Capital Corp. (NASDAQ:IGTE): Call open interest at 895 contracts vs. put open interest at 30 contracts (Put/Call ratio at 0.03). Daily ADX Line(14) stands at 21.5.

3. Transcanada Pipelines Ltd. (NYSE:TRP): Call open interest at 1,849 contracts vs. put open interest at 81 contracts (Put/Call ratio at 0.04). Daily ADX Line(14) stands at 21.53.

4. Express Inc. (NYSE:EXPR): Call open interest at 1,787 contracts vs. put open interest at 138 contracts (Put/Call ratio at 0.08). Daily ADX Line(14) stands at 20.25.

5. Crosstex Energy Inc. (XTXI): Call open interest at 500 contracts vs. put open interest at 69 contracts (Put/Call ratio at 0.14). Daily ADX Line(14) stands at 20.42.

6. Southern Union Co. (NYSE:SUG): Call open interest at 742 contracts vs. put open interest at 132 contracts (Put/Call ratio at 0.18). Daily ADX Line(14) stands at 20.66.

7. Vanguard FTSE All-World ex-US (NYSEARCA:VEU): Call open interest at 2,014 contracts vs. put open interest at 538 contracts (Put/Call ratio at 0.27). Daily ADX Line(14) stands at 20.47.

8. Sanofi-Aventis (NYSE:SNY): Call open interest at 29,151 contracts vs. put open interest at 7,824 contracts (Put/Call ratio at 0.27). Daily ADX Line(14) stands at 20.54.

9. Liberty Media Holding Corporation Interactive (LINTA): Call open interest at 27,528 contracts vs. put open interest at 7,462 contracts (Put/Call ratio at 0.27). Daily ADX Line(14) stands at 20.72.

10. Unum Group (NYSE:UNM): Call open interest at 5,038 contracts vs. put open interest at 1,419 contracts (Put/Call ratio at 0.28). Daily ADX Line(14) stands at 20.14.

11. Lazard Ltd (NYSE:LAZ): Call open interest at 12,141 contracts vs. put open interest at 3,438 contracts (Put/Call ratio at 0.28). Daily ADX Line(14) stands at 21.11.

12. Brandywine Realty Trust (NYSE:BDN): Call open interest at 445 contracts vs. put open interest at 128 contracts (Put/Call ratio at 0.29). Daily ADX Line(14) stands at 20.63.

13. Globe Specialty Metals Inc. (NASDAQ:GSM): Call open interest at 496 contracts vs. put open interest at 155 contracts (Put/Call ratio at 0.31). Daily ADX Line(14) stands at 20.15.

14. TiVo, Inc. (NASDAQ:TIVO): Call open interest at 64,706 contracts vs. put open interest at 20,919 contracts (Put/Call ratio at 0.32). Daily ADX Line(14) stands at 23.03.

15. NCR Corp. (NYSE:NCR): Call open interest at 11,209 contracts vs. put open interest at 3,645 contracts (Put/Call ratio at 0.33). Daily ADX Line(14) stands at 20.17.

16. Columbia Banking System, Inc. (NASDAQ:COLB): Call open interest at 90 contracts vs. put open interest at 32 contracts (Put/Call ratio at 0.36). Daily ADX Line(14) stands at 20.67.

17. Worthington Industries, Inc. (NYSE:WOR): Call open interest at 2,047 contracts vs. put open interest at 767 contracts (Put/Call ratio at 0.37). Daily ADX Line(14) stands at 21.21.

18. Corn Products Intl Inc. (CPO): Call open interest at 1,484 contracts vs. put open interest at 557 contracts (Put/Call ratio at 0.38). Daily ADX Line(14) stands at 20.63.

19. HCP, Inc. (NYSE:HCP): Call open interest at 3,541 contracts vs. put open interest at 1,333 contracts (Put/Call ratio at 0.38). Daily ADX Line(14) stands at 21.12.

20. Rackspace Hosting Inc. (NYSE:RAX): Call open interest at 21,197 contracts vs. put open interest at 8,069 contracts (Put/Call ratio at 0.38). Daily ADX Line(14) stands at 20.37.


Disclosure: No position