The Gaming Inspection and Coordination Bureau of Macau released the casino revenue data in May, which showed a yearly growth of 9.3% but fell short of analyst expectations of 13-15%. In response to the news, Macau-gaming-related stocks, such as Las Vegas Sands (NYSE:LVS), Wynn Resorts (NASDAQ:WYNN) and MGM Resorts (NYSE:MGM) plunged around 2%-6% in the last trading session. Although some people may consider that the price decline was overdone since the revenue growth still maintained at a high single-digit percentage, smart money, in my opinion, should launch short positions in these stocks or at least stay on the sidelines in the next few months, based on the following reasons:
1) Impact of Beijing's efforts to combat corruption and money laundering
Casino revenue data in May is an alarming signal echoing previous investor concerns over the impact of the crackdown of corruption and money laundering on the casino operations. Under the leadership of President Xi, the China government has been committed to combating these illegal activities and has implemented strict measures in Macau from time to time, such as requiring monthly reports from casinos and junkets on suspicious transactions and players. Since then, the number of high rollers and government officials who used to be spotted betting millions has dwindled. In addition, China UnionPay, an issuer of credit cards, recently shut down the illegal use of cards and POS terminals in Macau, restricting touts in the mass halls of casinos from helping gamblers to access cash from their cards through bogus purchase transactions. Such measures contributed to the below-expectation casino revenue growth in May. According to the Congressional-Executive Commission on China, there are "ill-gotten" funds worth of $202 billion channeling through Macau each year. As an effective means to combat corruption and money laundering, more policies pinpointing Macau casinos can be expected from the Beijing government.
2) June data could be a big miss due to the World Cup
World Cup could definitely keep gamblers away from casinos and the market seems underestimating this World Cup effect which poses the threat of first yearly revenue decline in the past five years. In 2010, the Macau gaming revenue suffered a 20% monthly fall during the World Cup period. If the gaming revenue experiences the same percentage drop in this June, it could amount to MOP25.9 billion (80% of MOP32.4 billion), representing an 8% yearly decline from MOP28.3 billion in June 2013. The negative figure could possibly stun the market and create huge downward pressure on the stock prices in the sector.
3) More unfavorable policies to come, without positive catalysts
According to Southern Metropolis Daily, the Macau government is studying the possibility to place a measure starting from this July to shorten the number of days mainland transit visitors allowed to stay in Macau from 7 days to 3-5 days. Moreover, the smoking ban in the mass halls of casinos will be enacted in October, which may largely reduce the time of smokers staying at gaming tables, or may give gamblers time and opportunities to consider leaving during smoking breaks. On the other hand, the legislative bill that would legalize casino gambling in Japan is only expected to be passed in an extraordinary session in the autumn. Therefore, I do not see any substantial catalysts that can force a rebound of the sector in the next few months.
4) Weak price action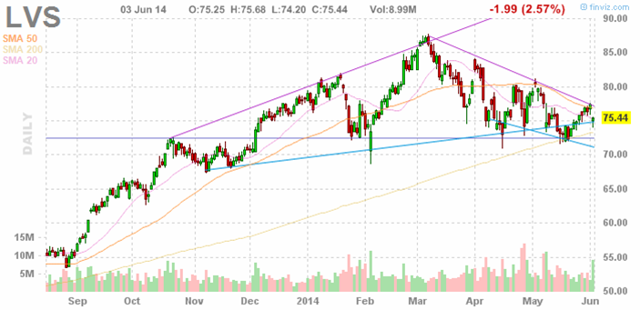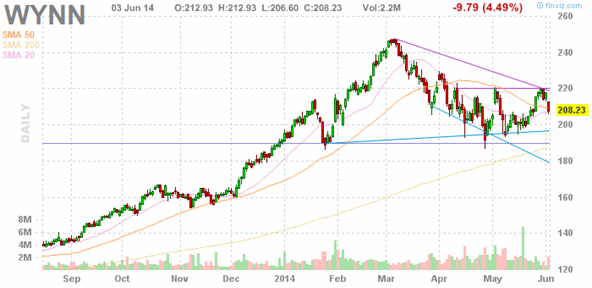 (Source: Finviz.com)
Since March 2014, both of the above charts have experienced turnarounds and established clear downtrends. Despite the historical highs achieved by DIA and SPY during the same period, both LVS and WYNN were generating negative returns for their investors. LVS has been unable to break the downward trend line (lower highs), while WYNN failed to break the resistance at $220 with its release of impressive 2014Q1 results. The RSI of both stocks remained under 50 most of the time since the beginning of March. If DIA and SPY start to consolidate from their peaks, it is highly probable that the price action of LVS and WYNN would become even weaker and their downtrend would be sustained. Do not trade against the trend. For long-term investors who believe in the fundamentals and the growth story of the companies, it is wiser to wait until a clearer picture is revealed at the release of June Macau casino revenue data and their Q2 results.
Final remarks
| | | | |
| --- | --- | --- | --- |
| | Total revenue | Revenue from Macau operation | Percentage |
| LVS | 4.01 | 2.72 | 68% |
| WYNN | 1.51 | 1.13 | 75% |
| MGM | 2.60 | 0.94 | 36% |
(Source: Press release of 2014Q1 financial results, in billions)
LVS and WYNN generated 68% and 75%, respectively, of their revenues from Macau for the first quarter ended 31 March 2014. Meanwhile, Macau is their most important engine for business growth. In case Macau's casino revenue is suffering a downturn, their financial results of 2014Q2 will be severely affected. In my belief, short positions would reap a considerable profit in the next months.
Disclosure: I have no positions in any stocks mentioned, but may initiate a short position in LVS, WYNN over the next 72 hours. I wrote this article myself, and it expresses my own opinions. I am not receiving compensation for it (other than from Seeking Alpha). I have no business relationship with any company whose stock is mentioned in this article.