By Robert Goldsborough
For years, traditional open-end mutual fund managers have shied away from offering their actively managed strategies in an exchange-traded fund wrapper for fear of the SEC's requirement that all actively managed ETFs disclose their underlying holdings daily.
Now, a flurry of recent moves by the SEC, various providers, and two major exchanges suggest that those managers' competing desires--to issue their strategies in ETFs while avoiding daily disclosure of their holdings--may well be reconcilable, and soon, in actively managed nontransparent ETFs.
The Dilemma
While the SEC requires actively managed ETFs to disclose their holdings each day, traditional open-end mutual funds must reveal the securities they own only once each quarter with a lag, although some choose to report holdings more frequently. That daily reporting requirement has been enough to dissuade many active managers from dipping their toes in ETF waters--particularly those managing equity portfolios. Many active managers are fearful that daily portfolio disclosure would allow other market participants to either shadow their trading activity or front-run their positions. While we consider both fears to be somewhat overblown, we recognize that this psychological barrier exists for active managers, and it has been a difficult one to surmount.
The result has been that up until now, very few of the 87 actively managed ETFs currently trading hold equities exclusively. Instead, the vast majority of active ETF assets are invested in fixed-income securities. Front-running isn't nearly as much of a concern in the over-the-counter bond market as it is in stocks. The remainder of the active ETF space consists of alternative strategies, fund-of-funds strategies, currency funds (which are considered actively managed by virtue of a technicality), and some other off-the-beaten-path strategies. Notably, not a single star mutual fund manager other than PIMCO's Bill Gross--whose firm's macro philosophy is widely known anyhow, and who has said that it's already fairly widely known what his fund is buying--currently helms an actively managed ETF.
Now, after several years of false starts, some recent activity by the SEC and the exchanges indicates that investors could see actively managed nontransparent ETFs available in the not-too-distant future. Led by fund industry titans State Street (NYSE:STT), BlackRock (NYSE:BLK), Vanguard, Eaton Vance (NYSE:EV), and T. Rowe Price (NASDAQ:TROW), the push has gained momentum in recent months. Now, one major regulatory barrier remains: the SEC's 19b-4 process, by which the agency reviews and then decides on major proposed regulatory changes. The SEC's moves suggest to us that launches of actively managed nontransparent ETFs could be imminent. Should one or more of these proposed structures get the go-ahead from the SEC, we anticipate that the active ETF floodgates could open, and far more traditional fund managers may subsequently seek to roll out their strategies in relatively low-cost, tax-efficient ETF wrappers.
What's Going On
To get around the SEC's current daily disclosure requirements for ETFs, issuers are proposing to tap one of two different masking mechanisms. The first involves setting up a blind trust that would be the vehicle for the ETF's market maker or authorized participant to handle orders without disclosing holdings. The second would be used by Eaton Vance's Navigate Fund Solutions subsidiary and based on technology and patents that the firm acquired in November 2010. Dubbed exchange-traded managed funds, or ETMFs, the proposed funds would make use of what's known as NAV-based trading. That would allow investors to buy and sell an actively managed nontransparent ETF all day long, but a fund's market makers would only trade around what is considered to be a "proxy price" aimed at representing the fund's end-of-day net asset value. Under NAV-based trading, the funds' prices would vary from NAV by a market-determined premium or discount, which could be zero. And even in the absence of full portfolio-holdings disclosure, Eaton Vance believes that its structure would allow market makers to have the opportunity to earn reliable arbitrage profits on ETMFs, thus keeping the funds trading at consistently tight spreads.
Who's Involved
The first provider to request permission to create actively managed nontransparent ETFs was Vanguard, which in 2007 submitted a request to be permitted to create a nontransparent ETF share class for its existing actively managed mutual funds.
Much time elapsed before any other provider waded into the fray. Next up was BlackRock, which in September 2011 submitted a filing to the SEC seeking for its Spruce ETF Trust to be permitted to create 13 nontransparent active ETFs. According to BlackRock's filing, the blind trust would effectively behave as an authorized participant, exchanging fund shares and portfolio securities with the proposed Spruce ETFs, allowing the proposed funds' shareholders to enjoy the same in-kind tax benefits that other ETF investors typically enjoy (because transactions are considered to be in-kind, with securities exchanged for securities, ETF investors experience no tax hit). The proposed ETFs would display their holdings just once every three months but would release the intraday indicative value to the market every 15 seconds in order to allow for authorized participants to keep tight spreads.
Then, in March 2013, Eaton Vance submitted its application with the SEC for its proposed ETMFs, which would mirror existing Eaton Vance mutual funds and use Navigate Fund Solutions' technology, which Eaton Vance acquired from ETF product-development expert and consultant Gary Gastineau. In June 2013, State Street submitted a similar application, spelling out its hopes to utilize a blind trust. Three months after that, T. Rowe Price filed with the SEC seeking permission to offer actively managed nontransparent ETFs. Instead of using a blind trust, T. Rowe Price wrote in its filing that it would offer other information, such as a hedge portfolio and an indicative NAV, that it believed would be enough to allow for tight spreads and regular creations and redemptions.
Most recently, Precidian Investments submitted paperwork in January seeking to issue actively managed nontransparent ETFs, also using a blind-trust structure similar to the one that BlackRock has proposed.
The SEC finally has begun to take up these applications, and the exchanges have become involved. The agency reportedly has told the ETF providers that it will process their applications once they find an exchange to list their products. So in late January, the New York Stock Exchange's parent asked the SEC for permission to list actively managed nontransparent ETFs. A few weeks later, Nasdaq's parent made a similar request, seeking permission to list and trade Eaton Vance's ETMFs. So in the coming months, the SEC will have its hands full as it considers the requests of both the providers and the exchanges. At this point, the SEC's division of markets and trading needs to sign off on these requests.
Just How Close Are We?
The SEC has its own timeline, and it's anyone's guess how soon the agency will rule on all existing applications--including from the exchanges. And once those rulings are made, only the ETF providers themselves can know what their individual fund launch plans might be (each fund also would need to go through its own SEC registration process). However, given the recent flurry of activity, it's clear that the providers are taking this process very seriously. As a result, we would expect to see some ETFs placed into registration almost immediately after the SEC gives the go-ahead to the proposed nontransparent structures.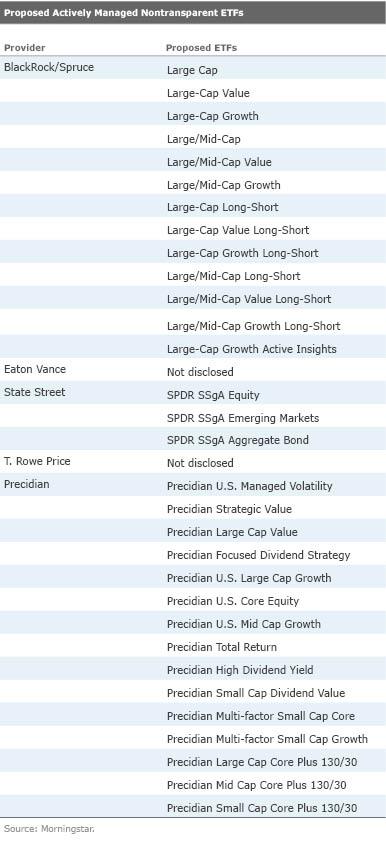 Disclosure: Morningstar, Inc. licenses its indexes to institutions for a variety of reasons, including the creation of investment products and the benchmarking of existing products. When licensing indexes for the creation or benchmarking of investment products, Morningstar receives fees that are mainly based on fund assets under management. As of Sept. 30, 2012, AlphaPro Management, BlackRock Asset Management, First Asset, First Trust, Invesco, Merrill Lynch, Northern Trust, Nuveen, and Van Eck license one or more Morningstar indexes for this purpose. These investment products are not sponsored, issued, marketed, or sold by Morningstar. Morningstar does not make any representation regarding the advisability of investing in any investment product based on or benchmarked against a Morningstar index.