As practically all of the solar companies have reported their first-quarter results, it's a good time to sum up my thoughts about the direction the industry is going, and the general sentiment of investors.
Investor Sentiments
In times of rough market action, investors tend to be edgy. Solar stocks are some of the most volatile stocks out there. When the sell-off began in March, many solar names were hit hard. When investor sentiment is negative, even good old fundamentals won't cut it.
We witnessed several solar companies smash analyst estimates, as well as their own guidance. Let's go through some of the earnings surprises and stock reactions. Although I don't care much for one-day price movements, examining after-earnings stock reactions can tell us a lot about investor sentiment.
First Solar (NASDAQ:FSLR)
First Solar reported its earnings for the first quarter of 2014. EPS was 100% higher than analyst estimates. Revenue topped estimates by about 10%-13%. Although, expecting a soft second quarter, given project timing (most of FSLR's 2014 pipeline is back-end loaded), management increased 2014 guidance.
Investors seemed as if they were waiting for just one bad piece of data in FSLR earnings, and they dumped shares at an alarming pace. The day after the release, the stock declined almost 6%.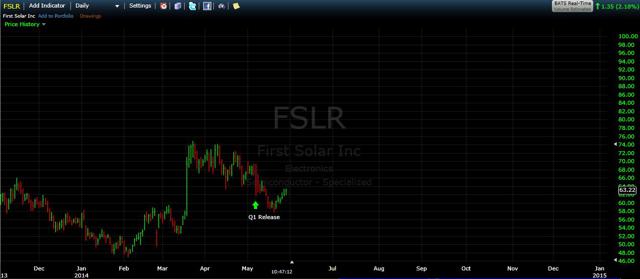 SolarCity (NASDAQ:SCTY)
SolarCity beat revenue estimates by almost 20%. Although beating on the top line, the net loss widened (almost doubled from the same quarter last year), and missed analyst estimates by a hair (by $0.008). Despite slightly missing EPS expectations, SolarCity raised its guidance for the full year.
Investors focused on the guidance increase and the fact that the company expects to be cash flow positive for the full-year 2014. The stock jumped more than 12% the day after.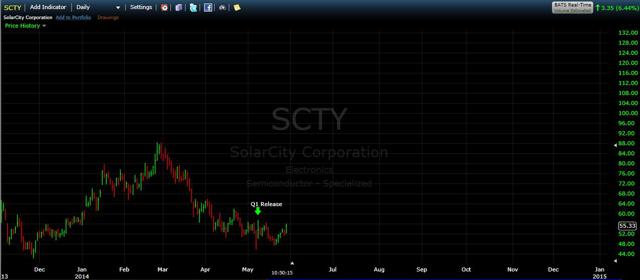 JA Solar (NASDAQ:JASO)
While JA Solar announced an EPS of 32 cents in the first quarter, this is compared to an estimate of just 8 cents. The 300% earnings surprise sparked a 10% two-day move after earnings, but the stock quickly gave those gains back in the following week.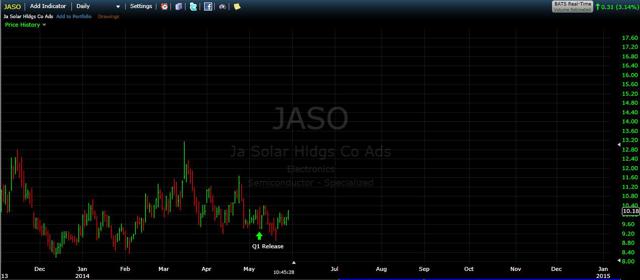 Trina Solar (NYSE:TSL)
Trina Solar smashed estimates, showing an EPS of 37 cents, in comparison to an analyst consensus of 3 cents. Almost a 13x surprise! Investors didn't manage to contain themselves, and the stock reacted with a 30% jump.
Finally, it seemed that investor sentiment towards solar is slowly changing, as Trina's stock kept its gains in the following days. All eyes were directed toward JinkoSolar, which reported earnings a week after Trina.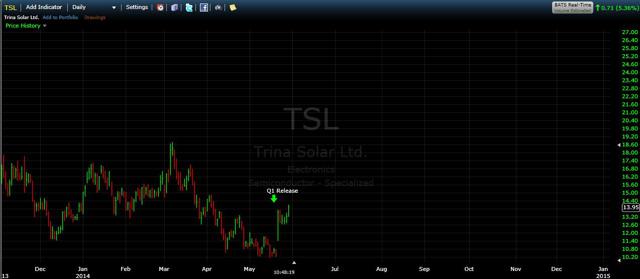 JinkoSolar (NYSE:JKS)
At first glance, JinkoSolar earnings were alarming. The company showed just a 20-cent non-GAAP EPS. That was in comparison to a 40-cent estimate and more than $1 at the previous quarter. What happened? As I examined the report, I witnessed very strong operational results, even better than I expected, with strong guidance.
JinkoSolar incurred approximately $18M in foreign exchange loss, as the RMB/USD suddenly changed direction at the beginning of 2014 and caught JinkoSolar hedged in the wrong direction. That loss distorted the operational picture. This was a perfect moment to examine investor sentiment.
If investors were still edgy, it was almost obvious that they would take that foreign exchange loss for more than what it really means. If not, investors might understand that JinkoSolar has been showing stable and growing profits for the past few quarters. Neutralizing the foreign exchange loss, Jinko had an EPS of 80 cents, twice the expectations.
The stock held up nicely after the report, closing the day at just 3% of decline. In the following days, the stock price recovered and moved up.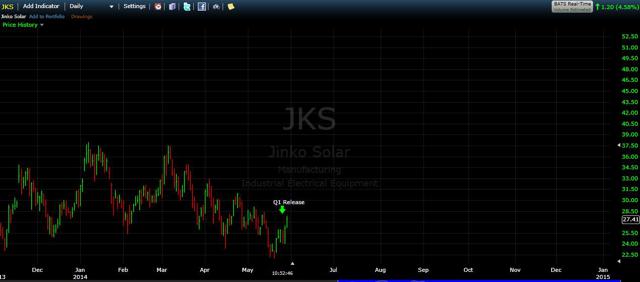 Fundamental Updates
ASPs- Most of the companies reported stable ASPs for the rest of the year, confirming my thesis about growing demand catching up with supply.
Costs- Polysilicon prices moved upward at the first quarter, causing the polysilicon dollar content in solar modules to go up. I do note that the best companies in the industry managed to offset that cost increase with non-silicon cost reductions. JinkoSolar is still the cost leader in the industry, with an amazing $0.47/watt.
Demand- The general hunch I got from listening to the various managements talking about 2014 demand is that China is picking up, and is set to reach its goal (or close enough) of 14GW this year. Some managements expect demand to go up to the 55-58GW neighborhood in 2015.
Downstream- Things look extremely good for the leaders in the downstream market in China. Almost all of their projects expected to come online this year are already permitted. JinkoSolar management commented about the DSO (Days Sales Outstanding-the number of days it takes a company to collect revenue after a sale) as related to electricity sales in China. Jinko management believes that the DSO will go down to just 30-45 days, marking a substantial improvement in China's government payment morale.
Conclusion
Fundamentally, the market evolves in the right way. Remember, a great company can't be judged on one quarter, and it doesn't matter whether it's a good or a bad quarter. A great company should be judged over the long haul, and the industry business environment is surely getting brighter, enabling companies to show substantial and growing earnings going forward.
The sentiment is slowly changing, and I'm monitoring the situation from day to day. When the sentiment turns positive and investors start to value their investments more on fundamentals than on emotions, the best solar stocks will show extremely good fundamentals and will be rewarded the most.
This article was originally published on SolarStockIdeas
Disclosure: I am long YGE, TSL, JKS. I wrote this article myself, and it expresses my own opinions. I am not receiving compensation for it. I have no business relationship with any company whose stock is mentioned in this article.