Xerox (NYSE:XRX), a household name since the early 20th century, has seen impressive growth over the last year. Since March of 2013, its equity value has increased by over 30%. Fundamental equity analysis places much importance on the ability of companies to sustainably grow free cash flows, therefore, heavy emphasis is placed on the analysis of Xerox's future cash flow prospects over the short- and long-term. The largest market movers (such as massive mutual funds and hedge funds) will often buy and hold equities that they believe have strong cash flow growth, making fundamental analysis an important tool in determining the true value of an equity.
A significant shift in Xerox's business model drives its near-term and long-term growth. Up until recently, Xerox realized its main source of revenue from hardware sales. Xerox's photocopy machines and office equipment have dominated their respective markets since the late 20th century. However, changes in technology have seen a large phasing out of paper. This has hurt Xerox's business model in the past decade, and its stock price movement has reflected that. Before the tech bubble of 2000, Xerox's stock price had broken $60, and afterwards, it only regained momentum enough to almost break $20 in 2008, where it crashed again. Xerox has never really recovered, with its prices fluctuating between $5 and $10 since the 2008 crash. However, changes to its core operating model have allowed it to break $12 in the last year, and analysis shows that there is still much growth left to be captured in a potential long position.
Up until last year, Xerox's 40% leverage has weighed down the company, meaning that 46% of its company value was derived from debt. Bleak hardware sales also contributed to low valuation, so the Xerox CEO decided that it was time to move into its secondary line of business, business process outsourcing. This arm of Xerox's business handles everything from finance and accounting outsourcing to document management, and serves a wide variety of industries. Xerox decided to leverage its pre-existing business relationships, strong brand, and technology to dominate this market. This segment has much higher profit margins than hardware, implying better cash flow generation and higher valuations. This shift in business will also directly affect its leverage, as the hardware segment is extremely capital-intensive, requiring Xerox to finance most of its hardware, which it in turn, sells to the customers. Essentially, Xerox used the customer's payments to pay off its own debt acquired from manufacturing the hardware. This type of debt accounted for 60% of Xerox's total debt, implying that Xerox was only truly ~16% leveraged (40% of its 40% leverage). Xerox's shift into a new line of business allows steady de-levering. Xerox now only realizes 30% leverage, down over 25% from what it was last year. Recently, Xerox's price has seen some turmoil with regards to lawsuits and missed earnings. However, the potential for strong earnings and cash flow growth over the rest of this year still exists, as Xerox focuses most of its outsourcing business on the healthcare sector. The Affordable Care Act has catalyzed this outsourcing market with potential for the most growth. Higher margins and lower leverage will cause the value of Xerox's equity to theoretically increase, according to fundamental finance. The prospects for one or both of these factors to hold true with Xerox are very good.
Analysis of Trading Multiples and Relative Value
To affirm a hypothesis of undervaluation, an analysis of Xerox's fair value relative to how the market is trading was performed. The following price multiples were analyzed- Price-to-Earnings (12 months forward and trailing 12 months) and Price-to-Sales. This analysis gives a good picture of how relatively "expensive" the stock is. In each of these metrics, Xerox is undervalued relative to its competitors. Two Enterprise Value ratios- EV/Revenue and EV/EBIDTA were also analyzed. EV ratios give a good snapshot of how well a company is producing revenues and cash flows relative to how expensive it is, while also taking debt into the picture. Xerox is theoretically overvalued in these two metrics, due to high leverage. Enterprise value encompasses debt, so by nature, companies with less debt will have more attractive EV multiples. Xerox has more leverage than most of its competitors, so this is affirmed. We believe that if Xerox continues to morph its business model, it will continue to de-lever, driving its EV ratios lower and causing it to potentially trade at a more attractive valuation. The last ratio analyzed was Enterprise Value-to-Free Cash Flow. Since free cash flow is a pinnacle of fundamental analysis, an analysis of how expensive each dollar of free cash flow was for Xerox relative to its competitors was performed. In this metric, Xerox seems undervalued. As a fundamental investor, one seeks to purchase free cash flows cheaper than their fair value. Since Xerox is expected to increase its free cash flows significantly and given that it trades at about 25% cheaper FCF than its peers, Xerox could be great buy for the fundamental long investor. By analyzing our range of implied prices, we determined a fair value of $14.28.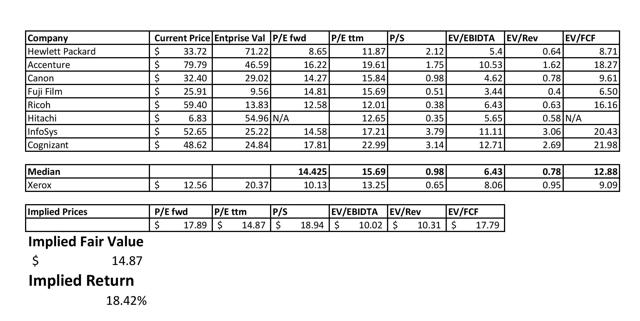 Click to enlarge
Source: Matoaka Capital LLC, Yahoo! Finance
Xerox has remained versatile in a shifting marketplace by drastically changing its business model to adapt to new conditions. By pursuing a line of business that yields higher margins and requires less leverage, Xerox will continue to see strong share price growth in the coming years.
Disclosure: I have no positions in any stocks mentioned, and no plans to initiate any positions within the next 72 hours. I wrote this article myself, and it expresses my own opinions. I am not receiving compensation for it (other than from Seeking Alpha). I have no business relationship with any company whose stock is mentioned in this article.
Additional disclosure: The information contained herein is not necessarily complete and its accuracy is not guaranteed by Matoaka Capital L.L.C its operating entity or the principals therein.Principals of Matoaka Capital L.L.C may or may not hold or be short of securities discussed herein, or of any other securities, at any time.