The rate of pharmacy sales growth in the U.S has slowed in recent years due to a decline in new proprietary drugs, a longer FDA approval process, drug safety concerns and an increase in the use of generic drugs. However, prescription drugs usage will increase in the coming years due to aging U.S population, increased life expectancy and new drug therapies. Moreover, the generic prescription drugs helped lower overall costs for customers and third party owners which have increased the trend and a significant number of new generics came in the market, which contributed significantly to improve Rite Aid's (NYSE:RAD) performance over the last year. Rite Aid is the third largest drugstore chain in U.S. with approximately 4600 stores. The company started its operations in 1962 and became public in 1968, recording highly volatile revenues since then.
The company sells prescription drugs and a range of other merchandise which it calls 'front end products,' including every day and convenience products. The drugstore chain also owns a series of private brands which accounted for about 18% of its front end products sales in the last year. Moreover, strategic alliances with pharmaceutical and food retail companies along with increased same-store sales remained impressive for the company. Further, the stock recorded a substantial gain of over 260% in the last year and is up around 63% year-to-date, outperforming its peers such as CVS Caremark (NYSE:CVS) and Walgreen Company (WAG) - both these stocks are up around 8.5% and 24%, respectively.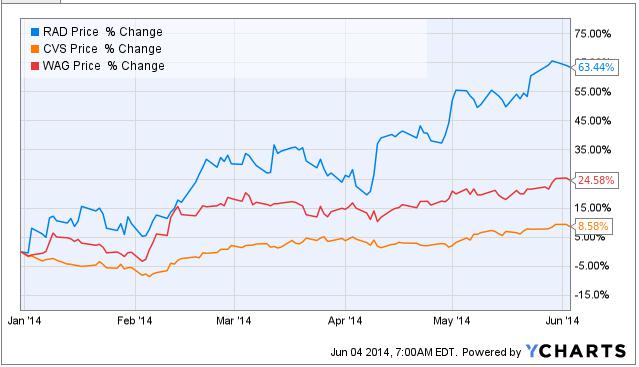 Business Performance
The revenues for the last year stood at $25.4 billion, showing a decrease of 2.8% year-over-year. This shortfall in revenues is due to the recent generic introductions, having substantially lower selling prices than their brand equivalents. However, over the last year, Rite Aid reported a net income of $118 million, compared to the net loss of $386 million in 2012. The substantial improvement is primarily due to the script count growth and the gross profit benefit from the increased introduction of new generics in the last year. However, prescription drugs were a major portion of company earnings over the last year.

Source: SEC Filings
The company also had a strategic alliance with GNC, global specialty retailer of health and wellness products, and has opened over 2,100 GNC stores within Rite Aid stores. Under the alliance, both companies plan to sell branded and co-branded products that are supplied by numerous competitors. Rite Aid and GNC co-branded, PharmAssure, a vitamin and mineral supplement product readily available at all the company outlets.
The same-store sales are also improving each year which will enable the company to regain its market share. The same store sales increased by 5% year-over-year which is due to the increased front-end sales during the period. Pharmacy same store sales also showed an increase of 5.2% due to an increase in the prescription sales during the period. The changing healthcare environment, growing demand of more scripts from older patients and Affordable Care act will continue to support growth in prescription drug sales. Moreover, the increasing investments in affordable generic drugs will further enhance the pharmacy sales in the coming quarters.
Growth Prospects
Rite Aid has planned a strategy to transform itself from a conventional pharmacy into a neighborhood destination for wellness and health, which will allow it to better meet the needs of customers and patients. This ensures a lot of repeated customers, which the company has lacked over the last few years. Moreover, the company's loyalty card program, initiated in 2010, has shown impressive performance and is expected to continue the trend in the coming years. Under this program, Wellness+, patients and customers can earn significant discounts and wellness rewards to spend at any Rite Aid store. As of the last year, the program had over 25 million active members, and accounted for 79% of front-end sales and 68% of prescription sales during the period.
Rite Aid is also closing inefficient store locations and it has initiated a remodeling plan which will replace conventional stores by its Wellness Stores. The company has converted 500 stores so far and plans to complete an additional 400 remodels in the current year. The remodeling program includes an improvement to the old store model both in terms of customer services and store layout. The company is also training employees to provide better customer service to the patients and customers which ensure increased customer retention. Along with renovated store layouts, Rite Aid is also bringing technological advancements to its stores as well. The enhanced digital offerings continued to improve the customer interaction providing easier navigation and more personalized web experience. Moreover, the company plans to introduce mobile apps and apps for iPad and Passbook with an updated drugs and front-end products information.
Rite Aid announced the acquisition of RediClinic, a Houston based retail clinic chain, providing healthcare facilities to over 1.5 million people at over 30 locations found in grocery stores. These clinics have certified clinicians, who can write prescriptions for up to 30 common conditions which will eventually increase Rite Aid's prescription drugs sales growth - the prescription drugs represent a major portion of company's earnings. Moreover, the acquisition was pursued by Rite Aid in order to increase its footprints in Texas and to bring its expertise in delivering healthcare and wellness programs in the region. However, the management does not expect a material impact from the acquisition in the current fiscal results; nevertheless, it will support Rite Aid's growth in the long run.
Conclusion
Rite Aid is growing rapidly and the company is making all the right moves to become a major player in the sector. The stock performance of the company over the last few months shows that the investors are showing total belief in the growth story. We believe Rite Aid is set to move even higher as the company continues to expand its footprint.
Disclosure: I have no positions in any stocks mentioned, and no plans to initiate any positions within the next 72 hours.
Business relationship disclosure: I have no positions in any stocks mentioned, and no plans to initiate any positions within the next 72 hours. IAEResearch is not a registered investment advisor or broker/dealer. This article was written by an analyst at IAEResearch and represents his/her personal opinion about the companies mentioned in the article. The article is for informational purposes only and it should not be taken as an investment advice. Investors are encouraged to conduct their own due diligence before making an investment decision. I am not receiving any compensation (other than from Seeking Alpha) for this article, and have no relationship with the companies mentioned in the article.