Sentiment has improved around Twitter (NYSE:TWTR) as analysts have upgraded the stock to a buy rating over the past couple weeks. Investors are becoming increasingly confident in user metrics and engagement figures. Therefore, I think now is an opportune time to buy Twitter.
Analysts raising expectations
Youssef Squali of Cantor Fitzgerald states, "We think TWTR should show substantial revenue growth/margin expansion and generate meaningful returns to shareholders without having to mirror FB's model/approach its size."
I agree with Youssef, as Twitter should be able to sustain its growth rate due to user growth trends paired with engagement. Furthermore, advertisers are transitioning ad-dollars to Twitter, and are willing to pay more for each Twitter follower or sponsored Tweet.
"We believe that the market has now priced in the expectation that Twitter remains a niche social media product. We believe risk / reward is much more favorable now, given the possibility that product enhancements rejuvenate user growth," according to Nomura Securities analyst Anthony DiClemente. Currently, Nomura Securities has a $43 price target on the stock.
I also agree with Anthony. While I'm not exactly convinced by his price target, as he believes that earnings will grow to $2.19 per share by 2017. Basically $1.3 billion in net income in 2017, which seems too conservative, as the company's profit margins are likely to trend significantly higher from current levels due to falling overhead costs. Twitter can continue to grow without any significant additions to SG&A expenses. Furthermore, data center infrastructure continues to become cheaper and more power efficient, allowing for lower cost of revenue (higher gross margins), leaving me with the impression that if Nomura Securities projected both user growth and revenue per user growth at a reasonable rate, the conversion of revenue to profit should have been higher.
Assuming a 30% growth rate in users over the next three years, Twitter's user base may grow to 560 million. Also, if I assume revenue per user of $8.60 per user by 2017, the platform may actually generate $4.8 billion in revenue. Assuming a 30% net profit margin (perfectly attainable), the net profit may actually be $1.44 billion in fiscal year 2017. This is higher than the projected $1.3 billion figure by Nomura Securities.
The profit margin figure could be in the 35%-40% range. Gross margins are expected to trend higher, and other overhead costs can't really scale that effectively. Twitter's sales expenses can trend higher, but it's not a serious overhead expense, as ad-sales can be automated or even outsourced to traditional ad agencies. However, the tax rate stays fixed on United States revenue, with some flexibility in foreign markets, which prevents profitability from reaching even higher levels, as Twitter will increase expenses in order to offset some tax expenditures.
Investing into Twitter? Be prepared for volatility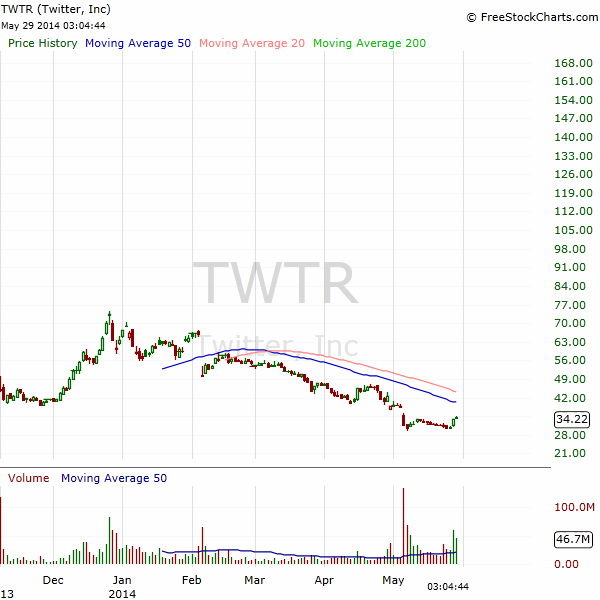 Source: FreeStockCharts
As you can tell, owning Twitter has been a joyride. The stock went all the way up to $80, before falling to $28. There are ongoing concerns over whether the stock can sustain its valuation, due to excessive stock sales due to the share unlock. Given the relatively high volume and massive distribution, the stock seems to have found a base in the low-$30 range. The stock should be able to exhibit some form of a stock price recovery, as investors who were going to sell shares have already sold.
Institutional interest is likely to pick up as sell-side analysts continue to raise ratings. Buy-side analysts will respond to the research reports by sell-side analysts, assuming price targets were arrived at using reasonable data inputs. In my opinion, the sell side seems a little too conservative, but even with a conservative estimate, the price target is significantly higher than where the stock is currently trading. Therefore, investors should anticipate a lot of upside.
Conclusion
Twitter's business model works, and it's likely to scale even further in future years. Monetization is likely to improve from multiple tailwinds, such as more demand from marketers, lower supply of digital ads, and efficiencies in advertising technologies and analytics.
Twitter has better upside prospects when compared to many other technology names, and with the stock trading in the low $30s, there's ample opportunity to snatch the stock up and ride it on the recovery rally.
Disclosure: I have no positions in any stocks mentioned, and no plans to initiate any positions within the next 72 hours. I wrote this article myself, and it expresses my own opinions. I am not receiving compensation for it (other than from Seeking Alpha). I have no business relationship with any company whose stock is mentioned in this article.