Barron's published an interview on June 3rd, 2014, entitled "Oakmark's Bill Nygren Names 9 Favorite Stocks. Why the market-beating value manager likes big financial firms, TRW, and one energy company." Bill Nygren has an excellent record, and his Oakmark Select Fund I is rated "Gold" by Morningstar. Nygren is a value-oriented manager, and he selects stocks which he considers trading at a significant discount to the market. He has beaten the market consistently in the last 20 years. In this article, I will discuss some of his stocks highlighted in the Barron's article, as well as some recent additions to the Oakmark Select portfolio, with a view to get insight into his stock selection process and generate investment ideas for myself and my readers.
Table 1: Bill Nygren's Top 10 Holdings in Oakmark Select I
(as of March 31, 2014)
| | | | |
| --- | --- | --- | --- |
| | | % of Portfolio | Additions in the last quarter |
| TRW Automotive Holdings | (NYSE:TRW) | 7.89% | + |
| TE Connectivity | (NYSE:TEL) | 6.5% | |
| Bank of America | (NYSE:BAC) | 6.11% | |
| Capital One Financial | (NYSE:COF) | 5.53% | |
| Apache | (NYSE:APA) | 5.4% | + |
| Medtronic | (NYSE:MDT) | 5.2% | |
| DirecTV | (DTV) | 5.0% | |
| American International Group | (NYSE:AIG) | 4.89% | + |
| MasterCard | (NYSE:MA) | 4.89% | |
| JPMorgan Chase | (NYSE:JPM) | 4.8% | |
Source: Morningstar.
In addition to the above Bill Nygren also added two new stocks to his portfolio - Franklin Resources, Inc. (NYSE:BEN) and the CBRE Group Inc. (NYSE:CBG). Oakmark Select I currently holds 7.68% cash. As per the style of the best value manager, Nygren has a very concentrated portfolio, demonstrating the conviction of his picks.
Before I take a deep dive into his portfolio, it is useful to survey the fundamental statistics of his portfolio stocks.
Table 2: Fundamental Statistics (Source Gurufocus.com)
| | | | | | | | | | | | | |
| --- | --- | --- | --- | --- | --- | --- | --- | --- | --- | --- | --- | --- |
| Symbol | Company | Market Cap($Mil) | Price | Yield | P/B | P/E | P/S | Debt/Equity | ROE | ROI | ROA | Industry |
| AIG | American International Group Inc. | $79,696 | $55.09 | 0.6% | 0.7 | 9.6 | 1.2 | 0.38 | 9.0% | 0.7% | 1.7% | Insurance - Diversified |
| APA | Apache Corporation | $35,659 | $92.45 | 0.9% | 1.1 | 21.4 | 2.4 | 0.29 | 6.7% | 5.2% | 3.6% | Oil & Gas E&P |
| BAC | Bank of America Corporation | $159,628 | $15.18 | 0.3% | 0.7 | 20.4 | 2.0 | 1.32 | 4.9% | -1.7% | 0.5% | Banks - Regional - US |
| BEN | Franklin Resources Inc. | $34,636 | $55.18 | 0.8% | 3.2 | 15.7 | 4.2 | 0.21 | 21.4% | 18.6% | 14.0% | Asset Management |
| CBG | CBRE Group Inc. | $10,044 | $30.25 | | 5.0 | 29.1 | 1.3 | 1.31 | 16.7% | 4.8% | 4.5% | Real Estate Services |
| COF | Capital One Financial Corp. | $45,046 | $78.81 | 1.5% | 1.1 | 11.0 | 2.1 | 0.67 | 10.0% | 3.6% | 1.4% | Credit Services |
| DTV | DirecTV | $41,505 | $82.38 | | - | 16.3 | 1.4 | N/A | | 22.9% | 13.1% | Pay TV |
| JPM | JPMorgan Chase & Co. | $209,673 | $55.40 | 2.7% | 1.0 | 13.9 | 2.2 | 1.67 | 8.5% | 3.0% | 0.7% | Banks - Global |
| MA | MasterCard Inc. | $88,775 | $75.98 | 0.5% | 13.6 | 28.7 | 10.6 | 0.23 | 41.6% | 44.8% | 21.9% | Credit Services |
| MDT | Medtronic Inc. | $61,260 | $61.21 | 1.8% | 3.1 | 17.4 | 3.7 | 0.63 | 18.6% | 3.1% | 9.9% | Medical Devices |
| TEL | TE Connectivity Ltd. | $24,620 | $60.22 | 1.71% | 2.90 | 17.70 | 1.86 | 0.3 | 17.8% | 13.92% | 7.8% | Electronic Components |
| TRW | TRW Automotive Holdings Corp. | $9,427 | $85.11 | | 2.3 | 10.2 | 0.6 | 0.47 | 23.1% | 19.4% | 7.9% | Auto Parts |
You will notice that most of the above stocks have low price-to-book (P/B) ratios as compared to their history, or have high return on equity (ROE) or high operational leverage.
TRW Automotive Holdings
In the Barron's article, Nygren articulates his thesis on TRW as follows, "If you look across the auto parts industry today, most companies are selling at about 15 times earnings. At $80, TRW is selling at about 11 times. One of the reasons is they have made large investments in plants in China. We anticipate that within about two years, the plants will become highly profitable and TRW in two to three years could be making $10 a share and selling at the same 15 times earnings which the average auto parts company is selling at."
If you were to assume a P/E of 15, TRW appears to be selling at a substantial discount, as per the chart below. Nygren first bought into TRW in Q4 2011, and continues to add to his holdings, showing his continued conviction. TRW's chief operating officer recently bought 5,000 shares on the open market, which is an indication that he considers the stock to be good value.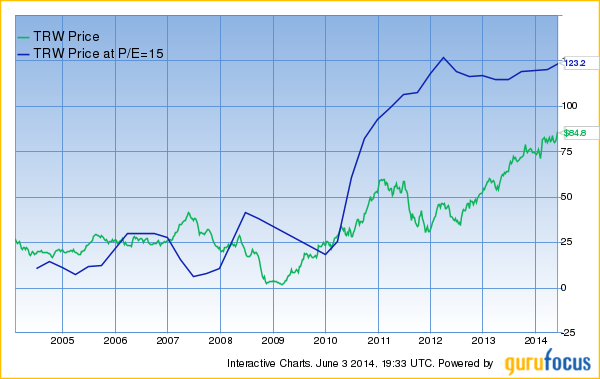 TE Connectivity Limited
TE Connectivity Ltd. is a company that designs and manufactures electronic products that connect and protect the flow of power and data. It was spun off from Tyco in 2008. It is not discussed in the Barron's interview. Nygren first bought into the stock in Q4 2008, and has since added to his holdings. However, he has not further added to his holding since Q2 2013, when the stock was around $35. It is currently trading at over $60 and at the high end of its price ratios. I think TEL is a hold here.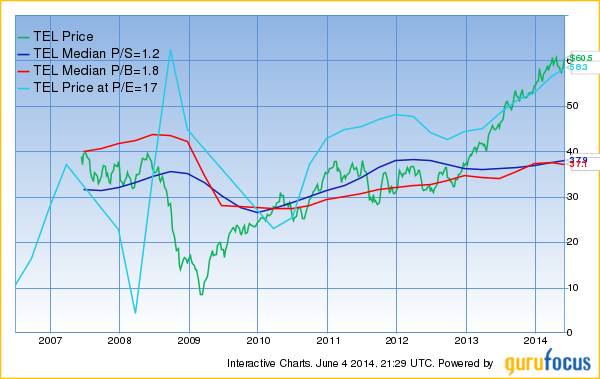 Bank of America
Nygren points out that Bank of America sells at about two-thirds of book value. He goes on to say that, "We believe that within a couple of years, they should be earning at least 10% on that book value. If they do that, then the stock is selling today at about seven times earnings. Even if they can't grow organically because of the high quality of their balance sheet, (they basically are at Basel III standards already) all of the earnings can be returned to shareholders through dividends and share repurchase. So, even if you don't believe that long growth provides great opportunity for the banks, a stock like this is very cheap."
To me, BAC seems to be undervalued across the board. If Nygren is right and BAC catches up with other global banks which trade at a P/B of 1.1 -- we are looking at an increase of at least 40% from here, not counting any improvements in operations. Nygren is not the only value guru holding the stock. Gurufocus.com reports that a whole raft of value gurus have followed the great Warren Buffett into the stock. If you, like me, think these guys know what they are doing, this looks like a no-brainer to me.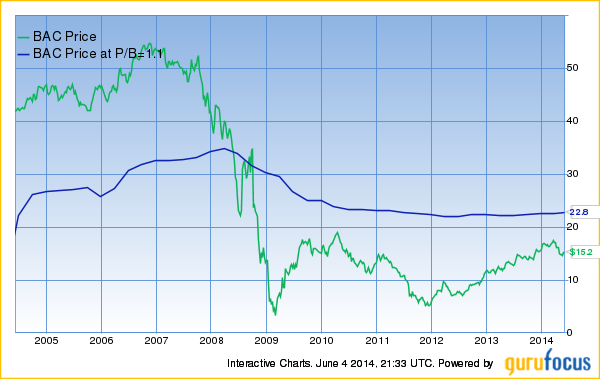 Capital One Financial
While Nygren did not elaborate on Capital One Financial in his interview with Barron's, I confess I like COF very much. It is one of my favorite bank stocks. COF is led by a visionary leader, Richard D. Fairbanks, who has led the bank from an issuer of credit cards into regional banking, and recently into a leading position in online banking with the acquisition of ING Direct. Morningstar assigns COF a narrow moat. COF currently trades at a P/B of 1.1, but in my opinion, should trade at a higher multiple than the run-of the-mill bank. COF traded at >1.5 P/B before the 2008 crisis, and if it achieves that figure (which is likely, as COF is much stronger bank today), we are looking at an upside of over 40% from here (not counting operational improvements). COF is a buy, in my book.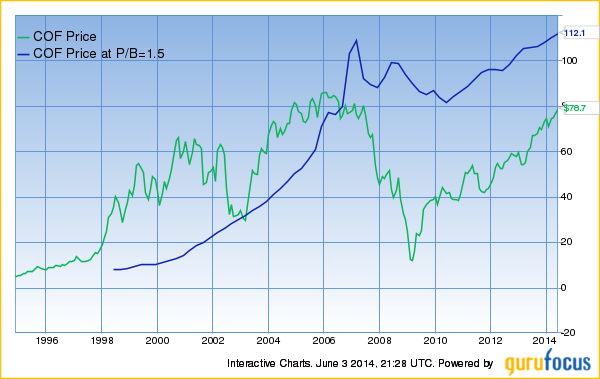 Apache
Bill Nygren had the following comments about Apache, "In the oil and gas industry, it's rare to find management teams that are as good at capital allocation as in the rest of the market. Most oil and gas executives reinvest all of the cash flow they generate because they are focused mostly on top-line growth. Apache is a little bit different in that they are willing to grow per-share value through shrinking the number of shares outstanding. Most analysis looking through asset by asset would suggest that Apache is at a much larger discount-to-value than the average oil and gas stock. Management has been active in selling assets that they can get 90 cents on the dollar for and using those proceeds to buy back their own stock at 60 cents on the dollar. When we find management teams that are as excited about growth through a shrinking share base, as they are through a top-line growth, we find that those companies tend to perform much better over the long term." APA is a relatively recent addition into Oakmark (first acquired in Q4 2013), and Nygren continues to add to his position.
Apache has been focusing on selling riskier foreign assets and redeploying funds in domestic on-shore opportunities to de-risk its portfolio. Australia is another area of growth for APA. Apache has announced it has increased its authorization for share buyback by 10 million shares to supplement the previous authorization of 30 million shares (it says it has bought back 24 million shares). If completed, it represents about 10% of the total shares outstanding.
APA -- Total Number of Diluted Shares Outstanding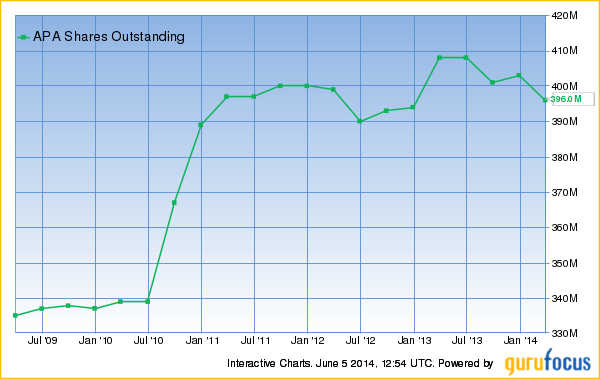 Morningstar has a fair value of $105 for APA, while S&P Capital IQ assigns a 12-month target of $93. Overall, I cannot seem to get too excited about APA, even though it seems to a favorite of value gurus. It is possible that APA may get acquired at a premium in the near future by a "major" looking to bolster its upstream exposure.
Medtronic, Inc.
In the interview, there was no comment on Medtronic. Medtronic is one of the largest medical device manufacturers, and is considered to have a "wide moat" by Morningstar. Nygren has held MDT since Q4-2008, while continuing to add to his position, and is sitting on large gains. He added another 200,000 shares in the most recent quarter. Obamacare seems to have lit a fire under medical devices stocks, as it brings several million new customers to these medical companies. MDT seems to be still undervalued on a P/E, P/B and P/S basis, as shown in the following chart. However, MDT seems to have transitioned from a growth story to more of a value story, so the upside may not be as high as the chart indicates.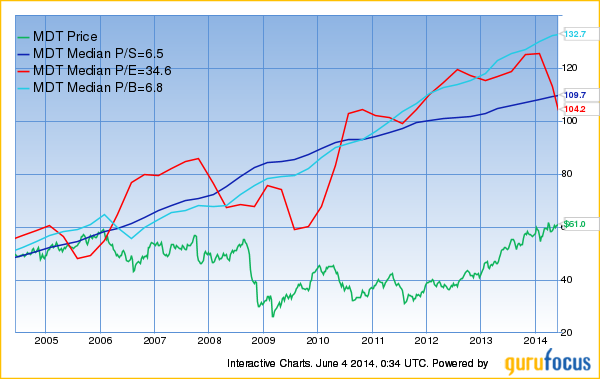 MDT generates robust free cash return, which is ploughed back into R&D. This is generating high return on equity, further building its moat. It also pays a decent dividend of 1.8%, which is growing at the rate of 9% a year, and is buying back stock. Its return on equity has been consistently in the high teens.
One of my favorite valuation metrics is cash return. The following chart demonstrates MDT's prodigious cash generating abilities: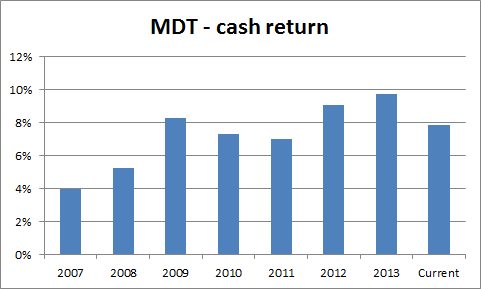 The company has great demographic tailwinds from developed economies (aging population), as well as developing economies (improving access). Overall, I think this is a strong secular growth stock which will grow for decades and is selling at a reasonable price.
DirecTV
Bill Nygren said the following about DTV, "One of the things we've most admired about DirecTV's management team is their willingness to commit all of their excess capital to repurchasing stock when they thought it was the most value-added acquisition they could make. Over the course of the last five years, Direct TV has reduced their shares outstanding by over 50%. The recent $95 per-share deal with AT&T (NYSE:T) would have been something much smaller than that had management not so aggressively reduced." Nygren clearly likes companies who generate high cash return (as given in the figure below) and who buy back stock. (interestingly, DTV has negative equity -- so ROE is irrelevant). I won't elaborate on DTV further, as it is in the process of been acquired by AT&T at a rich valuation. This is clearly one of Nygren's home runs and a validation of his investment style, as he has been patiently accumulating DTV since Q4 2009.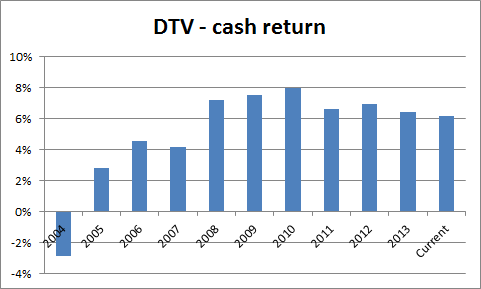 American International Group
AIG, like BAC, is another recovery story. Bill Nygren started his position in Q3 2012, and continues to add to AIG. His rationale is simple, that AIG is selling at about 70% of book value. If AIG was to trade at book value, this would represent a 40% upside from here. Given AIG's clean balance sheet after the crisis, this is reasonable. I personally lost a bundle on AIG in 2008, and am still irrationally skittish about this, but it's clearly my psychological issue to overcome.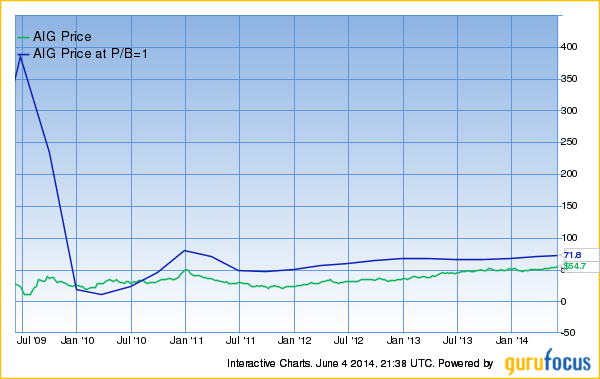 MasterCard
MasterCard is a free cash generating machine. Nygren's insight is that MasterCard has a tremendous tailwind because of the global conversion of cash transactions to plastic. "They will have an above-average-growth rate for as far into the future as we can see, adjusted for the quality of their balance-sheet forecasting out just a couple of years. The market isn't demanding investors pay much of a premium at all for MasterCard. So rather than saying because everything is priced the same, there's nothing to do, we are taking the opportunity to buy higher-quality businesses." MasterCard is currently trading at a P/E of 28.8 (much lower than its median P/E of 48.8 since 2007). However, MA's PEG ratio is a reasonable 1.4.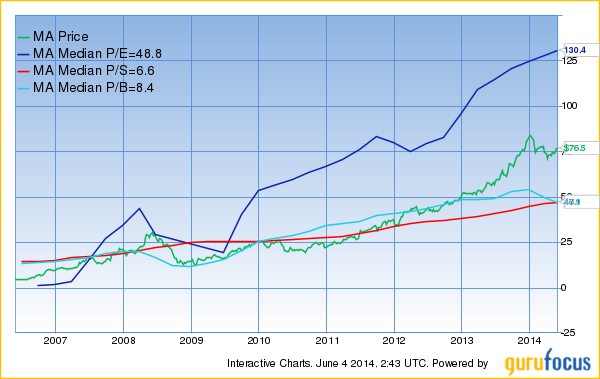 MA is generating tremendous Return on Equity (53% in the latest quarter). (Imagine your money being compounded at 53% -- makes King Midas look like a piker.) In the last couple of years, MA has bought back about 100 million shares of its own stock -- clearly fitting the formula Bill Nygren finds so attractive, a high-ROE company that is cannibalizing itself.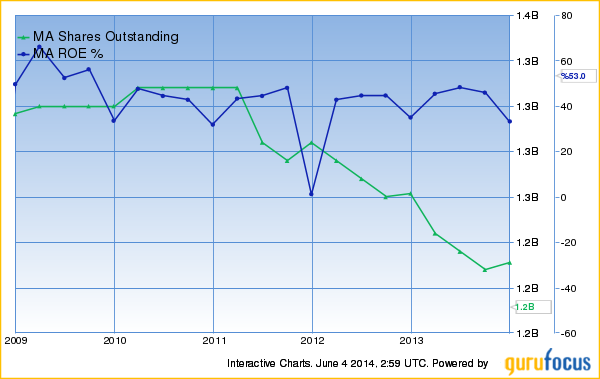 JPMorgan Chase
Bill Nygren likes JPMorgan Chase, which sells at a significant discount to historical book value. JPM (like Wells Fargo) was one of the winners of the financial crisis. JPM is currently trading at 1X P/B. If JPM were to trade at 1.7 times book (as it did previous to 2008), the stock would be worth >$90 (by the way, WFC trades at a book value of 1.7). JPM remains one of my favorite stocks.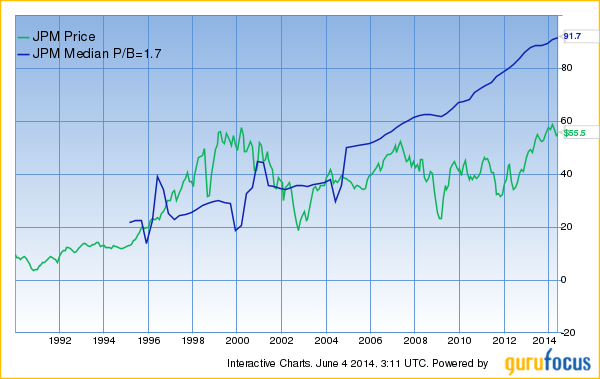 New Additions
The following stocks are new additions during the last quarter by Bill Nygren to the Oakmark Select I portfolio.
Franklin Resources
Franklin Resources Inc. is an investment management company that offers investment choices under the Franklin, Templeton, Mutual Series, Bissett, Fiduciary, and Darby brand names. Based on historical ratios, it is somewhat undervalued.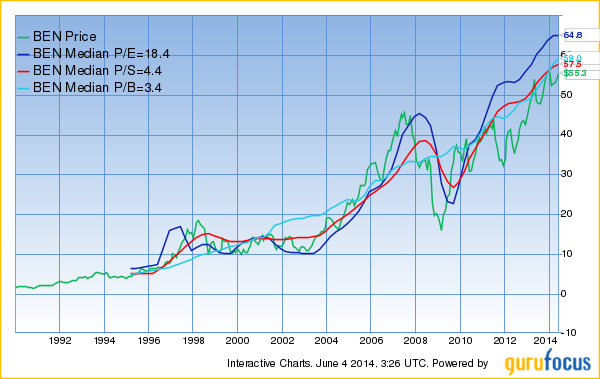 Franklin Resources is another cash generating machine that is cannibalizing itself. Driven by its high return on equity, Franklin continues by buy back significant stock. Franklin's tremendous scale gives it a wide competitive moat.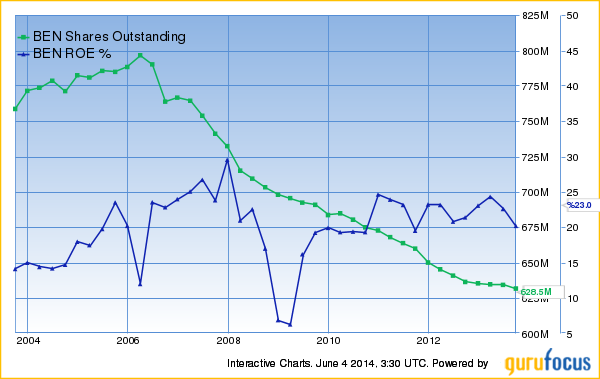 CBRE Group
CBRE Group Inc. offers real estate and investment services, such as facilities management, property management, mortgage loan servicing and investment management to owners, lenders and investors in office, multi-family and other types of commercial real estate. Most of its advisory services and outsourcing services operations are conducted through the company's indirect wholly-owned subsidiary, CB Richard Ellis, Inc.
CBG does not seem to be particularly undervalued, based on historical ratios. It generates high ROE, but has relatively high debt. Personally, I don't find it too attractive as compared to Nygren's other picks.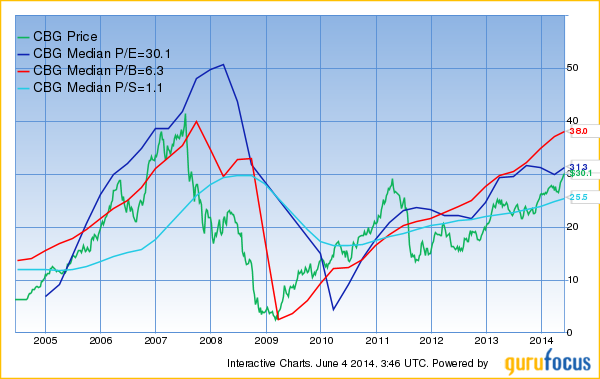 Conclusion
Reading the Barron's interview and analyzing Oakmark's portfolio has given me new insights into this master stock picker's thinking pattern. Nygren is looking for cash compounding machines that are returning value to its owners primarily through capital allocation (which may include acquisitions or stock buybacks, if that is the best value available). Some of his picks -- like TRW, BAC, COF, MDT, AIG, MA, JPM and BEN -- are selling at reasonable valuations. Interestingly, most of his picks are in the financial sector, which he has stated is currently his favorite sector. Nygren tends to hold his stocks through long time periods, and lets the equity compound. As Jesse Livermore, the most famous speculator of the 20th century, famously said, "It was never my thinking that made the big money for me, it always was sitting." I look forward to reading your comments on Nygren's portfolio stocks.
Disclosure: I am long BEN, TEL, APA, BAC, COF, JPM. I wrote this article myself, and it expresses my own opinions. I am not receiving compensation for it (other than from Seeking Alpha). I have no business relationship with any company whose stock is mentioned in this article.