By Jennifer Coombs
With higher gas prices heading into the summer, American consumers appear to be trading up to newer, more fuel-efficient cars and trucks. May motor vehicle sales officially came in at 16.8 million seasonally adjusted annual rate (SAAR) from 16.0 million SAAR in April. This makes May 2014 the best-selling month since July 2006 (at 17.0 million). However, we will note that better sales aren't necessarily due to a stronger and stable demand. May included five weekends (typically there are only four weekends in a month) and Memorial Day was earlier this year which allowed for longer, incentive-based holiday discounts. While the sales strength is great, don't expect it to continue at the same pace in June. Regardless, the numbers are encouraging since motor vehicle sales are up 5% year-to-date.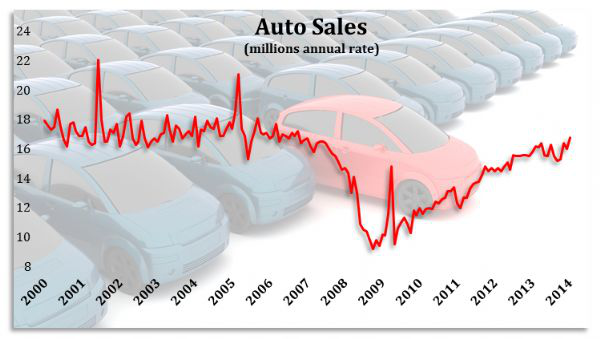 Light-vehicle (cars and small trucks) sales rose by 8.0 million SAAR in May, which was nicely up from 7.6 million in April. Additionally, (heavy) truck sales rose to 8.7 million SAAR from 8.5 million in April. This makes sense because many trucking companies have announced an increase in capital expenditures in order to keep up with demand. More heavy trucks imply more shipments and commerce, which is great for the US economy.
Also encouraging for the US economy is the fact that domestic auto maker sales growth considerably outperformed imported vehicles for the month of May. Domestic auto sales increased to 13.3 million SAAR, which was up from 12.8 million SAAR in April – this marks the best performing month since January 2006. Additionally, domestic truck sales increased to 7.7 million SAAR from 7.5 million SAAR in April. Imported vehicles sales also increased to 3.4 million SAAR in May from 3.2 million SAAR in April. May now marks the best month for imported car sales since December 2013, and year-over-year sales have increased by 11% for May.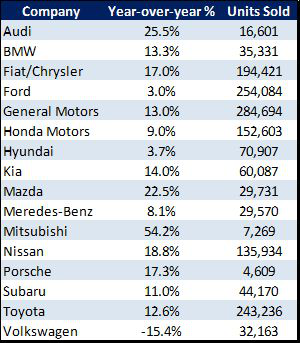 The shift to domestic sales is especially surprising given all of the bad media attention General Motors (NYSE:GM) has experienced thanks to recalls and Congressional hearings. However, the sales among the three largest auto makers in the US make this trend especially apparent. GM's Jeep division increased by 58.0% year-over-year, while sales at Chrysler increased 17%. As a result, General Motors has obtained a 13% year-over-year gain in US market share. We note that part of the demand at GM came from better incentives offered to the consumer, plus an increase in inventory demand. Ford (NYSE:F) was the only one of the three largest auto makers to lose market share, reporting a 3% year-over-year increase in sales, but year-to-date, Ford's sales are down 1.0% in 2014. Toyota (NYSE:TM), Nissan (OTCPK:NSANY), Honda (NYSE:HMC), and Kia (OTC:KIMTF) all gained market share. The only clear loser appears to be Volkswagen (OTCPK:VLKAY), which experienced a 15% declined year-over-year and sales are down about 3.0% year-to-date.
Even though May auto sales were high, they are not indicative of a trend – we will need to see at least 3 months in a row of outstanding sales before we can become really excited. The price of crude oil also needs to decline more for consumers to pocket the cash necessary to be able to upgrade their vehicles. Crude oil was priced at less than $95 per barrel a year ago, while today it popped over $103 per barrel. In short, it's too early for a victory dance, but we can still tip our hat to some impressive numbers.
Editor's Note: This article discusses one or more securities that do not trade on a major U.S. exchange. Please be aware of the risks associated with these stocks.