In a post in late November last year, Testing the performance of price-to-book value, I set up a hypothetical equally-weighted portfolio of the cheapest price-to-book stocks with a positive P/E ratio discovered using the Google Screener, which I called the "Greenbackd Contrarian Value Portfolio".
The hypothetical portfolio is based on Josef Lakonishok, Andrei Shleifer, and Robert Vishny's ("LSV") Two-Dimensional Classification from their landmark Contrarian Investment, Extrapolation and Risk paper.
The portfolio has been operating for a little over 3 quarters, so I thought I'd check in and see how it's going.
Here is the Tickerspy portfolio tracker for the Greenbackd Contrarian Value Portfolio showing how each individual stock is performing (click to enlarge):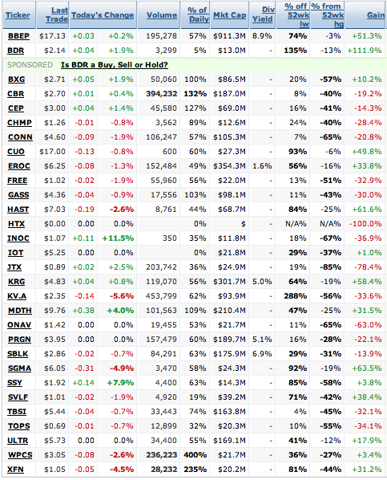 And the chart showing the performance of the portfolio against the S&P500:
The portfolio is up about 22.4% in total and 20.9% against the index. It's volatile, but I'll take volatility for a ~20% gain in an essentially flat market. The results are tracking approximately in line with the results one might expect from LSV's research.
Full Disclosure: No positions. This is neither a recommendation to buy or sell any securities. All information provided believed to be reliable and presented for information purposes only. Do your own research before investing in any security.